Surprise! Another 512(f) Claim Fails–Bored Ape Yacht Club v. Ripps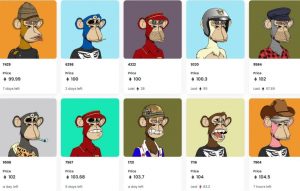 This is another lawsuit involving the Bored Ape Yacht Club (BAYC) NFTs. (Q: why are the apes so bored? A: because they spend so much time in court proceedings). In this lawsuit, BAYC sued an "appropriation artist," Ripps, who sought to comment on anti-Semitic aspects of the BAYC NFTs. (Protip: if you want to win in court, don't self-describe as an "appropriation artist"). Ripps created an NFT collection, the "Ryder Ripps Bored Ape Yacht Club," that "point to the same online digital images as the BAYC [NFT] collection but use verifiably unique entries on the Ethereum blockchain."
Most of the opinion discusses the trademark implications of Ripps' rival NFT collection. The court treats Ripps' collection as competing against and putting downward price pressure on the original NFTs. With that framing, trademark law protects against the unwanted competition, and the court treats this as an easy rightsowner win. There are several ways the court might have distinguished the two offerings: BAYC NFT prospective buyers aren't likely to view the Ripps NFTs as substitutes; the technological uniqueness of each NFT necessarily forces buyers to recognize and understand the differences between NFTs; membership in the BAYC comes with other "benefits" that Ripps didn't offer, so they weren't really substitutes; all NFTs are arguably grifts, so who cares if grifters get grifted?; and more.
I'll focus on Ripps' 512(f) claim. BAYC sent 25 takedown notices targeting Ripps, four of which actually resulted in content removals. Because the other 21 didn't have any effect, the court ignores those. Of the efficacious four, three were based exclusively on trademark rights, not copyright. The court says those aren't DMCA takedown notices by definition, because they didn't assert any copyright interests; so they are outside 512(f)'s scope.
It's a neat parlor trick to avoid 512(f) liability: make claims that are SO bogus that they evade the statutory scope. (See this ruling for another example of the same parlor trick). Ripps pointed out this conundrum, but the court shrugs because the takedown notices were submitted using generic submission forms, not DMCA-specific submission forms. This requires the court to make some painful contortions:
although the takedown notices included a "512(f) Acknowledgement," it was specifically limited to when it is "applicable" – meaning when or if relevant – and the Section 512(f) acknowledgment is clearly not applicable in the context of a trademark takedown notice. In addition, although the takedown notices state that the company contacting Defendants, Appdetex, is Yuga's DMCA Agent, it does not state that the notice is a DMCA notice.
Apparently, a takedown notice only becomes a DMCA takedown notice when the sender adds a screaming neon label flashing "DMCA TAKEDOWN NOTICE SUBJECT TO 512(F)."
As for the remaining copyright-based takedown notice, the court says it doesn't matter that BAYC didn't have a copyright registration for the work at issue because unregistered works are still protectable.
I've documented dozens of ways that 512(f) claims have failed, so the failure of this claim isn't surprising. But it provides yet more evidence that 512(f) doesn't help victims of bogus takedown notices. Never has, never will.
Case citation: Yuga Labs, Inc. v. Ripps, 2023 WL 3316748 (C.D. Cal. April 21, 2023)
Prior Posts on Section 512(f)
* You're a Fool if You Think You Can Win a 512(f) Case–Security Police and Fire Professionals v. Maritas
* 512(f) Plaintiff Must Pay $91k to the Defense–Digital Marketing v. McCandless
* Anti-Circumvention Takedowns Aren't Covered by 512(f)–Yout v. RIAA
* 11th Circuit UPHOLDS a 512(f) Plaintiff Win on Appeal–Alper Automotive v. Day to Day Imports
* Court Mistakenly Thinks Copyright Owners Have a Duty to Police Infringement–Sunny Factory v. Chen
* Another 512(f) Claim Fails–Moonbug v. Babybus
* A 512(f) Plaintiff Wins at Trial! 
–Alper Automotive v. Day to Day Imports
* Satirical Depiction in YouTube Video Gets Rough Treatment in Court
* 512(f) Preempts Tortious Interference Claim–Copy Me That v. This Old Gal
* 512(f) Claim Against Robo-Notice Sender Can Proceed–Enttech v. Okularity
* Copyright Plaintiffs Can't Figure Out What Copyrights They Own, Court Says ¯\_(ツ)_/¯
* A 512(f) Case Leads to a Rare Damages Award (on a Default Judgment)–California Beach v. Du
* 512(f) Claim Survives Motion to Dismiss–Brandyn Love v. Nuclear Blast America
* 512(f) Claim Fails in the 11th Circuit–Johnson v. New Destiny Christian Center
* Court Orders Rightsowner to Withdraw DMCA Takedown Notices Sent to Amazon–Beyond Blond v. Heldman
* Another 512(f) Claim Fails–Ningbo Mizhihe v Doe
* Video Excerpts Qualify as Fair Use (and Another 512(f) Claim Fails)–Hughes v. Benjamin
* How Have Section 512(f) Cases Fared Since 2017? (Spoiler: Not Well)
* Another Section 512(f) Case Fails–ISE v. Longarzo
* Another 512(f) Case Fails–Handshoe v. Perret
* A DMCA Section 512(f) Case Survives Dismissal–ISE v. Longarzo
* DMCA's Unhelpful 512(f) Preempts Helpful State Law Claims–Stevens v. Vodka and Milk
* Section 512(f) Complaint Survives Motion to Dismiss–Johnson v. New Destiny Church
* 'Reaction' Video Protected By Fair Use–Hosseinzadeh v. Klein
* 9th Circuit Sides With Fair Use in Dancing Baby Takedown Case–Lenz v. Universal
* Two 512(f) Rulings Where The Litigants Dispute Copyright Ownership
* It Takes a Default Judgment to Win a 17 USC 512(f) Case–Automattic v. Steiner
* Vague Takedown Notice Targeting Facebook Page Results in Possible Liability–CrossFit v. Alvies
* Another 512(f) Claim Fails–Tuteur v. Crosley-Corcoran
* 17 USC 512(f) Is Dead–Lenz v. Universal Music
* 512(f) Plaintiff Can't Get Discovery to Back Up His Allegations of Bogus Takedowns–Ouellette v. Viacom
* Updates on Transborder Copyright Enforcement Over "Grandma Got Run Over by a Reindeer"–Shropshire v. Canning
* 17 USC 512(f) Preempts State Law Claims Over Bogus Copyright Takedown Notices–Amaretto v. Ozimals
* 17 USC 512(f) Claim Against "Twilight" Studio Survives Motion to Dismiss–Smith v. Summit Entertainment
* Cease & Desist Letter to iTunes Isn't Covered by 17 USC 512(f)–Red Rock v. UMG
* Copyright Takedown Notice Isn't Actionable Unless There's an Actual Takedown–Amaretto v. Ozimals
* Second Life Ordered to Stop Honoring a Copyright Owner's Takedown Notices–Amaretto Ranch Breedables v. Ozimals
* Another Copyright Owner Sent a Defective Takedown Notice and Faced 512(f) Liability–Rosen v. HSI
* Furniture Retailer Enjoined from Sending eBay VeRO Notices–Design Furnishings v. Zen Path
* Disclosure of the Substance of Privileged Communications via Email, Blog, and Chat Results in Waiver — Lenz v. Universal
* YouTube Uploader Can't Sue Sender of Mistaken Takedown Notice–Cabell v. Zimmerman
* Rare Ruling on Damages for Sending Bogus Copyright Takedown Notice–Lenz v. Universal
* 512(f) Claim Dismissed on Jurisdictional Grounds–Project DoD v. Federici
* Biosafe-One v. Hawks Dismissed
* Michael Savage Takedown Letter Might Violate 512(f)–Brave New Media v. Weiner
* Fair Use – It's the Law (for what it's worth)–Lenz v. Universal
* Copyright Owner Enjoined from Sending DMCA Takedown Notices–Biosafe-One v. Hawks
* New(ish) Report on 512 Takedown Notices
* Can 512(f) Support an Injunction? Novotny v. Chapman
* Allegedly Wrong VeRO Notice of Claimed Infringement Not Actionable–Dudnikov v. MGA Entertainment