Retailer's TOS Fails, But New Jersey Warranty Notice Claim Loses Anyway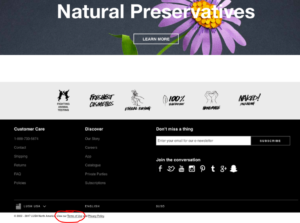 Plaintiff alleges that she purchased a cosmetic product from Lush Internet. While she did not allege anything was wrong with the product and does not appear to have any other qualms with the transaction itself, she alleged that Lush's terms of service contains provisions that conflicted with New Jersey's Truth in Consumer Contract, Warranty and Notice Act (TCCWNA). Specifically, she argued that Lush's Terms of Service violated TCCWNA because it disclaimed all liability, absolved Lush of its duty to protect customers from harm, and limited consumers' rights under product liability law and the UCC.
Lush moved to compel arbitration and also moved to dismiss.
Arbitration: Plaintiff argued that:
because the Terms of Use are hidden in an inconspicuous hyperlink at the bottom of Defendant's homepage, and because Lush's website does not require users to "take affirmative action to manifest their assent" to the Terms of Use, the agreement to arbitrate is not enforceable as against her.
The court focuses on reasonable notice and whether the website terms were conspicuously displayed to the consumer. The court concludes that the "design and content" of the website did not amount to clear display, so a reasonably prudent user would not be on notice (citing Nguyen; Specht; Zappos; Hines). The court also notes that Lush did not require users to assent to the terms:
[t]he purchase can readily be completed without the user viewing the terms which relinquish important and customary rights . . . . Without viewing, the user can have no knowledge of the terms, including these waivers.
The court further notes that while the site admonishes users to read the terms, this admonition is not on the home page.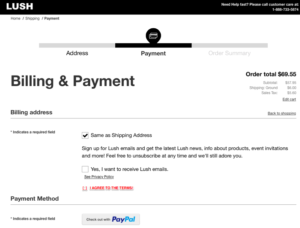 The Merits: Turning to the plaintiff's qualms with the Terms of Use, the court notes that the plaintiff takes contradictory positions. On the one hand, she says she never read and agreed to the terms, but on the other she is complaining about provisions in the terms. The court looks at the definition of "consumer" and says it's not clear whether the statute covers just buyers who purchase household items or something broader.
Setting this aside, the court says plaintiff lacks standing under Spokeo. The Supreme Court in Spokeo said that plaintiffs who allege "bare procedural violations" lack standing. And that was the case here:
Here, because Plaintiff did not assent to the Terms of Use, they simply do not bind her as a matter of contract law. Because Plaintiff does not seek to vindicate any underlying rights secured by the TCCWNA – i.e. she is seeking only to bring the Terms of Use into accord with what she believes New Jersey law requires, not to actually bring a suit or recover damages which she believes are unlawfully barred by the Terms of Use – she does not have standing to sue. Moreover, because the Terms of Use were not displayed to her, she cannot claim harm from their existence in a hidden corner of the Lush website. Based upon the allegations in the Amended Complaint, the harm that Plaintiff has suffered from the allegedly unlawful limitations of liability in the Terms of Use is metaphysical at best. Her strongest allegation of harm is that she was present and made a purchase on a website that, unbeknownst to her, had terms that she now claims are objectionable under the TWCCNA.
The court also reiterates that a plaintiff who argues she has not read and is not bound by terms cannot then complain about provisions in those terms.
__
Ouch. Lush's terms of service implementation leaves a lot to be desired. As we've noted countless times on the blog, it's trivially easy to implement an enforceable online agreement. Although the court's order does not include screenshots of Lush's implementation, I've included a few screenshots of its current implementation, which appears to be the same as it was in 2016 (the year of the lawsuit).
Notwithstanding the Terms of Service snafu, the court brushes aside what is an obviously flawed lawsuit. There have been a spate of these lawsuits targeting the purported noncompliance with the New Jersey statute by website terms, but they don't appear to be getting much traction. The Spokeo ruling was equivocal at best, but the "bare procedural violation" language was a bone to defendants. This is a good example of how it can come into play.
Case citation: Hite v. Lush Internet, 2017 U.S. Dist LEXIS 40949 (D.N.J. Mar. 21, 2017)
Related posts:
Anarchy Has Ensued In Courts' Handling of Online Contract Formation (Round Up Post)
Courts Approve Terms of Service-Based Arbitration Clauses for Uber and Groupon
"Modified Clickwrap" Upheld In Court–Moule v. UPS
Evidentiary Failings Undermine Arbitration Clauses in Online Terms
Court Enforces Arbitration Clause in Amazon's Terms of Service–Fagerstrom v. Amazon
'Flash Sale' Website Defeats Class Action Claim With Mandatory Arbitration Clause–Starke v. Gilt
Some Thoughts On General Mills' Move To Mandate Arbitration And Waive Class Actions
Second Circuit Says Arbitration Clause in Terms Emailed After-the-Fact Not Enforceable – Schnabel v. Trilegiant
Users Can't Sue Sony for Changing Online Terms to Require Arbitration – Fineman v. Sony Network Entertainment
Qwest Gets Mixed Rulings on Contract Arbitration Issue—Grosvenor v. Qwest & Vernon v. Qwest
Zynga Wins Arbitration Ruling on "Special Offer" Class Claims Based on Concepcion — Swift v. Zynga
"Modified Clickwrap" Upheld In Court–Moule v. UPS
Facebook Gets Bad Ruling In Face-Scanning Privacy Case–In re Facebook Biometric Information Privacy Litigation
Defective Call-to-Action Dooms Online Contract Formation–Sgouros v. TransUnion
Court Rejects "Browsewrap." Is That Surprising?–Long v. ProFlowers
Telephony Provider Didn't Properly Form a "Telephone-Wrap" Contract–James v. Global Tel*Link
2H 2015 Quick Links, Part 7 (Marketing, Advertising, E-Commerce)
Second Circuit Enforces Terms Hyperlinked In Confirmation Email–Starkey v. G Adventures
If You're Going To Incorporate Online T&Cs Into a Printed Contract, Do It Right–Holdbrook v. PCS
Clickthrough Agreement Upheld–Whitt v. Prosper
Online Magazine Gets Section 230 Protection For Third Party Article–AdvanFort v. International Registries
The "Browsewrap"/"Clickwrap" Distinction Is Falling Apart
Safeway Can't Unilaterally Modify Online Terms Without Notice