Court Rejects "Browsewrap." Is That Surprising?–Long v. ProFlowers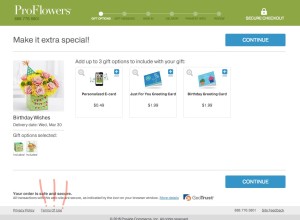 Plaintiff ordered "completed assembled" flowers from ProFlowers.com. Rather than being fully assembled flowers, he received a "do-it yourself kit in a box". He brought a putative class action for unfair competition and CLRA violations.
ProFlowers moved to arbitrate based on its terms of service. However, despite being forced to input information to complete his order, ProFlowers never asked him to affirmatively assent to the terms as a condition of completing the order. Instead, the order page merely contained a link to the terms of use. Plaintiff also got a confirmatory email linking to the terms of use.
Plaintiff said he was not aware of the terms and never clicked on the terms when he ordered or when he received the email. The court says that enforceability of so-called "browsewrap" agreements is something yet to be addressed by California appellate courts. (!) It looks to Specht and Nguyen, from the Second and Ninth Circuits respectively. The key question under those cases is whether the presentation of the website (the user experience) would put a reasonable consumer on inquiry notice. One way to do this is to include a hyperlink in close proximity to where the user must take action. (See Fagerstrom.) Even assuming proximity of the hyperlink to where the user must take action, courts finding these contracts enforceable have typically required something to advise the users to click on the terms. ProFlowers failed that test here. The court says:
Though it may be that an especially observant Internet consumer could spot the Terms of Use hyperlinks on some checkout flow pages without scrolling, that quality alone cannot be all that is required to establish the existence of an enforceable browsewrap agreement. Rather, as the Specht court observed, "[r]easonably conspicuous notice of the existence of contract terms and unambiguous manifestation of assent to those terms by consumers are essential if electronic bargaining is to have integrity and credibility." . . . Here, the Terms of Use hyperlinks— their placement, color, size and other qualities relative to the ProFlowers.com website's overall design—are simply too inconspicuous to meet that standard.
The email follow up suffered from the same flaw. And although the court does not get into it, after-the-fact sent contract terms present their own contractual headaches. (See Trilegiant.) In any event, the court says that the emails also lack a call to action:
In our view, the problem with merely displaying a hyperlink in a prominent or conspicuous place is that, without notifying consumers that the linked page contains binding contractual terms, the phrase "terms of use" may have no meaning or a different meaning to a large segment of the Internet-using public. In other words, a conspicuous "terms of use" hyperlink may not be enough to alert a reasonably prudent Internet consumer to click the hyperlink. As the Nguyen court observed, "[w]hile failure to read a contract before agreeing to its terms does not relieve a party of its obligations under the contract, [citation], the onus must be on website owners to put users on notice of the terms to which they wish to bind consumers. Given the breadth of the range of technological savvy of online purchasers, consumers cannot be expected to ferret out hyperlinks to terms and conditions to which they have no reason to suspect they will be bound."
Ouch.
__
Nothing especially shocking about this case, except for the fact that in 2016 an e-commerce company is still fighting a battle with a customer over whether it properly formed a browsewrap agreement, and it's the first published California appellate ruling to tackle this issue!!
As repeatedly noted here, it's trivially easy for e-commerce companies to not screw up the contracting process. Users already have to enter in their payment information, and companies just have to require customers to check the box indicating assent. It ended up very costly here, as it usually is. Rather than going to arbitration (probably on an individual basis) the company has to deal with a possible class action. Perhaps that influenced the court somewhat?
I'm curious whether Provide Commerce will seek review in the California Supreme Court. That's a tough call.
Eric's comments: This case reminds me a lot of the Nguyen (involving Barnes & Noble) and Zappos (an Amazon subsidiary) cases. Both of those defendants (1) had ample opportunity to form a clickthrough agreement without any real risk of customer rejection, (2) had the legal expertise to know how to properly form the contract, and (3) nevertheless blew it. To me, the real story is what happened "behind the scenes." Did the lawyers for these defendants discuss the possibility of implementing a proper clickthrough and get rejected by other constituents? Were the lawyers who knew better out of the workflow loop? Was this just an unfortunate oversight? If we can figure out what went wrong with the legal workflow, we can perhaps figure out how to avoid the next formation mistake.
As for the insufferable "-wrap" terminology, I propose a simple rule modeled on the levels of constitutional scrutiny. If it's called a "clickthrough," it's like rational basis; the contract formation survives. If it's called a "browsewrap," it's like strict scrutiny; the contract formation fails. So once the court said "The Terms of Use on ProFlowers.com fall into a category of Internet contracts commonly referred to as 'browsewrap' agreements", the rest of the opinion should have consisted of the following: "So-called 'browsewraps' are unenforceable. [See a long list of citations.]" Or, better yet, let's retire the -wrap nomenclature altogether and go back to Specht's requirements of the consumer taking a legally significant action being sufficiently informed of its consequences.
Case citation: Long v. Provide Commerce, Inc., B257910 (Cal. Ct. App. Mar. 17, 2016) [pdf].
Related posts:
Court Enforces Arbitration Clause in Amazon's Terms of Service–Fagerstrom v. Amazon
The "Browsewrap"/"Clickwrap" Distinction Is Falling Apart
What's a Browsewrap? The Ninth Circuit Sure Doesn't Know–Nguyen v. Barnes & Noble
23andMe's Browsewrap Fails, But Its Post-Purchase Clickthrough Works Anyway–Tompkins v. 23andMe
Facebook's "Browsewrap" Enforced Against Kids–EKD v. Facebook
Judge Can't Decide if Facebook's User Agreement is a Browsewrap, But He Enforces It Anyways–Fteja v. Facebook
Gmail Terms of Service Apply to reCAPTCHA During Account Formation–Rojas-Lozano v. Google
Jawbone Plaintiff Can Invoke California Choice of Law Provision in Service Agreement
If You're Going To Incorporate Online T&Cs Into a Printed Contract, Do It Right–Holdbrook v. PCS
Clickthrough Agreement Upheld–Whitt v. Prosper
'Flash Sale' Website Defeats Class Action Claim With Mandatory Arbitration Clause–Starke v. Gilt
Some Thoughts On General Mills' Move To Mandate Arbitration And Waive Class Actions
Second Circuit Says Arbitration Clause in Terms Emailed After-the-Fact Not Enforceable – Schnabel v. Trilegiant
Users Can't Sue Sony for Changing Online Terms to Require Arbitration – Fineman v. Sony Network Entertainment
Qwest Gets Mixed Rulings on Contract Arbitration Issue—Grosvenor v. Qwest & Vernon v. Qwest
Zynga Wins Arbitration Ruling on "Special Offer" Class Claims Based on Concepcion — Swift v. Zynga
Second Circuit Enforces Terms Hyperlinked In Confirmation Email–Starkey v. G Adventures
If You're Going To Incorporate Online T&Cs Into a Printed Contract, Do It Right–Holdbrook v. PCS