IP/Internet/Antitrust Professor Amicus Brief in 1-800 Contacts v. FTC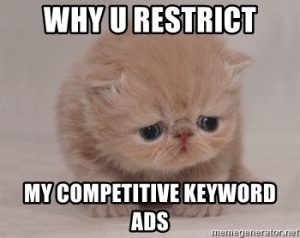 Prof. Mark Lemley (Stanford Law) and I filed an amicus brief in 1-800 Contacts v. FTC with the Second Circuit on behalf of 29 professors of intellectual property, Internet law, and antitrust. The abstract:
The case involves 1-800 Contacts' settlement agreements with its online competitors in which they agreed not to bid on each other's trademarks as keywords for search engine advertising. The FTC held that 1-800 Contacts' conduct violated antitrust law.

The brief makes two main points. First, the brief shows how game theory explains 1-800 Contacts' use of settlement agreements for anticompetitive purposes. Second, the brief explains how trademark law provided only pretextual justification for 1-800 Contacts' settlement campaign.
I particularly think the game theory piece adds an interesting analytical tool to the conversation. I don't recall seeing a similar analysis before.
Personal note: this is my first time co-authoring with Mark, one of the giants in our field. It's a great honor for me.
MediaPost coverage of the amicus brief filing.
1-800 Contacts v. FTC Case Library: The FTC maintains a page with public filings in this case. Here's a selected library of materials (including some not on the FTC page):
* Second Circuit Appeal. 1-800 Contacts' appellant brief. Amicus briefs from AIPLA, USCIB, WLF/Academics. FTC Answering Brief. Amicus brief from IP/Internet/Antitrust professors.
* FTC opinions: majority by Commissioner Simons, concurrence by Commissioner Slaughter, dissent by Commissioner Phillips. Final order. Blog post: Restricting Competitive Keyword Ads Is Anti-Competitive–FTC v. 1-800 Contacts
* ALJ opinion. Blog post: Interesting Tidbits From FTC's Antitrust Win Against 1-800 Contacts' Keyword Ad Restrictions.
* Some expert reports and related material: Howard Hogan. Dr. William Landes. Rebecca Tushnet's rebuttal report. Prof. Rebecca Tushnet Slides. Dr. Evans' Slides. Dr. Susan Athey's slides (see the exhibit).
* Respondent's Second Corrected Pretrial Brief. Blog post: 1-800 Contacts Charges Higher Prices Than Its Online Competitors, But They Are OK With That–FTC v. 1-800 Contacts
* Complaint Counsel's Corrected Pre-Trial Brief and Exhibits. Blog post: FTC Explains Why It Thinks 1-800 Contacts' Keyword Ad Settlements Were Anti-Competitive–FTC v. 1-800 Contacts
* FTC Complaint from Aug. 2016. Blog post: FTC Sues 1-800 Contacts For Restricting Competitive Keyword Advertising
More Posts About Keyword Advertising:
* New Jersey Attorney Ethics Opinion Blesses Competitive Keyword Advertising (…or Does It?)
* Another Competitive Keyword Advertising Lawsuit Fails–Dr. Greenberg v. Perfect Body Image
* The Florida Bar Regulates, But Doesn't Ban, Competitive Keyword Ads
* Rounding Up Three Recent Keyword Advertising Cases–Comphy v. Amazon & More
* Do Adjacent Organic Search Results Constitute Trademark Infringement? Of Course Not…But…–America CAN! v. CDF
* The Ongoing Saga of the Florida Bar's Angst About Competitive Keyword Advertising
* Your Periodic Reminder That Keyword Ad Lawsuits Are Stupid–Passport Health v. Avance
* Restricting Competitive Keyword Ads Is Anti-Competitive–FTC v. 1-800 Contacts
* Another Failed Trademark Suit Over Competitive Keyword Advertising–JIVE v. Wine Racks America
* Negative Keywords Help Defeat Preliminary Injunction–DealDash v. ContextLogic
* The Florida Bar and Competitive Keyword Advertising: A Tragicomedy (in 3 Parts)
* Another Court Says Competitive Keyword Advertising Doesn't Cause Confusion
* Competitive Keyword Advertising Doesn't Show Bad Intent–ONEpul v. BagSpot
* Brief Roundup of Three Keyword Advertising Lawsuit Developments
* Interesting Tidbits From FTC's Antitrust Win Against 1-800 Contacts' Keyword Ad Restrictions
* 1-800 Contacts Charges Higher Prices Than Its Online Competitors, But They Are OK With That–FTC v. 1-800 Contacts
* FTC Explains Why It Thinks 1-800 Contacts' Keyword Ad Settlements Were Anti-Competitive–FTC v. 1-800 Contacts
* Amazon Defeats Lawsuit Over Its Keyword Ad Purchases–Lasoff v. Amazon
* More Evidence Why Keyword Advertising Litigation Is Waning
* Court Dumps Crappy Trademark & Keyword Ad Case–ONEPul v. BagSpot
* AdWords Buys Using Geographic Terms Support Personal Jurisdiction–Rilley v. MoneyMutual
* FTC Sues 1-800 Contacts For Restricting Competitive Keyword Advertising
* Competitive Keyword Advertising Lawsuit Will Go To A Jury–Edible Arrangements v. Provide Commerce
* Texas Ethics Opinion Approves Competitive Keyword Ads By Lawyers
* Court Beats Down Another Competitive Keyword Advertising Lawsuit–Beast Sports v. BPI
* Another Murky Opinion on Lawyers Buying Keyword Ads on Other Lawyers' Names–In re Naert
* Keyword Ad Lawsuit Isn't Covered By California's Anti-SLAPP Law
* Confusion From Competitive Keyword Advertising? Fuhgeddaboudit
* Competitive Keyword Advertising Permitted As Nominative Use–ElitePay Global v. CardPaymentOptions
* Google And Yahoo Defeat Last Remaining Lawsuit Over Competitive Keyword Advertising
* Mixed Ruling in Competitive Keyword Advertising Case–Goldline v. Regal
* Another Competitive Keyword Advertising Lawsuit Fails–Infogroup v. DatabaseLLC
* Damages from Competitive Keyword Advertising Are "Vanishingly Small"
* More Defendants Win Keyword Advertising Lawsuits
* Another Keyword Advertising Lawsuit Fails Badly
* Duplicitous Competitive Keyword Advertising Lawsuits–Fareportal v. LBF (& Vice-Versa)
* Trademark Owners Just Can't Win Keyword Advertising Cases–EarthCam v. OxBlue
* Want To Know Amazon's Confidential Settlement Terms For A Keyword Advertising Lawsuit? Merry Christmas!
* Florida Allows Competitive Keyword Advertising By Lawyers
* Another Keyword Advertising Lawsuit Unceremoniously Dismissed–Infostream v. Avid
* Another Keyword Advertising Lawsuit Fails–Allied Interstate v. Kimmel & Silverman
* More Evidence That Competitive Keyword Advertising Benefits Trademark Owners
* Suing Over Keyword Advertising Is A Bad Business Decision For Trademark Owners
* Florida Proposes to Ban Competitive Keyword Advertising by Lawyers
* More Confirmation That Google Has Won the AdWords Trademark Battles Worldwide
* Google's Search Suggestions Don't Violate Wisconsin Publicity Rights Law
* Amazon's Merchandising of Its Search Results Doesn't Violate Trademark Law
* Buying Keyword Ads on People's Names Doesn't Violate Their Publicity Rights
* With Its Australian Court Victory, Google Moves Closer to Legitimizing Keyword Advertising Globally
* Yet Another Ruling That Competitive Keyword Ad Lawsuits Are Stupid–Louisiana Pacific v. James Hardie
* Another Google AdWords Advertiser Defeats Trademark Infringement Lawsuit
* With Rosetta Stone Settlement, Google Gets Closer to Legitimizing Billions of AdWords Revenue
* Google Defeats Trademark Challenge to Its AdWords Service
* Newly Released Consumer Survey Indicates that Legal Concerns About Competitive Keyword Advertising Are Overblown