Interesting Tidbits From FTC's Antitrust Win Against 1-800 Contacts' Keyword Ad Restrictions
Over the course of about a decade starting in 2004, 1-800 Contacts entered into over a dozen settlement agreements with competitors, most of which mutually restricted both parties from buying keyword ads triggered to their competitor's trademarks and sometimes requiring the use of negative keywords. The FTC challenged this practice as anti-competitive via the FTC's administrative adjudication process. In a behemoth 215 page opinion peppered with annoying redactions, the ALJ agrees with the FTC. The opinion's summary:
Complaint Counsel has met its burden of proving that the Challenged Agreements unreasonably restrain trade in violation of Section 5 of the FTC Act. Contrary to Respondent's argument, FTC v. Actavis, 133 S. Ct. 2223 (2013), is not authority for the proposition that trademark settlement agreements are immune from antitrust scrutiny.

The evidence in this case demonstrates that the advertising restraints imposed by the Challenged Agreements cause harm to consumers and competition in the market for the sale of contact lenses online. This is sufficient to establish Complaint Counsel's prima facie case that the agreements are anticompetitive. The evidence fails to prove that the Challenged Agreements have countervailing procompetitive benefits that outweigh or justify the demonstrated anticompetitive effects of the Challenged Agreements. Accordingly, the Challenged Agreements violate Section 5 of the FTC Act.
This opinion is chock-full of goodies. Normally I'd recommend reading the whole thing. However, at a hefty 215 pages, it would take you a long time to do so. Here are some of the highlights I saw.
Expensive Litigation. The ALJ summarizes the scope of this case:
Over 1,250 exhibits were admitted into evidence, 43 witnesses testified, either live or by deposition, and there are 4,554 pages of trial transcript. The Parties' post-trial briefs, proposed findings of fact and conclusions of law, reply briefs and replies to proposed findings of fact and conclusions of law total 3,514 pages.
When I see numbers like this, I think $$$$$$$$$$$$$$$ legal fees and expensive family vacations in Hawaii for the lawyers (and the experts).
Advertisers [Heart] Search Advertising. Keyword advertising is rampant among contact lens retailers. "Walmart, for instance, bids on somewhere under 5,000 keywords related to contact lenses."
The opinion says, many times and in many ways, how 1-800 Contacts' competitors love search advertising and want to do more of it. Google should get many good testimonials out of this. These quotes from AC Lens are typical of the opinion:
* "The reason AC Lens spends a large portion of its advertising budget on pay-per-click search advertising is that pay-per-click search advertising is 'consistently the channel that [AC Lens] ha[s] found productive in terms of bringing in customers at an acquisition cost that [the company has determined] is consistent with [its] financial goals.'"
* "In the view of AC Lens, pay-per-click search advertising is the most effective and important marketing channel that AC Lens uses to grow its business. (Clarkson, Tr. 230 (pay-per-click "has been historically the lifeblood of [AC Lens'] growth."); CX9039 (Clarkson, Dep. at 175-76 (search advertising has played a "tremendous role" in AC Lens' success); CX9018 (Drumm, Dep. at 124-25); CX9018 (Drumm, Dep. at 124-25 (search advertising is particularly effective because it is high volume, in that it presents AC Lens with a high "[t]otal number of potential impressions." The "volume from search is massive, so that's why it's the most important probably."))."
* "To AC Lens, search advertising is a particularly valuable type of advertising because it can be used to target customers who are specifically looking to purchase contact lenses. (CX9039 (Clarkson, Dep. at 173-75) ("[B]road-based marketing that does not target is inherently far less efficient in reaching a target audience. Search is beautiful in the sense that you get right in front of the customer who's looking to buy your product, and you don't pay unless they click on your ad. It's a wonderful thing.")). "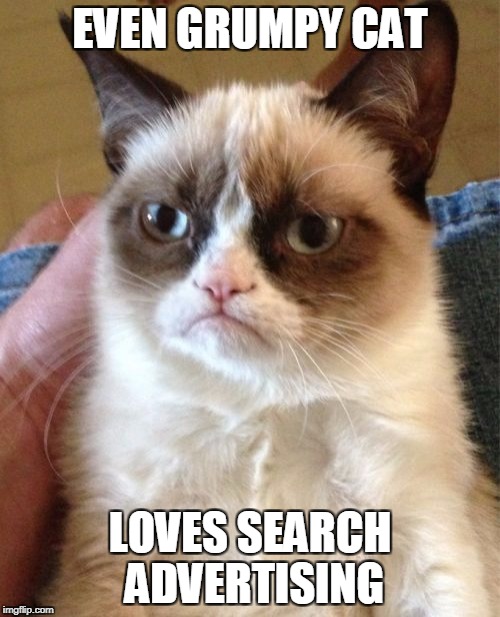 Brand Value from Unclicked Search Ads
More testimonials come from retailers endorsing the brand value of running keyword ads even if they aren't clicked:
* Walmart: "Walmart considered it useful to show its contact lens advertisements in search advertising results even when users did not click on the ads because showing ad impressions builds brand awareness and awareness that Walmart sells contact lenses."
* LensDirect: "For LensDirect, having advertisements appear in responses to a search for 1-800 Contacts, even if the consumer does not click on the LensDirect ad, can improve LensDirect's brand visibility. This helps LensDirect because "the more times people see LensDirect, the better chance there is of them becoming a customer one day.""
* Lens Discounters: "Bidding on 1-800 Contacts' terms enabled Lens Discounters to generate ad impressions, so that even if consumers did not purchase from Lens Discounters, Lens Discounters was "able to get the Lens Discounters' name in front of a large audience of potential customers.""
* Memorial Eye: "Memorial Eye believes it benefitted from having ads appear in response to searches for 1-800 Contacts, even if the consumer intended to navigate to 1-800 Contacts' website, because doing so improved Memorial Eye's brand recognition. "
1-800 Contacts' Keyword Bids on Its Own Trademarks
Trademark owners hate bidding on their own trademarks because they feel like they pay search engines for actual or prospective customers they already "bought" through other forms of advertising. Still, these bids are highly successful for 1-800 Contacts. Some of the details we learn:
* "About 75% of all paid search orders come through our trademark terms."
* "In 2015, between 20 and 31% of 1-800 Contacts' initial web orders came from users searching for 1-800 Contacts' trademark terms…20% of initial orders came from "Paid Search on 1-800 CONTACTS Trademark" and 11% of initial orders came from "Natural Search.""
Not surprisingly, competition for bids on its branded keywords literally cost 1-800 Contacts money: "An August 7, 2007 analysis by Mr. Craven estimated that 1-800 Contacts may have lost around $426,000 in revenue to Lens.com, year to date, as a result of Lens.com ads appearing in response to searches for 1-800 Contacts' trademarks….During the week ending September 22, 2007, 1-800 Contacts noted a 6% week over week drop in trademark paid search orders, relating this in part to competition from Vision Direct, which had been "advertising in the 2nd position on many of [1-800 Contacts'] branded terms in Google.""
Competitors' Keyword Bids on 1-800 Contacts' Trademarks
1-800 Contacts' competitors definitely want a piece of the action 1-800 Contacts gets from its branded keywords:
* AC Lens:
AC Lens believes it could benefit from showing its advertisements to a person who entered a search query for "1-800 Contacts," "[b]ecause we sell the same products and we sell them at a lower price." (Clarkson, Tr. 378; CX9018 (Drumm, Dep. at 152) ("Bidding on their terms would provide us an opportunity to show those people that there's an alternative."); id. at 197 ("There are a lot of people that search for '1-800 Contacts' from what we can tell via the keyword tool and other sources. Those are people who are most likely looking for contact lenses to purchase, and it would be definitely relevant and helpful to advertise our sites in that location.")).

To AC Lens, it would be more valuable to show advertisements in response to search queries for 1-800 Contacts' brand name terms than in response to search queries for the brand names of other online contact lens retailers because of "the price advantage that [AC Lens] enjoy[s]" relative to 1-800 Contacts. (CX9039 (Clarkson, Dep. at 156); see also Clarkson, Tr. 253 ("Also, there's less value in advertising on, say a Vision Direct term because they're in roughly the same price point, so there isn't quite the same incentive for consumers to switch."))….

AC Lens believes that some portion of people who search for 1-800 Contacts "would be interested in an offer [from AC Lens] that said, '[w]e're 20 percent cheaper'" and that such message "would be a compelling proposition to consumers."
* LensDirect: "During Mr. Alovis' time as CEO of LensDirect, LensDirect's bidding on 1-800 Contacts terms "absolutely" drove a significant amount of business for LensDirect."
* Memorial Eye:
between January 2010 and December 2011, clicks on Memorial Eye ads appearing on search results pages following queries that included 1-800 Contacts' branded queries accounted for 46% of Memorial Eye's search-advertising related sales… Based on Google data analyzed by Dr. Evans, Memorial Eye had a higher click-through rate on ads displayed for 1-800 Contacts brand queries than for other queries. People who clicked also were more likely to buy from Memorial Eye than people who reached its website by entering other queries. Memorial Eye converted, or made an initial sale on, 11.25% of the clicks on matched ads, which was "almost twice as high a rate of conversions on 1-800 queries than on non-1-800 queries."…Memorial Eye believes that implementing the negative keywords for 1-800 Contacts terms that 1-800 Contacts was asking Memorial Eye to implement "would destroy" its business because Memorial Eye obtained a large amount of sales from searches that included 1-800 Contacts related terms.
The opinion provides some interesting comparative detail about the keyword ad costs and performance for Memorial Eye and LensDirect:


Overall, LensDirect's cost per conversion is noticeably higher, and conversion rate is noticeably lower, than Memorial Eye's. The opinion doesn't explain why. Two hypotheses that came immediately to mind: (1) the LensDirect data is later in time than the Memorial Eye data. This could mean that keyword ads got more competitive. It could also mean that retailers were willing to pay more because their profits soared due to manufacturers' resale price maintenance (discussed below). (2) Perhaps there are differences in the two websites that makes it harder for LensDirect to convert.
LensDirect's performance with the "1800contacts coupons" keywords also stands out because their performance is noticeably better than the other cited keywords–in the case of the exact match, less than 25% of the conversion costs of other listed keywords. Unfortunately for LensDirect, I suspect the traffic volume for this search term is tiny compared to the other terms.
1-800 Contacts' Customers Are Overpaying
A reminder that 1-800 Contacts' customers are probably overpaying. The opinion says succinctly: "1-800 Contacts on average has retail prices for contact lenses below independent ECPs and retail optical chains, but higher than mass merchants, club stores, and other online retailers." Some more detail:
* "Online retailers generally offer lower prices than 1-800 Contacts. (Bethers, Tr. 3544-45; Murphy, Tr. 4119 ("There was a brand premium in this case; that is, typically we saw  1-800's prices higher than many of the pure-play online sellers."); CX0439 at 036 ("1-800 [Contacts] is the most expensive online retailer . . . ."); Alovis, Tr. 989 ("sometimes [1-800 Contacts is] selling something 20 percent over what [LensDirect is] selling, sometimes even more. It's usually a wow factor when people look at our price point versus 1-800 Contacts'"); Holbrook, Tr. 1901 ("[Memorial Eye's] prices were typically quite a bit less" than 1-800 Contacts' prices); CX8003 (Mitha, Decl. at 001 ¶ 4) ("In general, 1-800 Contacts' prices are higher than Lens Discounters' by a significant amount. In the past, we have found that 1-800 Contacts' prices were almost double Lens Discounters' prices for some products.")). Many consumers are not aware of the price discrepancy between 1-800 Contacts and its online competitors."
* "In conducting its due diligence regarding its potential acquisition of 1-800 Contacts in 2012, Berkshire Partners' investment analysis team concluded that "a sizeable segment" of consumers were uninformed about lower-priced options for purchasing contact lenses online."
Worse, it appears that resale price maintenance has hurt consumers. Due to resale price maintenance imposed by manufacturers starting in 2014, "discount sellers (online retailers and club stores) had to increase their prices substantially, by roughly 20 to 25%, on many of the affected products." I wonder if the FTC is going to look into this issue too?
What's Next for This Case?
This ALJ opinion is comprehensive, exhaustively cited, and thoughtful. As painful as it was to read a 215 page opinion, this opinion was well-crafted and surprisingly readable. The factual findings are well-presented and not favorable to 1-800 Contacts, something that will likely dog 1-800 Contacts throughout the rest of the case.
1-800 Contacts has already indicated it will appeal the decision. The appeal goes to the FTC Commissioners, of which there are only two out of the normal five. I don't know what to expect at that stage. Regardless of the commissioners' decision, the case will surely proceed to federal court.
Case citation: In the Matter of 1-800 Contacts, Inc., Docket No. 9372 (FTC Off. of Admin. L. Judges Oct. 27, 2017)
Case library: The FTC maintains a page with all of the public filings in this case. Here's a selected library of materials:
* Some expert reports and related material: Howard Hogan. Dr. William Landes. Prof. Rebecca Tushnet Slides. Dr. Evans' Slides. Dr. Susan Athey's slides (see the exhibit).
* Respondent's Second Corrected Pretrial Brief. Blog post: 1-800 Contacts Charges Higher Prices Than Its Online Competitors, But They Are OK With That–FTC v. 1-800 Contacts
* Complaint Counsel's Corrected Pre-Trial Brief and Exhibits. Blog post: FTC Explains Why It Thinks 1-800 Contacts' Keyword Ad Settlements Were Anti-Competitive–FTC v. 1-800 Contacts
* FTC Complaint from Aug. 2016. Blog post: FTC Sues 1-800 Contacts For Restricting Competitive Keyword Advertising