Court Beats Down Another Competitive Keyword Advertising Lawsuit–Beast Sports v. BPI
The litigants compete in the already sketchy world of sports nutrition supplements. Beast Sports allegedly bought banner ads at Amazon triggered by searches for various BPI-related trademarks. The court included a screenshot showing the Beast ad: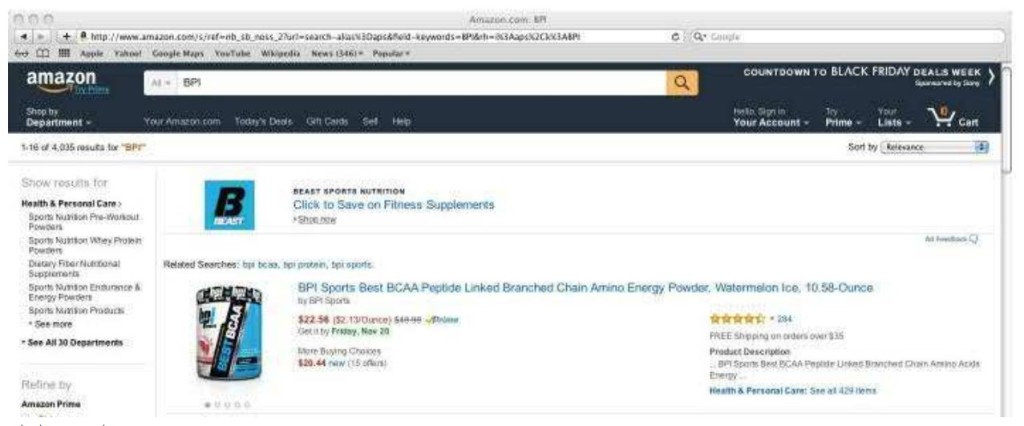 The parties dispute whether the banner ad links to Beast's website or an Amazon page of Beast products.
The court only discusses the initial interest confusion doctrine. It calls initial interest confusion an "unestablished" legal theory in the 11th Circuit, so "courts in this Circuit are reluctant to find this manner of confusion actionable." BPI responded by citing the old (and terrible) 11th Circuit metatags case, North American Medical v. Axiom. The court distinguishes Axiom because Beast's ads didn't contain BPI's marks in the ad copy. (And just in case you forgot, metatag cases have been, still are and always will be stupid). The court continues:
BPI points to no case indicating that the simple purchase of advertising keywords, without more, may constitute initial interest confusion. As noted, "[i]nitial interest confusion . . . occurs when a customer is lured to a product by the similarity of the mark . . . ." [Promatek v. Equitrac] Thus, the "luring" becomes the critical element. In situations such as the one presented here, the use of a keyword encompassing a competitor's terms does not necessarily produce an infringing advertisement; it is the content of the advertisement and/or the manner in which the mark is used that creates initial interest confusion.
In other words, the trademark inquiry should shift to the ad copy, not the ad triggering. Good move. The court then says consumers would find Beast's ad copy to be clear:
Beast's banner advertisements are uniform, each containing Beast's house "B" logo, the phrase "Click to Save on Fitness Supplements," and a clear identification of the advertisement's sponsor, "Beast Sports Nutrition."…Further, the link allowing consumers to "shop now" and the distinct line between Beast's advertisement and the consumer's search results alerts the consumer viewing the page to the fact that the image is an advertisement for products separate from those already listed in the website's organic search results. Thus, unlike the advertisement's triggered in Playboy, Beast's advertisements do not confuse consumers into believing that the proponent of the advertisement is in some manner affiliated with the general search results displayed on the web page.
Without any cognizable consumer confusion, the court denies BPI's request for a preliminary injunction.
In a final policy observation, the court says that the venerability and ubiquity of keyword advertising has moved the needle more in favor of defendants:
BPI's premise logically culminates in the destruction of common Internet advertising methods and unreasonably encumbers generally accepted competitive practices.
In other words, keyword ad lawsuits are so last decade.
So let's recap all of the goodness in this opinion:
* initial interest confusion may not be cognizable in the 11th Circuit
* the court says there's no precedent to support that keyword triggering = initial interest confusion
* the court skillfully distinguishes the technological implications of keyword triggering from metatags, rather than treating them as equivalent (contrast the Florida bar's initial mistakes on this point)
* the court focuses the trademark inquiry on the ad copy, not keyword triggering
* consumers aren't likely to be confused by the keyword triggered ads, at least within Amazon's interface. The court doesn't discuss the 9th Circuit's Multi-Time Machine (MTM) v. Amazon ruling even though the disputes have some overlap. Based on the revised 9th Circuit opinion, this court could have drawn some more precedential support for its conclusion that consumers aren't likely to be confused by Beast's ads.
* keyword ads are a prevalent and pro-competition business practice
I love opinions like this! Just last week, I awarded the Judge-of-the-Day award to a different Florida federal judge, Judge Mark E. Walker. I wouldn't normally expect such prowess from Flori-duh courts, but Judge Beth Bloom nevertheless is richly deserving of the Technology & Marketing Law Blog's judge of the day award.
Case citation: USA Nutraceuticals Group, Inc. v. BPI Sports, LLC, 2016 WL 695596 (S.D. Fla. Feb. 22, 2016)
H/T Rebecca Tushnet
Related Posts on Keyword Advertising
* Another Murky Opinion on Lawyers Buying Keyword Ads on Other Lawyers' Names–In re Naert
* Keyword Ad Lawsuit Isn't Covered By California's Anti-SLAPP Law
* Confusion From Competitive Keyword Advertising? Fuhgeddaboudit
* Competitive Keyword Advertising Permitted As Nominative Use–ElitePay Global v. CardPaymentOptions
* Google And Yahoo Defeat Last Remaining Lawsuit Over Competitive Keyword Advertising
* Mixed Ruling in Competitive Keyword Advertising Case–Goldline v. Regal
* Another Competitive Keyword Advertising Lawsuit Fails–Infogroup v. DatabaseLLC
* Damages from Competitive Keyword Advertising Are "Vanishingly Small"
* More Defendants Win Keyword Advertising Lawsuits
* Another Keyword Advertising Lawsuit Fails Badly
* Duplicitous Competitive Keyword Advertising Lawsuits–Fareportal v. LBF (& Vice-Versa)
* Trademark Owners Just Can't Win Keyword Advertising Cases–EarthCam v. OxBlue
* Want To Know Amazon's Confidential Settlement Terms For A Keyword Advertising Lawsuit? Merry Christmas!
* Florida Allows Competitive Keyword Advertising By Lawyers
* Another Keyword Advertising Lawsuit Unceremoniously Dismissed–Infostream v. Avid
* Another Keyword Advertising Lawsuit Fails–Allied Interstate v. Kimmel & Silverman
* More Evidence That Competitive Keyword Advertising Benefits Trademark Owners
* Suing Over Keyword Advertising Is A Bad Business Decision For Trademark Owners
* Florida Proposes to Ban Competitive Keyword Advertising by Lawyers
* More Confirmation That Google Has Won the AdWords Trademark Battles Worldwide
* Google's Search Suggestions Don't Violate Wisconsin Publicity Rights Law
* Amazon's Merchandising of Its Search Results Doesn't Violate Trademark Law
* Buying Keyword Ads on People's Names Doesn't Violate Their Publicity Rights
* With Its Australian Court Victory, Google Moves Closer to Legitimizing Keyword Advertising Globally
* Yet Another Ruling That Competitive Keyword Ad Lawsuits Are Stupid–Louisiana Pacific v. James Hardie
* Another Google AdWords Advertiser Defeats Trademark Infringement Lawsuit
* With Rosetta Stone Settlement, Google Gets Closer to Legitimizing Billions of AdWords Revenue
* Google Defeats Trademark Challenge to Its AdWords Service
* Newly Released Consumer Survey Indicates that Legal Concerns About Competitive Keyword Advertising Are Overblown
If you've been keeping up with the blog over the past several years, you already know that competitive keyword advertising lawsuits consistently lose in court. So in that sense, today's blog post isn't telling you anything new. Yet, it's still nice to see a court so skillfully dismantle a plaintiff's arguments.