University Can't Quash Lawsuit by Professor Fired for Tweeting Political Opinion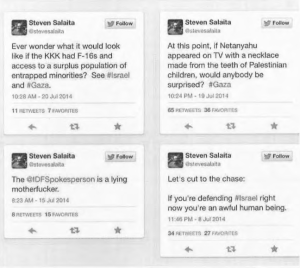 Dr. Steven Salaita, a tenured professor at Virginia Tech, took a job at University of Illinois. After going through the interview process, UI sent him an offer letter for him to accept and sign. As is typically the case, the letter said that his appointment was "subject to approval by the Board of Trustees." Salaita signed, quit his job at Virginia Tech and moved him and his family to Illinois. During this time, a skirmish between Israel and Palestine occurred, and Salaita "took to his personal twitter account to voice his displeasure." This generated media coverage, and more importantly donor pressure. Several donors allegedly met with the Chancellor, and the Chancellor told Salaita that his appointment "would not be recommended." The Board of Trustees met the next month and the Chancellor re-affirmed that she would not be recommending Dr. Salaita's appointment. The Board voted to deny the appointment.
He sued on contract and First Amendment grounds.
Breach of Contract: As to the contract, the key question was whether the offer was conditioned upon Board approval. The court says it wasn't. If the university wanted the offer and acceptance to be conditional, it could have drafted the agreement that way:
the letter could have said, "You are not employed until the Board first approves of the University's recommendation."
Even if the language is ambiguous, the court would look to extrinsic evidence, and this evidence shows that the parties viewed the contract as having been formed (he moved; the university reimbursed him, assigned him courses, and gave him an email address).
The court also says that the university's argument, taken to its conclusion, "would wreak havoc on this and other contexts." If the offer was conditional, the professor could accept and then keep looking for other positions. In other words, conforming to the university's suggested interpretation would throw the appointments process for a loop.
The professor also states a valid promissory estoppel claim, for many of the same reasons as the contract claim.
First Amendment: On the merits of the First Amendment claim, the university argued that its decision was not motivated by the content or viewpoint of Dr. Salaita's speech. The court says this is more suited to summary judgment. The court is skeptical of the university's attempt to draw a line between the tone and the content of the professor's tweets. The university also asks the court to apply the Pickering balance test for public employee speech and find in its favor. The court says this is premature, and in any event, even at this early stage of the case, the court does not seem enthusiastic about the university's position.
Due Process and Conspiracy: The court also allows the due process and conspiracy claims. The breach of contract (and summary revocation of the recommendation) supplies the property interest for the due process claim. The conspiracy claim is sufficiently specific to put defendants on notice, and the claim is not barred by the fact that the actors were pursuing a lawful business goal in the ordinary course.
Tortious Interference: These claims were focused on John Doe defendants who put pressure on the university to revoke the professor's appointment. The court grants the motion to dismiss and kicks these claims, finding that they are barred by the First Amendment. In lobbying the university to not hire Dr. Salaita, the donors were exercising their own First Amendment rights:
The First Amendment is a two-way street, protecting both Dr. Salaita's speech and that of the donor defendants.
Emotional Distress: The professor also brought an emotional distress claim based on being induced to resign from Virginia Tech before ultimately firing him. The court says he cannot maintain this claim because the conduct in question is not "beyond all bounds of decency."
[The court also dismisses a claim for spoliation of evidence and rejects at this stage the university's arguments based on sovereign and qualified immunity.]
__
This is an interesting twist in the "can I be fired for my tweeting" genre. It reminds me a bit of Mendenhall v. Hanes, where a t-shirt company tried to terminate its endorsement contract based on a player's incendiary tweets. But the university is a public entity, and the professor has a claim based on the First Amendment, rather than one that turns on the interpretation of a morals clause.
The case raises a heckler's veto issue: should the university cave to donors who don't like Salaita's speech? The answer to this should be an emphatic no. The university's claim for disruption seems somewhat weak; perhaps the concerns are based more on the controversy around the controversy. Its focus on "civility" feels like a red herring at best and is something that could be used to mask the real purpose in firing someone (for their unpopular or politically incorrect views). See the recent ongoing case involving Chicago State University's attempt to shut down a blog authored by faculty members, also citing civility: "Chicago State University Professors Fight Back Against University's Efforts To Shut Down Their Blog." Of course, the fact that this is a university should tip the balance in favor of a professor being able to freely voice his opinions, especially on his own time and through his own Twitter account. Indeed, the offer letter contained a nod to the fact that the university subscribed to the principles of academic freedom laid down by the American Association of University Professors.
The court's deconstruction of the offer letter is worth flagging. It's undoubtedly of interest to professors, but it provides some useful drafting tips for other contracts that depend on third party actions. If you really want to make the offer itself conditional upon third party approval, you have to be clear about it (and avoid performance in the meantime).
I have not kept a tally of cases brought by people fired for tweeting or Facebooking. My initial reaction was to wonder whether lower-paid employees have a tougher time bringing these claims and whether Salaita's position as a higher-paid employee made his claims easier. But the bigger issue in this case is that professors are supposed to have academic freedom. It's tough to excuse what the University did here. Professors are supposed to be protected–by their institutions–against pressures to conform their views. Caving in to donors, protesters, or other third parties sends a bad message for academic freedom. That said, you wonder how much sense it makes for an academic to rant online about anything. They are probably well served to adhere to the same rules as other employees when it comes to tweeting and Facebooking–use social media wisely. (I also question the efficacy of getting your views out via Twitter. Rarely is anyone lauded for sending reasonable and nuanced tweets. Writing an op-ed seems more effective.)
Interesting case updates: The Chancellor recently resigned, apparently for reasons largely unrelated to this case. But she was using personal email to communicate about university-related issues, and a FOIA request yielded a bounty of documents [link to documents]. See "U. of I. officials used personal email to hide discussions". As expected, people are live-tweeting their reading of some interesting bits.
Case citation: Salaita v. Kennedy, 2015 WL 4692961 (N.D. Ill. Aug. 6, 2014)
Related posts:
Police Officer's Facebook Post Criticizing Chief's Budget Decision Justified Termination–Graziosi v. Greenville
When Is It Appropriate For Teachers To Call Students "Rat-Like" or "Dunderheads" in a Pseudonymous Blog? Never.
Facebook Post Isn't Good Reason To Remove Attorney From Probate Court Case Assignment List
Demoting Police Officer for Posting Confederate Flag to Facebook Isn't First Amendment Violation
AAUP Says Kansas Regents' New Faculty Social Media Use Policy Violates Academic Freedom (Guest Blog Post)
Police Officer's Facebook Venting Isn't Protected By The First Amendment–Gresham v. Atlanta
Tenured Teacher Properly Fired for Facebook Quips About Her Students–In re Tenure Hearing of Jennifer O'Brien
Texas Court of Appeals Rejects Privacy Claims Based on Facebook Firing – Roberts v. Careflite
NLRB Invalidates Employer's Blogging Policy And Reverses Firing Based On Facebook Posts
Teacher's Semi-Racy Facebook Photo Doesn't Justify Firing – In re Laraine Cook
Do Employers Really Tread a Minefield When Firing Employees for Facebook Gaffes?
Employee Terminated For Ill-Advised Facebook Post Gets Unemployment Benefits
Hertz Faces Negligence Suit For Employee's Facebook Bashing of a Customer–Howard v. Hertz
Employee's Discrimination Claim Can't be Salvaged by Coworker's Allegedly Inappropriate Facebook Post — Brown v Tyson Foods
More Proof That Facebook Isn't The Right Place To Bitch About Your Job–Talbot v. Desert View
Facebook Post Isn't Good Reason To Remove Attorney From Probate Court Case Assignment List
Nurse Properly Fired and Denied Unemployment Due to Facebook Rant
Facebook Rant Against 'Arial' Font Helps Reverse Sex Offender Determination
Employee Termination Based on Mistaken Belief of Facebook Post Authorship Upheld — Smizer v. Community Mennonite Early Learning Ctr.
Social Worker's Facebook Rant Justified Termination — Shepherd v. McGee
Police Officers Lean on School to Fire Social Worker for Facebook Post–and May Have Violated First Amendment
Police Officer's Facebook Venting Isn't Protected By The First Amendment–Gresham v. Atlanta
Court Upholds Doocing For Snarky Facebook Post — Rodriquez v. Wal-Mart