Who Owns Social Media Accounts?–In re Bang Energy Drinks
The categorization of social media accounts into "business" and "personal" accounts was a hot issue a decade ago, when states across the country passed laws to protect employees from invasive employer demands to access or control their personal social media accounts. (The professional/personal distinction remains hot for politicians using social media–that issue is headed to the Supreme Court). The employee-protection social media laws have mostly faded from memory, but they did not resolve when a social media account was the employer's or employee's. A decade late, we are still waiting for the case law to answer that question.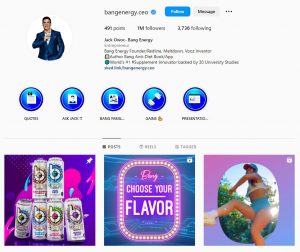 The case involves Vital Pharmaceuticals, which markets "performance energy drinks" a/k/a drinks that accelerate your death. Its flagship product is Bang, which might have been a sexual allusion but now is an apt description of the company's fate. The company fired its CEO, Mr. Owoc, and is now in Chapter 11. The bankruptcy trustee is trying to regain control over various Bang-related social media accounts. The company principals, the Owocs, claim three accounts are their own personal accounts:
The court says: "Promotion of Bang on the CEO Accounts is pervasive."
Vital argued that "social media accounts are property of a debtor's estate when the content of the accounts is associated with the debtor's business and use of the accounts is clearly to generate revenues for the company." The court doesn't endorse this test. Instead, the court says it "will likely place emphasis on the account opening documents, terms of service, and related documents that may be determinative as to which party has the 'rights' to the accounts. The Court will also likely consider 'control' as a significant determining factor." I'm not sure how those factors will advance the analysis. For example, a company employee may "control" an account, but it's unclear if they are exercising the control for the company's interests or their own.
For now, the court says Vital probably owns the three accounts based on these facts:
even if Mrs. Owoc created the CEO Instagram and CEO Twitter Accounts and directed Vital employees to create the CEO TikTok Accounts, she did so in her capacity as a Vital marketing employee. The CEO Accounts have "bang" or "bangenergy" in the account name or handle; the account names or handles follow the same naming convention as the Company Accounts: "bangenergy" plus a subcategory (e.g., @bangenergy.ceo; @bangenergy.careers; @bang_merch; etc.); the account names or handles do not include Mr. Owoc's name; and the accounts were used to explicitly promote Vital products (the CEO Instagram Account name or handle was on the Bang energy drink can; the CEO Accounts linked to Vital's website; and the CEO Accounts' use included pervasive explicit promotional content of Vital's products and no other products).
Accordingly, the court preliminarily enjoins the Owocs from posting to the accounts until ownership is definitively adjudicated. The court explains:
If Mr. Owoc is permitted to post on the CEO Accounts, he is likely to post rants like those he posted in violation of this Court's March 16 Order. Because any rant would be coming from an account with "bangenergyceo" when Mr. Owoc is no longer Vital's CEO, any such rant will very likely alienate the CEO Accounts' followers, thereby destroying the CEO Accounts as a valuable marketing asset of Vital's products. Once the accounts are destroyed as a marketing tool, the damage is likely "irreparable" in that Vital will be unable regain that asset if the Court determines that it owns the rights to the CEO Accounts. Given the difficulty in valuing the CEO Accounts, Vital will have no adequate remedy at law.
The court brushes aside Owoc's First Amendment argument:
This Court has determined that Vital has a substantial likelihood of success on its claim that it owns the rights to the CEO Accounts. And there is no gag order. At most, an injunction would be akin to a restriction on the time, place, or manner of speech….And the Owocs have not cited a single case—nor is the Court aware of one—holding that an injunction infringes on a person's free speech rights when the injunction merely bans a person from using a social media account that may be determined in that very litigation to belong to another person.
The court orders the Owocs to hand over the login credentials to Vital, but Vital can't post to the accounts either in case the Owocs ultimately prevail. So the accounts remain in limbo for now.
You can see how social media account ownership issues are intractable when companies embrace "cults of personality" around a charismatic entrepreneur. In those circumstances, it's impossible to cleave between the entrepreneur's business and personal dealings, as even their personal activity–once promoted on social media–can affect the company's fortunes. (See Musk, Elon). This is actually the same reason why the politicians' social media cases pose doctrinal challenges; everything politicians do in both their personal and professional lives affects their relationships with their constituents, so social media posts they choose to make inevitably benefit their political image.
Case citation: In re Vital Pharmaceutical, 2023 WL 3689540 (S.D. Fla. May 26, 2023)
UPDATE: On summary judgment, the court ruled for Vital. "Vital is entitled to judgment as a matter of law because the record evidence is indisputable the CEO Accounts were pervasively used to market Vital and its products." The court offers a three-part test:
(1) Documented Property Interest. An agreement that documents or evidences a property interest in the account rights creates a rebuttable presumption that the party with the documented property interest owns the account rights.

(2) Control Over Access. A rebuttable presumption created by a "documented property interest" can be overcome by evidence of control over access to the account, including evidence that (i) one party has the exclusive power (other than the social media platform) to access the social media account; (ii) the same party has the "exclusive power" to prevent others (other than the social media platform) from accessing the social media account; and (iii) the social media account enables that party to readily identify itself in any way as having that power. Evidence of "control over access," however, will rarely overcome a rebuttable presumption created by a documented property interest. But, if neither party has a "documented property interest," then conclusive evidence of "control over access" creates its own rebuttable presumption of ownership.

(3) Use. If a party has both a documented property interest and control over access, that ends the inquiry, and that party owns the rights. However, a rebuttable presumption of ownership arising because of a "documented property interest" or "control over access" (but not both), can be overcome by evidence of "use" of the social media account. Use of the account includes the name used for the account; whether the account is used to market or promote one or more products; whether the account is used to promote a persona; how a determination of ownership of the account rights would change the account's use; and whether any required changes to the account's use would fundamentally change the nature of the account.
The court says the first two parts are inconclusive. On the third part, "206 of the 284 social media posts (nearly 75%) explicitly or implicitly market Bang products. And another 15% (bringing the total to 90%) are subtle marketing of Bang products in that they emphasize aspects of Mr. Owoc's persona in a way that is virtually indistinguishable from Vital's marketing strategy."
Selected Related Posts:
Social Media Ownership Disputes, Part I: the Satanic Temple of Washington Can't Get Its Facebook Pages Back
Departing Employees Rename Their Former Employers' Facebook Account. That May Be a Problem–La Baguette v. Tito & Tita
Another Confused Entry in the Social Media Account Ownership Jurisprudence–JLM v. Gutman
Social Media Ownership Disputes Part II: Bridal Wear Company Takes Back Control of Instagram Account from Ex-Employee
Ex-Employee's Continued Use of Twitter Account May Be Conversion–Farm Journal v. Johnson
The Spectacular Failure of Employee Social Media Privacy Laws
Do Employers Own LinkedIn Groups Created By Employees?–CDM v. Sims
Creating Parody Social Media Accounts Doesn't Violate Computer Fraud & Abuse Act – Matot v. CH
When Does A Parody Twitter Account Constitute Criminal Identity Theft?–Sims v. Monaghan
Trademark Owner Sues Over Alleged Twittersquatting–Coventry First, LLC v. Does
Steps Brand Owners Can Take to Deal With Brandjacking on Social Networks
Battle Over LinkedIn Account Between Employer and Employee Largely Gutted–Eagle v. Morgan
Ex-Employer's Hijacking of a LinkedIn Account Is a Publicity Rights Violation–Eagle v. Morgan
Washington State's Proposed Employer Social Media Law: The Legislature Should Take a Cautious Approach — SB 5211
Big Problems in California's New Law Restricting Employers' Access to Employees' Online Accounts (Forbes Cross-Post)
"Social Media and Trademark Law" Talk Notes
Court Denies Kravitz's Motion to Dismiss PhoneDog's Amended Claims — PhoneDog v. Kravitz
An Update on PhoneDog v. Kravitz, the Employee Twitter Account Case
Another Set of Parties Duel Over Social Media Contacts — Eagle v. Sawabeh
Employee's Claims Against Employer for Unauthorized Use of Social Media Accounts Move Forward–Maremont v. SF Design Group
Courts Says Employer's Lawsuit Against Ex-Employee Over Retention and Use of Twitter Account can Proceed–PhoneDog v. Kravitz
Ex-Employee Converted Social Media/Website Passwords by Keeping Them From Her Employer–Ardis Health v. Nankivell
Court Declines to Dismiss or Transfer Lawsuit Over @OMGFacts Twitter Account — Deck v. Spartz, Inc.
Employee's Twitter and Facebook Impersonation Claims Against Employer Move Forward — Maremont v. Fredman Design Group
MySpace Profile and Friends List May Be Trade Secrets (?)–Christou v. Beatport