Sad that Twitter Deplatformed Trump? Don't Take It to Court–Rutenberg v. Twitter
Maria Rutenberg apparently found Trump's tweets so meaningful that she sued Twitter for deplatforming Trump and subtracting that meaning from her life. Rutenberg can now scratch her Trump itch at Truth Social, plus Musk has invited Trump back to Twitter. Despite these developments, she pressed on with her litigation. The Ninth Circuit needed only 3 paragraphs to say NOPE. Her parallel state court litigation gets an equally chilly reception.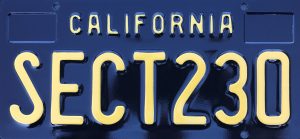 The state appellate court treats this case as an easy Section 230 dismissal. Rutenberg seeks "to hold Twitter liable for 'typical publisher conduct protected by section 230'—namely 'deciding whether to publish, withdraw, postpone or alter content.'" Cites to Murphy v. Twitter; PragerU v. Google. Given that overarching goal, it doesn't matter how Rutenberg frames the causes of action:
Whether styled as a violation of the California Constitution's guarantee of free speech and association, the Unruh Civil Rights Act's antidiscrimination provisions, the UCL, or defendants' terms of service" [sic] the conduct Rutenberg alleges was injurious consisted of Twitter's decisions regarding whether to edit content posted by an account holder or to ban it altogether.
Rutenberg claimed that Twitter acted as an information content provider, but her examples undercut that argument:
Rutenberg's allegations demonstrate that her state free speech claim is grounded on Twitter's editorial actions with respect to Trump's account, and not on Twitter's origination and posting of independent "news" content. That these editorial actions resulted in an alteration of the "physical interactive space," and specifically the elimination of this space, does not change the fact that her claims are rooted in Twitter's editorial decisions to moderate, and ultimately to suspend, Trump's account….

Not one of the many cases Rutenberg cites supports her effort to style her claim here as one aimed not at Twitter's editorial actions, but at its independently generated content.
The argument that social media services are "public forums" didn't work either:
the courts have declared social media platforms to be "public forums" for some purposes. But this does not detract from the established case law broadly construing the substantive protection afforded by section 230
The court ends emphatically: "the protection accorded by section 230 is broad and under well established case law, it bars the instant lawsuit against Twitter."
This case contributes to what Adam Kovacevich calls the "Prager Effect," i.e., "suing Big Tech to make your MAGA censorship allegation, resulting in Courts significantly strengthening platforms' legal rights to moderate." Though such lawsuits are ultimately socially wasteful, we do owe some gratitude to Rutenberg and her legal team for their contributions to Internet Law.
Case citation: Rutenberg v. Twitter, Inc., 2023 WL 3768389 (Cal. App. Ct. June 2, 2023).