Preemption Dooms Suit Over LinkedIn Group Spam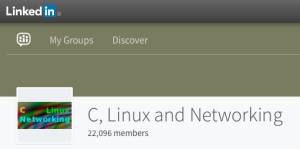 This is a lawsuit over spam sent to the member of a LinkedIn group. The common sense failings underlying the claims speak for themselves, but the court ends up dismissing on preemption grounds.
Plaintiff was a member of the "C, Linux and Networking Group" on LinkedIn. He alleged that he received 86 emails advertising various domain names such as "linkedininfluence.com," "paidsurveyauthority.com," and "takesurveysforcash.com," among others. The emails were sent by seemingly fictitious persons, or at least people with names that sounded like they were fake ("Whitney Spence," "Arelia Rosales," and "Nona Paine") (no offense to people who really have those names!). The emails were all sent through LinkedIn's domain name, as they had to be.
Plaintiff asserted violations of California's spam statute, which prohibits (1) the use of a third party domain name without permission; (2) falsified, misrepresented, or forged header information; and (3) misleading subject lines. Claims for misleading emails under the statute have to allege more than just mere inaccuracy, in order to escape federal preemption. See Gordon v. Virtumundo. The court rules that the allegations here do not suffice.
The court says the arguments raised by plaintiff are a variant of the arguments rejected in Virtumundo. Moreover, cases following Virtumundo have held that neither the "from" line nor the domain name in question are subject to an accuracy requirement. Nor do they have to readily identify the advertiser or sender in question.
As characterized by the court, Plaintiff did not attempt to meaningfully address preemption via Virtumundo, but tried to rely on Balsam v. Trancos, a California appellate court case where the court said that using a domain name that neither identifies the sender nor can be readily looked up via WHOIS can be misleading under California's spam statute. The court distinguishes Balsam because the plaintiff didn't allege the email headers were non-traceable and false.
Finally, Plaintiff contended that he had to open an email to determine the identity of the actual sender, but this argument is also foreclosed by relevant case law. Several cases have held that the identity of the sender need not be ascertainable from the from line or header—i.e., senders can force recipients to open commercial emails to figure out who they are from.
__
Despite the waning interest level over spam cases, this dispute is worth noting. Most importantly, it is another case that rejects plaintiff's attempt to nitpick over "from" line attributes. Plaintiffs consistently try these arguments and they have consistently failed, and they were bound to fail here as well.
For plaintiffs, spam litigation based on CAN-SPAM has been a bust following Virtumundo. Plaintiffs turned instead to California law and achieved some success in cases such as Trancos. But application of a robust preemption doctrine, as in this case, limits the viability of state law claims.
The fact that the claims here were over spam sent to a LinkedIn group are worth noting. Any group of this nature is bound to become overrun with spam over time, whether in the nature of off-topic messages or outside commercial emailers. This is a problem that LinkedIn is in a better position to try to address. (And under federal law unlike under California law, only the ISP is given standing to bring anti-spam claims.) But members of the group should not be litigating these claims. They have a ready non-legal solution at their disposal…hello, unsubscribe button!
Case citation: Silverstein v. Keynetics, 16-cv-00684-DMR (N.D. Cal. June 27, 2016)
Related posts:
Two Recent Spam Cases Look at Falsification of Origin and Subject Line Claims
No Spam Lawsuit When Plaintiff Asked For The Emails–Beyond v. Kraft
California Anti-Spam Law Doesn't Require Sender's Name In The 'From' Line or Domain Name
Shopkick Unable to Shake Text Spam Complaint — Huricks v. Shopkick
Lawyer's Suit Over "Professional Recognition" Spam Flops
Path May Be Liable for Text-Spamming Users' Contact Lists
CAN-SPAM Preemption Doesn't Apply To Fraud…And More
Advertiser May Have Claims Against SEO Firm Using Undisclosed Spammy Practices
Court Accepts Narrow View of CAN-SPAM Preemption but Ultimately Dismisses Claims – Davison Design v. Riley
Spam Arrest's Sender Agreement Fails Because Email Marketer's Employees Lacked Authority–Spam Arrest v. Replacements (Forbes Cross-Post)