Lawyer's Suit Over "Professional Recognition" Spam Flops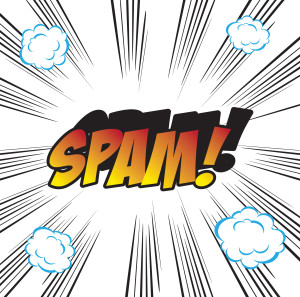 Say you're a lawyer and you receive a promotional email intimating that you're one of the "Top Lawyers in California." You probably just delete it and move on, right? That would be too easy. Nicholas Bontrager sued Showmark alleging that he believed he received an accolade from a "respected legal association or organization." The email purported to charge a $159 fee for a plaque memorializing the award. Bontrager never paid the fee because, upon inquiring, he did not receive a response from Showmark, but he did end up wasting his time, bandwidth, and email storage space. He did the logical thing that lawyers do when email wastes their time: he sued Showmark for violating California's spam statute.
Bontrager alleged that Showmark's email contained a misleading subject line. Ordinarily, the court says this presents a question of fact, but the court says that the subject line in this case is not misleading. The court contrasts this email with other emails where courts have found subject lines potentially misleading because they insinuated a personal relationship (Tagged; Reunion) or where the subject line leads the recipient to believe that she will get something for free (Member Source; ValueClick).  This is not the case here:
The phrase "Lawyer Media, Top Lawyers in California" indicates that the body of the email will concern top lawyers in California. This is in fact the subject addressed in the body of the email. Although the information contained in the body of the email may have been misleading because it suggested that Bontrager had received a fictitious award, the fictitious award was an award for top lawyers in California. This is exactly the topic identified the subject line. For that reason, no reasonable trial [sic] of fact could conclude that the subject line of the email was misleading.

….

Nothing in the subject line of the email Showmark sent indicated that Bontrager would receive a "Top Lawyer" plaque if he took certain action (e.g., opening the email), while the body of the email required him to take different action to receive it (e.g., paying a fee). Nor did the subject line indicate that the email was from a personal acquaintance, or even from the organization making the fictitious award, rather than a company that manufactures plaques. For these reasons, no reasonable trier of fact could find that the subject line of the email was likely to deceive a reasonable consumer. Bontrager's § 17529.5(a)(3) claim must therefore be dismissed.
Bontrager's claims under the false advertising statute and unfair competition laws also fail. He did not pay any money to Showmark, or for that matter to any third party, as a result of the emails. He now knows the true nature of the email, so he's not entitled to injunctive relief against future misleading emails of this nature. He also fails to allege damages sufficient to confer standing. He failed to allege how his loss of time, bandwidth, and email storage translated into economic losses (e.g., he did not plead that he paid for email storage at work).
Finally, Bontrager alleged negligent misrepresentation, but his allegations on damages fall short on this claim as well. He has to allege that he suffered damages as a result of the misrepresentations. He did not purchase the plaque—in fact, he investigated the award and "determined not only that he had not [won an award], but also that there was no organization that made such awards." Thus, even if he had purchased a plaque, the purchase would not have been caused by Showmark's misrepresentations.
Bontrager gets a chance to amend some of the claims, but he's unlikely to do so for obvious reasons.
__
Ouch. Lawyer-plaintiffs and their often poorly-faring lawsuits are a perennial favorite on the blog. To his credit, Bontrager did not represent himself. [Eric's comment: Bontrager's thrashing in court does suggest that "Lawyer Media, Top Lawyers in California" was, in fact, a dubious claim based on this lawsuit's result. Even if another lawyer represents him/her, a lawyer-in-the-role-of-plaintiff should have known better. I think Venkat and I should send a "Thank You For Demonstrating Your Legal Acumen To Prospective Clients" plaque to future lawyers who get drubbed in court when they become plaintiffs.]
CAN-SPAM litigation has diminished significantly, but as this lawsuit shows, plaintiffs still sue under California's spam statute. Courts grappled with preemption, but unfortunately they have drawn a murky line at best. When coupled with decisions under California's spam statute that give an expansive reading of that law, plaintiffs have wiggle room to sue under California's spam statute.
That said, this is a nice data point for litigation over email subject lines. There's nothing materially misleading about the subject line in this case, and the court nicely groups the cases where courts have found for the plaintiffs. I suppose the court could have said that, because there's no award and the recognition is fake, this causes the subject line to be misleading, but the court takes an approach that looks for material accuracy. (It's similar in this vein to cases such as Mummagraphics that decline to find causes of action based on technical inaccuracies with other aspects of a commercial email.) The court says that the subject line says nothing about the legitimacy of the award. It merely says that the email is about the topic of lawyer recognition…which it, in fact, is. Perhaps the court wasn't touched by the usual sympathy for a plaintiff because this case involved a lawyer?
Bontrager also argued that the subject line was misleading because it failed to indicate the email was a solicitation, but the court said there's no such requirement in the statute.
Case citation: Bontrager v. Showmark Media LLC, No. 14-01144 MMM (Ex) (C.D. Cal. June 20, 2014) (h/t Kronenberger Rosenfeld)
Related posts:
Advertiser May Have Claims Against SEO Firm Using Undisclosed Spammy Practices
Court Accepts Narrow View of CAN-SPAM Preemption but Ultimately Dismisses Claims – Davison Design v. Riley
Spam Arrest's Sender Agreement Fails Because Email Marketer's Employees Lacked Authority–Spam Arrest v. Replacements (Forbes Cross-Post)
Another Spam Litigation Factory Unravels –- Beyond Systems v. Kraft
Independent Contractor Relationship Between Sender and Advertiser Dooms Spam Claims – Kramer v. NCS
CAN-SPAM Violations For Private WHOIS Information and Putting Disclosures in Remotely Served Images – ZooBuh v. Better Broadcasting
Crazy SOPA-Like Attempt to Hold International Banks Liable for Pharmacy Spam Fails on Jurisdiction Grounds–Unspam v. Chernuk
Courts Allows Text Spam Class Action Against Voxer, a Cell Phone Walkie-Talkie App — Hickey v. Voxernet
Court Refuses to Dismiss Claims Against Alleged Twitter-Bot Spammer–Twitter v. Skootle
Is SOPA's "Follow the Money" Meme Infecting Anti-Spam Litigation? – Project Honey Pot v. Does
Text Spam Class Action Against Jiffy Lube Moves Forward – In re Jiffy Lube Int'l, Inc., Text Spam Litigation
California Appeals Court Says Emails That Don't Identify Sender Violate State Spam Statute – Balsam v. Trancos
Old School Spam Plaintiff Rebuffed in the Ninth Circuit
Text Spam Lawsuit Against Citibank Moves Forward Despite Vague Allegations of Consent — Ryabyshchuk v. Citibank
Court Dismisses Lawsuit Under Michigan Spam Statute Based on Preemption and Lack of Standing — Hafke v. Rossdale Group, LLC
Spam Claims Covered by Contract's Indemnity Clause–Commonwealth Marketing Group v. IMG Assocs.
In Facebook's Lawsuit Against Alleged Spammer, Court Denies MaxBounty's Motion to Dismiss
Seventh Circuit Awards e360 a Whopping $3 in Damages Against Spamhaus — e360 v. Spamhaus
Court Rejects First Amendment Challenge to CAN-SPAM Indictment — US v. Smallwood
Jury Rejects Lawyer's Claims Under DC's Anti-Spam Law — CyberLaw v. Thelaw.net