Politician Can't Ban Constituent From Her Official Facebook Page–Davison v. Loudoun County Supervisors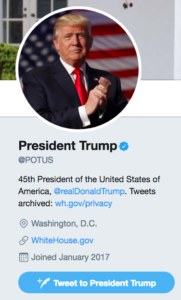 This is a First Amendment social media case, where the plaintiff was banned for a 12 hour period from the defendant's ostensibly official Facebook page. My prior blog post. Following a bench trial, the court finds in favor of plaintiff on his First Amendment claim. In other words, the court finds that even a short term ban of a constituent from a public official's social media page violates the First Amendment.
The court's findings of fact regarding the defendant's social media activities include:
She had a campaign page ("Friends of Phyllis Randall"), and the day before she was sworn into office, defendant asked her constituents to visit her official page;
She created the Facebook page outside the County's channels, and her page will not revert to the county after she leaves office;
She's listed as a "government official" in the about section;
She routinely uses the page for official proclamations and encourages constituents to contact her through the page (so official records are kept);
She addresses her constituents through her posts and also submits posts "on behalf of the Loudon County Board of Supervisors";
She engages with constituents in the comments section.
The court then turns to the question of whether defendant was acting under color of state law in maintaining the Facebook page. Applying a totality of the circumstances analysis, the court says it's clear she was acting under color of state law in maintaining the page and banning plaintiff. (While banned, the court notes that plaintiff could still view and share the content in question but could not comment on it.) The key question thus is whether defendant's actions violated plaintiff's First Amendment and Due Process rights.
The court says that the First Amendment claim against defendant in her official capacity fails because she was not acting pursuant to any official policy in banning the defendant. However, the court says that plaintiff states a claim against defendant in her individual capacity. First, the court says that in creating the "Chair Phyllis J. Randall" page, defendant created a forum:
When one creates a Facebook page, one generally opens a digital space for the exchange of ideas and information.
The court intimates that the forum is a general-purpose public forum, but says ultimately the forum characterization is not critical, as the evidence shows that defendant discriminated based on plaintiff's viewpoint (which is banned in even a limited public forum). Specifically, the court says it's clear plaintiff was banned because defendant was offended, and (citing Tam) this is a clear violation of the First Amendment. Apparently, Defendant testified she banned Davison because she decided "decided at that moment that if [Plaintiff] were a type of person that would make comments about people's family members, then maybe [Defendant] didn't want [Plaintiff] to be commenting on [her] site." Defendant argued that the ban's consequences were minor, but the court says that—in the vital forum of social media (citing Packingham)—even a short ban is consequential:
The Court cannot treat a First Amendment violation in this vital, developing forum differently than it would elsewhere simply because technology has made it easier to find alternative channels through which to disseminate one's message. Moreover, . . . the government violates the First Amendment by disfavoring "offensive" speech in ways far milder than outright suppression.
The court denies Davison's Due Process claim, concluding that this is a weak case to require a pre-deprivation hearing. The court also declines to issue injunctive relief.
The court previously issued a summary judgment ruling in this case that also makes for good reading. (Order dated May 12, 2017.) There, the court noted a change in the social media policy and grappled with the "novel legal question" of whether a "social media website may be considered 'governmental' for purposes of the First Amendment, notwithstanding that it is controlled privately by a government official." Ultimately, the court found that factual issues precluded ruling as a matter of law.
Davison, who is well on his way to being a prolific litigant, was also involved in a lawsuit with the Loudoun County Commonwealth's Attorney, Plowman. There, he squabbled over the Commonwealth's Attorney deletion of Davison's comments from the Commonwealth Attorney's Facebook page. Following a bench trial, the court ruled against plaintiff, finding that the Facebook page was a limited public forum, and the comment in question which precipitated the block was "off-topic." The Facebook page in question (in contrast to Randall's page) invited comments only with respect to posted topics. The court found that the policy underlying the ban (allowing "off-topic" comments to be suppressed) was viewpoint-neutral and reasonably related to the forum's purposes. Therefore, Davison could not state a First Amendment claim for being blocked from the attorney's Facebook page.
__
This is obviously a timely and relevant ruling, given the lawsuit against President Trump for blocking Twitter followers. While it's tempting to distinguish a Twitter stream from a Facebook page (where comments in a typical sense are the norm), Twitter's format has also changed, highlighting the importance of comments and "threads". In any event, I'm not sure this is a critical distinction. Much of the ruling's reasoning is equally applicable to the @POTUS twitter account. What started off looking like a lark of a case could turn into consequential precedent for constraints on the ability of politicians, including President Trump, to block members of the public.
The question of whether the Chair was acting in her official capacity in setting up the account is a difficult one the court struggles with. On the one hand, the rules shouldn't deprive public officials of the ability to speak in their private capacities and maintain their own social media accounts. On the other hand, to the extent they use an account to disseminate their official messages and tout their public efforts, they should be subject to First Amendment constraints, FOIA, and the rest of the rules that go with channels of official communication. The fact that the court found this to be an official account but then declined to find an official capacity violation threw me for a loop. Perhaps this is a function of the fact that a board functions only through its official actions? Perhaps it's a quirk of section 1983 litigation?
The same judge handled both of Davison's cases. The differing results can be explained largely by the availability of viewpoint discrimination evidence, which is often hard to come by. Both policies were lacking in several respects (both in terms of the acceptable topics and criteria for being banned). Ultimately, it's likely that Phyllis Randall's testimony in her case was, unfortunately for her, decisive.
Pro se plaintiffs get a bad rap often, but kudos to Mr. Davison for taking this case to trial and setting what looks like it could end up being significant precedent.
Eric's Comments: Apologies if I'm being with redundant with Venkat. To me, the opinion's implications are unmistakable: The @RealDonaldTrump account is irrefutably an official government account, and this opinion reinforces that our President repeatedly violates the Constitution when the account blocks other Twitter users by denying them the ability to submit threaded comments in response to a post. Unfortunately, President Trump has so broken so many laws and disregarded the Constitution so often that this particular transgression barely registers as an offense in light of Trump's legal violations oeuvre.
Case citations: Davison v. Loudoun County Board of Supervisors, 2017 WL 3158389 (E.D. Va. July 25, 2017); Davison v. Plowman, 1:16cv180 (JCC/EDD) (E.D. Va. Mar. 28, 2017).
Related posts:
County Attorney's Deletion of Constituent's Facebook Comment May Violate First Amendment
City Can't Use Copyright To Censor Critical Videos–Inglewood v. Teixeira
Blogger Can Display County Seal in Blog Posts–Rothamel v. Fluvanna County
First Amendment Precludes Disorderly Conduct Conviction for Ranting on Police Department Facebook Page
Demoting Police Officer for Posting Confederate Flag to Facebook Isn't First Amendment Violation
Police Officers Lean on School to Fire Social Worker for Facebook Post–and May Have Violated First Amendment
The First Amendment Protects Facebook "Likes" – Bland v. Roberts
Facebook "Likes" Aren't Speech Protected By the First Amendment–Bland v. Roberts