Section 230 Doesn't Protect Print-on-Demand Vendor–Atari v. Sunfrog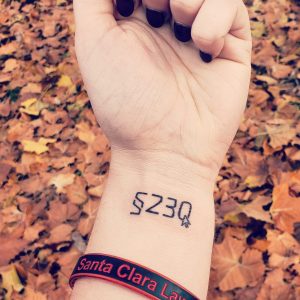 Atari sued a print-on-demand outfit, Sunfrog, for user-uploaded designs that are allegedly infringing. In addition to copyright and trademark claims, Atari asserted an unfair competition claim. Sunfrog defended that claim on Section 230 grounds. The court says no.
At this point, it's clear that Section 230 doesn't apply when the defendant is legally the "seller" of an item. The court cites Parisi v. Sinclair for this proposition, but the cites could have ranged from FTC v. Accusearch to Amazon v. Oberdorf. The court also cites Bravado v. GearLaunch, which rejected a Section 230 defense in another case involving Sunfrog.
Sunfrog apparently conceded that Section 230 doesn't apply to sellers, but it defended that Atari hadn't properly alleged it was a seller. The court found the following allegations sufficient to reject the motion to dismiss:
SunFrog "regularly markets and sells goods," "offers for sale the products on display," "makes, ships, and processes the payment" for products that are ordered by visitors to its website, and is "creating…counterfeit Atari products" and "products incorporating copyrights owned by Atari."
This case doesn't break new ground, but it reinforces Section 230's divide between sellers and non-sellers. If marketplace operators can position themselves as non-sellers, they can still qualify for Section 230–but that may be easier said than done. You may recall that, earlier this year, Redbubble got a surprising defense win because it significantly contorted its business model to avoid being a seller. Without such contortions, Section 230 is likely categorically unavailable to sellers of record, and that leaves those entities vulnerable to an unlimited range of regulation and liability.
Case citation: Atari Interactive, Inc. v. Sunfrog, LLC, 2019 WL 3804462 (N.D. Cal. Aug. 13, 2019)
Selected Related Posts:
* Wisconsin Court Holds Amazon Can Be Strictly Liable for Marketplace Items–State Farm v. Amazon
* Amazon May Be Liable for Marketplace Items–Oberdorf v. Amazon
* Amazon Might Be Liable for Defective Marketplace Items (But Only When It Tries to Warn Consumers)–Fox v. Amazon
* Amazon Isn't Liable for Defective Marketplace Sale (No Thanks to Section 230)–Erie Insurance v. Amazon
* Online Marketplace Defeats Trademark Suit Because It's Not the "Seller"–OSU v. Redbubble
* Amazon Again Avoids Liability for Defective Marketplace Item–Fox v. Amazon
* Recapping a Year's Worth of Section 230 Cases That Got Stuck in My Blogging Queue
* Amazon Doesn't "Sell" Its Marketplace Goods–Milo & Gabby v. Amazon
* eBay Isn't Liable for Patent-Infringing Marketplace Sales–Blazer v. eBay
* Section 230 Doesn't Protect Amazon From Products Liability Claims–McDonald v. LG
* eBay Isn't Liable for Selling Recalled Merchandise–Hinton v. Amazon