Wisconsin Court Holds Amazon Can Be Strictly Liable for Marketplace Items–State Farm v. Amazon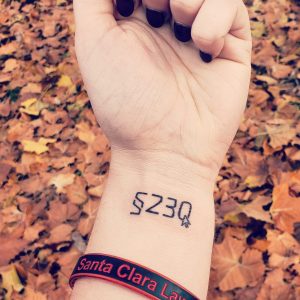 This is another case seeking to hold Amazon liable for defective items sold by its marketplace vendors (in this case, a bathtub faucet adapter that led to a household flood). Amazon had a remarkable string of wins in cases like this, but its courtroom success came to a screeching halt with the 3d Circuit's Oberdorf v. Amazon ruling. That case held that Amazon could be strictly liable for marketplace sales under Pennsylvania law, and Section 230 didn't change that outcome. This ruling echoes the Oberdorf conclusion, but under Wisconsin law.
The court says the adapter manufacturer would be strictly liable under Wisconsin law, but everyone agrees that the manufacturer can't be served in Wisconsin (like many other cases against Amazon, the upstream manufacturer is Chinese). That leaves the question of whether Amazon now must take the manufacturer's responsibility.
Reviewing Wisconsin's statutory structure, the court says "sellers and distributors are liable, not because of any particular activity on their part, but because they are proxies for the absent manufacturer." With this orientation, this judge says Amazon's on the hook:
The undisputed facts show that Amazon is an integral part of the chain of distribution, an entity well-positioned to allocate the risks of defective products to the participants in the chain. Amazon provided the only conduit between XMJ, the Chinese seller, and the American marketplace. Without Amazon, XMJ products would not be available at all in Wisconsin. Amazon did not directly set the price for the faucet adapter, but it set the substantial fees that it would retain for itself, so it was positioned to insure against the risk of defective products. As part of the FBA agreement, Amazon required XMJ to register each product, and Amazon reserved the right to refuse to sell any of them. So Amazon was in a position to halt the flow of any defective goods of which it became aware. And Amazon took steps to protect itself by requiring XMJ to indemnify Amazon. Amazon also implicitly represented that the adapter was safe by listing it for sale among its own products, and it expressly guaranteed timely delivery in good condition. And, under Amazon's A to Z guarantee, Amazon agreed to process returns and refunds if XMJ did not respond. Amazon took on all the roles of a traditional—and very powerful—reseller/distributor. The only thing Amazon did not do was take ownership of XMJ's goods….

Amazon did not own the product that XMJ sold to Cain. But in light of the facts of this case, that is a mere technicality. At least for products sold under Amazon's FBA program, Amazon otherwise serves all the traditional functions of both retail seller and wholesale distributor.
There are some obvious problems with this passage. First, the court only focuses on but-for causation ("Without Amazon, XMJ products would not be available at all in Wisconsin"), instead of the more appropriate doctrine of proximate causation. Second, the court says that Amazon was "in a position to halt the flow of any defective goods of which it became aware," but this replicates a mistake from the Oberdorf ruling–the judge didn't recount any evidence that Amazon was in fact "aware" of any problems with the item, and of course Amazon's scienter is irrelevant to strict liability. So Amazon has the capacity to intervene but has no apparent reason why it should have, or would have, intervened here, yet the judge says that Amazon should have done something differently anyway. Third, the court misinterprets the meaning of the vendor's indemnity, which doesn't evidence any control over the vendor. Fourth, the court holds Amazon's reservations of termination rights against Amazon, setting up a Moderator's Dilemma for Amazon's marketplace that Section 230 was designed to prevent. Finally, the court falsely says that Amazon provided "the only conduit" between manufacturer and the Wisconsin buyer. Uh, hello? The actual marketplace vendor is in the chain too!
The court continues that Section 230 doesn't apply because Amazon is a "seller." "Amazon's active participation in the sale, through payment processing, storage, shipping, and customer service, is what makes it strictly liable." As I mentioned in the Oberdorf case, this result parallels the Airbnb/HomeAway case results without citing them. The court distinguishes Daniel v. Armslist, a powerful Section 230 ruling from the Wisconsin Supreme Court, because Armslist just functioned like a classified ads service.
The court concludes:
Amazon has transformed retailing in the United States, and in the process it has taken on many roles that had been served by brick-and-mortar stores, shopping malls, and wholesalers and distributors. This has been a boon to consumers, because through Amazon consumers can purchase a vast range of products, supplied by manufacturers and sellers across the globe, that would otherwise not be available to Wisconsin buyers. But what recourse does a Wisconsin buyer have if one of these third-party products is defective and causes injury or damage? If, as in this case, the manufacturer and the third-party seller are foreign entities that cannot be sued in Wisconsin courts, Amazon's answer is that there is no recourse.

This answer cannot be squared with Wisconsin's law of strict product liability. Particularly when Amazon provides order fulfillment services through its FBA program, Amazon is properly considered a seller for purposes of Wisconsin strict product liability law for products sold by third parties through Amazon.com. And Amazon is not immune under the Communications Decency Act for claims that it sold a defective product.
So where does Amazon go from this ruling? It has a pending en banc rehearing petition at the 3d Circuit in the Oberdorf case, and I expect it will appeal this ruling as well if it loses at trial. Perhaps Amazon will get more advantageous results in further appellate proceedings. However, as the threats to its marketplace proliferate across different states with different strict liability statutes, Amazon's challenges will get exponentially more complicated. This is no longer just a "Pennsylvania problem," as Prof. Gus Hurwitz recently argued in an effort to downplay Oberdorf.
Given public sentiments towards Amazon, Amazon-favorable interventions aren't likely to come from either state legislatures or Congress. Thus, Amazon has to win in all of the courts or do something differently. So like I did after Oberdorf, I again wonder where a strict liability rule leaves Amazon's marketplace? Amazon could establish a certification process for manufacturers and vendors, but I think the more likely scenario is that strict liability will prompt Amazon to shut down the marketplace and act like the retailer for all goods it sells. In that case, Amazon would severely circumscribe the items available in the marketplace and wipe out a huge class of existing Amazon vendors–and a significant part of Amazon's market cap. As a result, rulings like this have exceptionally high stakes for Amazon, Amazon's stockholders, the American economy, Amazon vendors, and Amazon's consumers.
The rulings also have high stakes for victims, though in this case (and some others, like the Erie Insurance case), the real party in interest is the victim's insurance company, not the victim directly. I wonder how that change in plaintiff identity affects the cases. Maybe insurance lawyers–notoriously defense-focused–are pretty skilled when they flip sides? I did a quick docket search and saw several other pending cases by State Farm against Amazon, and I'm sure this ruling will now be cited in all of them.
Case citation: State Farm Fire and Casualty Company v. Amazon.com, Inc., 2019 WL 3304887 (W.D. Wis. July 23, 2019)
Selected Related Posts:
* Amazon May Be Liable for Marketplace Items–Oberdorf v. Amazon
* Amazon Might Be Liable for Defective Marketplace Items (But Only When It Tries to Warn Consumers)–Fox v. Amazon
* Amazon Isn't Liable for Defective Marketplace Sale (No Thanks to Section 230)–Erie Insurance v. Amazon
* Online Marketplace Defeats Trademark Suit Because It's Not the "Seller"–OSU v. Redbubble
* Amazon Again Avoids Liability for Defective Marketplace Item–Fox v. Amazon
* Recapping a Year's Worth of Section 230 Cases That Got Stuck in My Blogging Queue
* Amazon Doesn't "Sell" Its Marketplace Goods–Milo & Gabby v. Amazon
* eBay Isn't Liable for Patent-Infringing Marketplace Sales–Blazer v. eBay
* Section 230 Doesn't Protect Amazon From Products Liability Claims–McDonald v. LG
* eBay Isn't Liable for Selling Recalled Merchandise–Hinton v. Amazon