Twitter Gets Another Significant Section 230 Win in Lawsuit by Suspended User–Murphy v. Twitter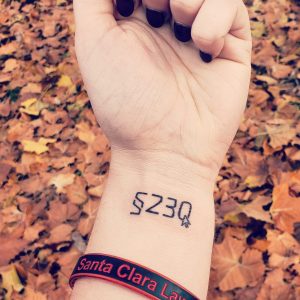 Murphy had about 25,000 Twitter followers. She repeatedly referred to a trangender female as male in her tweets. Twitter suspended her account for "misgendering." After more negative interactions between them, Twitter permanently banned Murphy. Murphy claimed that Twitter changed its applicable site policy midstream, didn't inform her of the changes, and retroactively applied the new policy to her. She also claimed "viewpoint discrimination," that Twitter's unilateral discretion to suspend or ban accounts are procedurally and substantive unconscionable, and that Twitter enforced its policies inconsistently. She sued Twitter in a putative class action for contract breach, false advertising, and unfair competition. Twitter responded with an anti-SLAPP motion to strike and a demurrer (the CA equivalent of a motion to dismiss). The court rejected the anti-SLAPP motion but granted the demurrer on Section 230 grounds.
Anti-SLAPP. California's anti-SLAPP law has an exception for "public interest" litigation. This lawsuit qualified, in part because the class sought declaratory/injunctive relief and not damages. This is good news for the plaintiffs, because if Twitter had won the anti-SLAPP motion, they would have had to pay Twitter's legal fees. Contrast the Johnson v. Twitter lawsuit, where the plaintiffs apparently are on the hook for Twitter's defense costs.
Section 230. Based on the growing body of precedent, this is an straightforward Section 230 defense win:
* ICS Provider. Twitter qualifies. Cites to Pennie and Fields, plus Hassell v. Bird.
* Third Party Content. Murphy's tweets qualify. Note how this move continues to collapse 230(c)(1) and 230(c)(2) by treating the filtered/removed content as third-party content. The court addresses this issue in a footnote, citing Barrett v. Rosenthal and claiming "controlling authority has squarely rejected Plaintiffs' argument 'that a broad reading of section 230(c)(I) would make section 230(c)(2) unnecessary.'"
* Publisher/Speaker. The court says "California and federal courts are in accord that actions that, like the instant case, seek relief based on an internet service provider's decisions whether to publish, edit, or withdraw particular postings are barred by Section 230" (cites to Cross v. Facebook, Doe II v. MySpace, Sikhs for Justice v. Facebook). The court adds: "federal courts have specifically ruled that a service provider's decisions to provide, deny, suspend or delete user accounts are immunized by Section 230" (cites to Fields v. Twitter, Riggs v. MySpace, Cohen v. Facebook, Mezey v. Twitter). Citing Barrett, the court says it's immaterial that "this case involves Twitter's decision to take down content rather than to post it."
The plaintiffs argued that Section 230 didn't apply to the specific causes of action alleged. The court responds that Section 230 applies to creative pleading workarounds (cite to Hassell) and to injunctive and declaratory relief claims. The court adds: "the duties Murphy alleges Twitter violated derive from its status or conduct as a publisher because its decision to suspend her accounts, and those of other similarly situated users who violated its Hateful Conduct Policy, constitutes publishing activity."
The court distinguishes Demetriades v. Yelp because:
Murphy's complaint is not seeking to hold Twitter liable for its purely commercial statements to users or potential advertisers. Rather, all of her claims challenge Twitter's interpretation and application of its Terms of Service and Hateful Conduct Policy to require Murphy to remove certain content she had posted in her Twitter account, to suspend that account, and ultimately to ban her from posting from Twitter due to her repeated violations of the Terms of Service and Policy. All of those actions reflect paradigmatic editorial decisions not to publish particular content, and therefore are barred by Section 230.
The court distinguishes Barnes v. Yahoo because "Murphy is not seeking damages for Twitter's failure to comply with an alleged contractual or quasi-contractual promise, but rather is seeking injunctive relief to compel it to restore her and others' Twitter accounts and to refrain from enforcing its Hateful Content Policy against her."
The court summarizes:
Because all three causes of action of the complaint seek to impose liability on Twitter for its actions in suspending or banning Murphy's and others' Twitter accounts, and in enforcing policies governing the permissible scope of content in those accounts–all actions within the traditional scope of a publisher's role–Section 230 controls
Implications
This ruling came from a California Superior Court, which is bound by the two California Supreme Court cases discussing Section 230, Barrett and Hassell. This forced the judge to wrestle with how to interpret Hassell v. Bird, in which Justice Krueger cast a decisive vote in a badly fractured set of opinions through her tortured and schizophrenic concurrence. The judge in this case decides to embrace the pro-Section 230 plurality opinion and justified this decision this way:
Justice Kruger, concurring in the judgment, did not disagree with the plurality's overall analysis of Section 230. (See 5 Cal. 5th at 548,557-558 ["section 230 immunity applies to an effort to bring a cause of action or impose civil liability on a computer service provider that derives from its status as a publisher or speaker of third party content."] [conc. opn. of Kruger, J.].) Neither did Justice Cuellar's dissent. (See id. at 567-568 ["S]ection 230 … confer[s] immunity … against a cause of action filed directly against the platform, seeking to hold it liable for conduct as the publisher of third party content."] [dis. opn. of Cuellar, J.].) Thus, notwithstanding their differences regarding the other issues posed in that case, a majority of the Court endorsed the core principle on which this order turns.
I'm pretty sure Justice Cuellar would be surprised to see his dissent cited as saying anything favorable about Section 230's application in that case.
The rulings over social media account suspensions/terminations are coming so fast and furious that I can barely keep up. They are uniformly going in favor of social media providers, so in that sense this opinion doesn't break any new ground. Still, as plaintiffs fail with their different attempted work-arounds, it adds to the solid wall of defense-favorable precedent for the future.
Yesterday, Adam Candeub, one of Murphy's lawyers, sent me the following statement:
Today, the Superior Court of San Francisco dismissed a user's lawsuit against Twitter, effectively ruling that the social media giant may break its promises to users or advertisers with impunity. The court's overbroad interpretation of Communications Decency Act Section 230 gives internet platforms sweeping immunity from suit, even for violating their own contracts and flouting their own promises to users and advertisers. We intend to appeal this ruling, and will continue to seek to protect the rights of consumers in the social media world….

In rejecting Twitter's anti-SLAPP action pursuant to its public interest exception, the Court joins a growing chorus recognizing the centrality of social media to public discourse—and the importance to the public of adjudicating legal claims against the major social media platforms.
Case citation: Murphy v. Twitter, Inc., No. CGC-19-573712 (Cal. Superior Ct. June 12, 2019)
Selected Related Posts Regarding Twitter Suspensions/Bans:
* Once Again, Section 230 Protects Twitter's Account Suspension Decisions–Brittain v. Twitter
* Twitter Defeats Yet Another Lawsuit from a Suspended User–Cox v. Twitter
* Section 230 Preempts Unfair Competition Law Claim–Taylor v. Twitter
* Twitter's TOS Upheld Despite Unilateral Amendment Clause—Brittain v. Twitter
* Another Suspended Twitter User Loses in Court–Kimbrell v. Twitter
* Section 230 Protects Twitter's Decision to Suspend User's Account–Mezey v. Twitter
* Twitter Gets Powerful Win in "Must-Carry" Lawsuit–Taylor v. Twitter
* Twitter Isn't a Shopping Mall for First Amendment Purposes (Duh)–Johnson v. Twitter