[Statute of] Queen Anne's Revenge? Supreme Court Grants Certiorari in Allen v. Cooper
By guest blogger Tyler Ochoa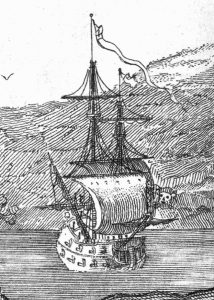 If your literary or artistic work is copied by a state government or state officials, can you sue those defendants for copyright infringement?  Section 511 of the Copyright Act says that you can, but conventional wisdom is that section 511 is probably unconstitutional under the U.S. Supreme Court's Eleventh Amendment case law.  Now we will get a definitive answer to the question.  Last week, the U.S. Supreme Court granted certiorari in Allen v. Cooper, 895 F.3d 337 (4th Cir. 2018), cert. granted, No. 18-877 (June 3, 2019), a case that presents the question: "Whether Congress validly abrogated state sovereign immunity … in providing remedies for authors of original expression whose federal copyrights are infringed by States."  Petition for certiorari, at i.
Most media reports concerning the case, however, were less concerned with the legal principle involved, and more interested in the factual situation out of which the dispute arose: the discovery, in 1996, of the 300-year-old wreck of the Queen Anne's Revenge, the flagship of Edward Teach, better known as Blackbeard the pirate.  Coincidentally, Blackbeard named his ship for the same Queen Anne who gave royal consent to the first British copyright act, the Statute of Anne, in 1710.  In the same year, Bristol merchants completed a ship named Concord, which was later sold to French merchants who called it La Concorde.  Blackbeard captured the ship in 1717, outfitted it with additional cannon, and renamed it Queen Anne's Revenge, because he had served as a British privateer during the war against France and Spain that lasted for almost the whole of Queen Anne's reign.
In May 1718, the Queen Anne's Revenge ran around off of Beaufort inlet in North Carolina.  (Some historians have suggested that Blackbeard may have deliberately grounded the ship, as an excuse to leave some of the crew behind, so that fewer crew members remained with whom to share the spoils of piracy.)  Six months later, Blackbeard was killed in battle with British colonial forces on November 22, 1718.
The wreck was discovered by Intersal, Inc., a marine salvage company, on November 21, 1996, almost 278 years to the day after Blackbeard's death.  Because the wreck lies within three miles of the coast, it belongs to the State of North Carolina under the Abandoned Shipwreck Act of 1987, 43 U.S.C. § 2105(c).  Although Intersal could claim 75% of any treasure recovered under State law, in 2018 it entered into an agreement with the State's Department of Natural and Cultural Resources (DNCR), assigning all property rights in the ship and its contents to the State in exchange for exclusive media rights to the salvage project.  Intersal designated Nautilus Productions, LLC, owned by petitioner Frederick Allen, to document the project.
In 2013, Intersal and Nautilus accused DNCR of copyright infringement. The parties entered into a Settlement Agreement, with DNCR paying Nautilus $15,000 for past acts of infringement.  In 2015, Nautilus accused DNCR of breaching the Settlement Agreement by posting and publishing some of its photographs and video footage without its consent.  In response, North Carolina amended its Public Records Act to provide:
All photographs, video recordings, or other documentary materials of a derelict vessel or shipwreck or its contents, relics, artifacts, or historic materials in the custody of any agency of North Carolina government or its subdivisions shall be a public record pursuant to Chapter 132 of the General Statutes.
Nautilus and Allen filed a lawsuit against DNCR, various state officials (including named defendant Governor Roy Cooper), and The Friends of Queen Anne's Revenge (a non-profit group) for copyright infringement, and for a declaratory judgment that the statutory amendment was invalid and  unenforceable, because it was preempted by the Copyright Act.  The state agencies and state officials filed a motion to dismiss, arguing primarily that the claims were barred by sovereign immunity, legislative immunity, and qualified immunity.
Background: State Sovereign Immunity
The Eleventh Amendment to the Constitution provides: "The Judicial power of the United States shall not be construed to extend to any suit in law or equity, commenced or prosecuted against one of the United States by Citizens of another State, or by Citizens or Subjects of any Foreign State."  Although Nautilus and Allen are citizens of North Carolina, and therefore are not "Citizens of another State," the U.S. Supreme Court has held that the Eleventh Amendment recognizes preexisting sovereign immunity for state entities, in both federal court and state court, even in suits brought by citizens of that state. Hans v. Louisiana, 134 U.S. 1 (1890); Alden v. Maine, 527 U.S. 706 (1999).
In Seminole Tribe of Florida v. Florida, 517 U.S. 44 (1995), the Supreme Court held 5-4 that Congress lacked power under the Indian Commerce Clause of the U.S. Constitution to subject states to suit in federal court for violations of federally created rights. In so holding, the majority stated broadly that "Article I cannot be used to circumvent the constitutional limitations placed upon federal jurisdiction" by the Eleventh Amendment. Id. at 73.  Justice Stevens' dissenting opinion observed that the court's reasoning would "prevent[] Congress from providing a federal forum for a broad range of actions against States, from those sounding in copyright and patent law, to those concerning bankruptcy, environmental law, and the regulation of our vast national economy." Id. at 77.  The decision cast doubt on Copyright Remedy Clarification Act, Pub. L. No. 101-553 (1990), in which Congress added § 511 to Title 17, expressly waiving whatever immunity the states might have to suits for copyright infringement.
Seminole Tribe was not a copyright case, or even an intellectual property case. In 1999, however, the Supreme Court dropped the other shoe. In Florida Prepaid Postsecondary Education Expense Board v. College Savings Bank, 527 U.S. 627 (1999), and College Savings Bank v. Florida Prepaid Postsecondary Education Expense Board, 527 U.S. 666 (1999), the Court concluded that Congressional efforts to abrogate state sovereign immunity for patent infringement and false advertising (respectively) were unavailing, casting even greater doubt on the validity of § 511.
Both decisions followed Seminole Tribe in holding that the powers granted to Congress in Article I cannot constitutionally be exercised to overcome the immunity provided by the subsequently adopted Eleventh Amendment. Chief Justice Rehnquist's majority opinion in the Florida Prepaid case acknowledged that abrogation of state sovereign immunity might, in certain cases, be accomplished under the Fourteenth Amendment.  (§ 1 of the Fourteenth Amendment prohibits a state from depriving any person of property without due process of law; while § 5 gives Congress the power to enforce its provisions "by appropriate legislation.")  According to the majority, however, the 1992 Patent and Plant Variety Protection Remedy Clarification Act was not the type of "appropriate legislation" authorized by § 5 of the Fourteenth Amendment. The Court stressed that the legislation was not based on a finding of a pattern of patent infringement by the states, nor on a determination that such state patent infringements as did occur rose to the level of a due process violation.
After the Florida Prepaid cases, every lower court to address the issue has concluded that the Copyright Remedy Clarification Act was likewise not a valid exercise of Congress' power to abrogate state sovereign immunity under the Fourteenth Amendment.  See, e.g., National Ass'n of Boards of Pharmacy v. Board of Regents of the University System of Georgia, 633 F.3d 1297 (11th Cir. 2011); Rodriguez v. Texas Comm'n on the Arts, 199 F.3d 279 (5th Cir. 2000); Chavez v. Arte Publico Press, 204 F.3d 601 (5th Cir. 2000); Issaenko v. Univ. of Minnesota, 57 F. Supp. 3d 985 (D. Minn. 2014); Coyle v. Univ. of Kentucky, 2 F. Supp. 3d 1014 (E.D. Ky. 2014).  These courts saw no persuasive reason to distinguish copyright infringement from patent infringement, despite Justice Stevens' suggestion in Seminole Tribe that the Congressional record was replete with examples of copyright infringement by states and state officials.  527 U.S. at 658 n.9 (Stevens, J., joined by Souter, Ginsburg & Breyer, JJ., dissenting).
In addition to the Fourteenth Amendment, however, there are two recognized exceptions to state sovereign immunity in federal court.  First, under the doctrine of Ex Parte Young, 209 U.S. 123 (1908), Congress can authorize private suits for prospective injunctions requiring state officials to uphold federal copyright law. See Nat'l Ass'n of Bds. of Pharm., 633 F.3d at 1308–12.  Second, in Central Virginia Community College v. Katz, 546 U.S. 356 (2006), Justice O'Connor joined the four dissenters in Seminole Tribe in holding that Congress has the power to subject states to proceedings in federal court under a different Article I power, the Bankruptcy Clause.  The Court held that the "States agreed in the plan of the Convention not to assert any sovereign immunity defense they might have had in proceedings brought pursuant to" the Bankruptcy Clause.  Id. at 356.  The majority did not clearly indicate, however, how to distinguish valid waivers "in the plan of the Convention" from ineffective waivers concerning other Article I powers.
Finally, some courts have held that actions for damages may be maintained against state officials in their individual capacity, unless it can be shown that the judgment would inevitably be paid out of the public purse. See National Ass'n of Boards of Pharmacy v. Bd. of Regents of the Univ. Sys. of Ga., 2008 U.S. Dist. LEXIS 32116, at *65–*69 (M.D. Ga. Apr. 18, 2008), aff'd and vacated in part; remanded by, 633 F. 3d 1297 (11th Cir. 2011); Mktg. Info. Masters, Inc. v. Bd. of Trustees of the Cal. State Univ. Sys., 552 F. Supp. 2d 1088, 1095–96 (S.D. Cal. 2008). State officials are entitled to qualified immunity, however, unless their actions violated "clearly established law."  See National Ass'n of Boards of Pharmacy, 2008 U.S. Dist. LEXIS 32116, at *69–*81.
Proceedings Below
In Allen v. Cooper, 244 F. Supp. 3d 525 (E.D.N.C. 2017), rev'd, 895 F.3d 337 (4th Cir. 2018), the District Court held that § 511 was a valid exercise of Congress' power under the Fourteenth Amendment, because "Congress was clearly responding to a pattern of current and anticipated abuse by the states of the copyrights held by their citizens." 244 F. Supp. 3d 525, 535 (E.D.N.C. 2017). Not content with that holding, the District Court then launched into a five-page tirade dissenting from the Supreme Court's entire Eleventh Amendment jurisprudence. Id. at 535-40.  Not surprisingly, the Fourth Circuit reversed, holding under Florida Prepaid that § 511 was not a valid exercise of Congress' authority to enact "appropriate legislation" under the Fourteenth Amendment.  895 F.3d at 353.  It also rejected the application of Ex Parte Young, because because the six specific instances of alleged copyright infringement had ceased, and it was mere speculation that the state would resume infringing. Id. at 354-55.
The Fourth Circuit also reinstated the individual defendants' claims to qualified immunity, holding that the state officials' actions did not violate "clearly established law" because the use might have been allowable under the 2013 Settlement Agreement or preexisting public records law.  895 F.3d at 357.  (Although not mentioned by the Fourth Circuit, those actions also might have been permitted under the fair use doctrine, 17 U.S.C. § 107.)  Finally, the Fourth Circuit also held that the individual defendants were entitled to legislative immunity, because "the only actual conduct alleged in furtherance of the conspiracy — that the officers 'wrote, caused to be introduced, lobbied for passage of, and obtained passage' of [the 2015 Amendment] — is quintessentially legislative in nature."  Id.
The Fourth Circuit's rulings concerning qualified immunity and legislative immunity were not raised in the petition for certoriari, so those rulings stand.  The individual defendants cannot be sued in their individual capacities for the alleged acts of copyright infringement.  The sole issue before the Supreme Court is whether states and state officials acting in their official capacities have sovereign immunity from claims of copyright infringement.
Analysis
If the Justices vote along conventional political lines, one can predict a 5-4 decision affirming the Fourth Circuit at the Supreme Court level, following the opinions in Seminole Tribe and Florida Prepaid and holding that § 511 was not a valid waiver of sovereign immunity under § 5 of the Fourteenth Amendment.  There has been considerable turnover in the membership of the Court, however, since those decisions were issued.  On the "liberal" side, Justices Stevens and Souter have retired and have been replaced by Justices Sotomayor and Kagan.  On the "conservative" side, Chief Justice Rehnquist and Justice Scalia have died, and Justices O'Connor and Kennedy have retired, and they have been replaced by Chief Justice Roberts, and Justices Gorsuch, Alito, and Kavanaugh, respectively.  Assuming Justices Sotomayor and Kagan adhere to the view of the dissenters in Seminole Tribe and Florida Prepaid, it would take only one "conservative" Justice to switch sides (as Justice O'Connor did in Katz) to distinguish, or perhaps even overrule, Florida Prepaid.  Admittedly, however, that prospect seems unlikely.  (Chief Justice Roberts voted with the dissenters in Katz.)
If the Court rules in favor of sovereign immunity, as seems likely, one unfortunate consequence is that there will be no ruling on the most interesting in the case; namely, whether the North Carolina statute is preempted by federal copyright law.  Section 301(a) of the Copyright Act preempts state laws concerning copyrighted works if they provide rights that are "equivalent" to those provided by the Copyright Act (i.e., reproduction, adaptation, public distribution, public performance, or public display).  But the North Carolina statute doesn't provide any such rights to copyright owners; instead, it provides a defense to copyright infringement, by authorizing State officials to copy certain materials. That means the North Carolina statute isn't "equivalent" to any of the exclusive rights, so it doesn't fall under express statutory preemption. At best, it might fall under a residual implied conflict preemption analysis, because it arguably "stands as an obstacle to the accomplishment and execution of the full purposes and objectives of Congress."  Hines v. Davidovitz, 312 U.S. 52, 67 (1941).  The District Court was incorrect, however, when it asserted that the North Carolina statute places Nautilus' photos and videos in the public domain.  Nautilus remains free to enforce its copyrights against any third parties that obtain those materials from the State; and to the extent the statute allows State officials to infringe, those state officials are likely already shielded by state sovereign immunity.
So what is a copyright owner supposed to do when his or her copyright is infringed by state officials?  The Fourteenth Amendment provides that state officials cannot deprive a person of property without due process of law; such a deprivation is an unconstitutional "taking" that may be redressed in state or federal court.  Not all uses of intellectual property rise to the level of a "taking," however. In order to constitute a "taking," the state action would have to deprive the plaintiff of nearly all of the work's value (as the North Carolina statute may have done).  It seems that the best procedure for Allen and Nautilus would have been to file an inverse condemnation claim in state court for just compensation for an alleged "taking" of their property.  Such a suit would allow them to recover damages only, rather than an injunction; but the same would be true if their copyrights had been infringed by the federal government. 28 U.S.C. § 1498(b). Whether the plaintiffs can still file such a suit now, or whether such a suit would be barred by res judicata, is another issue that will be have to be reached if the Supreme Court affirms the Fourth Circuit's ruling.
Conclusion
Allen v. Cooper raises a host of interesting issues regarding the relationship between the states and the federal government vis-à-vis copyright infringement and the ability of a state to declare a copyrighted work to be a "public record."  The U.S. Supreme Court granted certoriari only on a single threshold issue: whether the states have sovereign immunity from suits for copyright infringement under the Eleventh Amendment.  Even if the Supreme Court rules in favor of sovereign immunity, as expected, the possibility of a state lawsuit for inverse condemnation remains.  Thus, more than 300 years after the Queen Anne's Revenge ran aground, her voyage through the American judicial system is far from over.
For a more complete description and analysis of Allen v. Cooper, see Tyler T. Ochoa, Copyright and Underwater Cultural Heritage, 49 J. Maritime L. & Commerce 441, 462-73 (2018).