Trademark Injunction Issued Against Print-on-Demand Website–Harley Davidson v. SunFrog
The print-on-demand business is a legally risky one. As I recently blogged, in June a court ruled that Zazzle did not qualify for the DMCA 512 safe harbor. This ruling is even more troubling. Are the days of print-on-demand services numbered, at least any that try to operate without human prescreening of all user uploads?
SunFrog prints user-uploaded designs on T-shirts and other merchandise. Users uploaded Harley-Davidson logos to produce what Harley considered counterfeit T-shirts. The case doesn't mention if users uploaded any parodic versions of the logos, though the court's ruling does not distinguish between counterfeits and parodies. (Paging Rebecca Tushnet, who has shown through FOIA requests that our own government can't make that distinction either). SunFrog claimed it took a number of steps to protect Harley's marks, but apparently these steps did not satisfy Harley.
The court doesn't mention Tiffany v. eBay at all. Instead, the court easily finds that Harley qualifies for a preliminary injunction:
"Because SunFrog sells numerous products bearing marks identical to or materially indistinguishable from Harley-Davidson's registered (and largely incontestable) marks, Harley-Davidson has established a likelihood that consumers, viewing SunFrog's products in the marketplace, would be confused as to their source, affiliation, or sponsorship."
"Harley-Davidson presents a fairly straightforward case of counterfeiting against an online marketplace. Stopping this conduct will serve both to protect HarleyDavidson's interest in its consumer goodwill and vindicate the public's interest in avoiding deception as to the source or sponsorship of the goods they purchase."
In defining the injunction's scope, the court consulted the archaic and mockably wrong Promatek v. Equitrac opinion (a case I still teach in Internet Law because the mocking payoffs are so pedagogically powerful), saying:
consumers would likely experience initial-interest confusion upon seeing a SunFrog URL containing Harley-Davidson's marks, wherever they may be located within the URL. Those consumers would then be more likely to browse SunFrog's offerings regardless of whether they realized that the products were not genuine Harley-Davidson goods.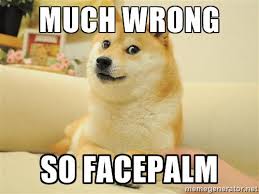 Ugh. First, "initial interest confusion." No. Just no. NEVER.
Second, this case runs directly contrary to other cases (including the cited a2z and Patmont cases) that have held a trademark in the post-domain URL path doesn't constitute trademark infringement. To reach a contrary result, the court analogizes trademarks in post-domain URLs to metatags, even though post-domain trademark references share basically zero common technological attributes with keyword metatags–at all. Furthermore, as noted earlier, the court's treatment doesn't distinguish between counterfeits and parodies or criticism, so there could be circumstances where the Harley marks may be appropriate in the post-domain URL. The result is that the court introduces a conflict with the unbroken a2z/Patmont line of cases based on technological fictions. Blech.
In a footnote, the court discusses the "innocent infringer" limitation on remedies for publishers (15 USC 1114(2)). Mark Lemley has extolled the virtue of this provision, but I've always been skeptical that it has much utility at all. There is limited and not-encouraging caselaw interpreting it. 1114(2) only restricts past damages, not an injunction against future activity, so the court says the 1114(2) defense is irrelevant in this case without reaching the harder issue of whether SunFrog had the requisite "innocence."
Among other restrictions, the injunction bans SunFrog from displaying/using certain Harley marks, the following logos, and any "confusingly similar" marks:

It also bans SunFrog from using the Harley marks in domain names and "keywords" (paging the FTC regarding the competitive effects of keyword restrictions). The injunction makes no allowances for parodies, criticism, other fair uses or other limitations on Harley's trademark rights.
So how will SunFrog implement this injunction when processing user submissions? It can set up keyword filters on the word marks. Maybe it has the technology to auto-filter images from user uploads. But because the injunction extends to "confusingly similar" marks and logos, to me it seems like the only 100% effective way to implement the injunction would be manual prescreens of all user uploads.
What implications does this ruling have for other print-on-demand or online marketplace websites? If the opinion is just an outlier, not much. But if this case presages a greater judicial intolerance for online marketplace facilitation of user "counterfeiting," this ruling is bad, bad news for both industries.
Case citation: H.-D. USA, Inc. v. SunFrog LLC, 2017 WL 3261709 (E.D. Wis. July 31, 2017). The complaint.
Related Posts:
* DMCA Safe Harbor Doesn't Protect Zazzle's Printing of Physical Items–Greg Young Publishing v. Zazzle
* Amazon Defeats Publicity Rights Lawsuit Over 'A Gronking To Remember' Book Cover
* CafePress May Not Qualify For 512 Safe Harbor – Gardner v. CafePress
* Cafepress Suffers Potentially Significant Trademark Loss for Users' Uploaded Designs
* Life May Be "Rad," But This Trademark Lawsuit Isn't–Williams v. CafePress.com
* Griper Selling Anti-Walmart Items Through CafePress Doesn't Infringe or Dilute–Smith v. Wal-Mart
* Print-on-Demand "Publisher" Isn't Liable for Book Contents–Sandler v. Calcagni
* CaféPress Denied 230 Motion to Dismiss–Curran v. Amazon