Facebook Posts and Twitter Invites Don't Violate Non-Solicitation Clause — Pre-Paid Legal v. Cahill
[Post by Venkat Balasubramani with a comment from Eric]
Pre-Paid Legal Services v. Cahill, Civ-12-346-JHP (E.D. Ok. Jan. 22, 2013)
Cahill was an associate of Pre-Paid Legal Services, described by the court as a multi-level marketing company. Cahill joined and worked his way up, eventually gaining status as a Regional Manager. He executed a variety of agreements during his time with the organization.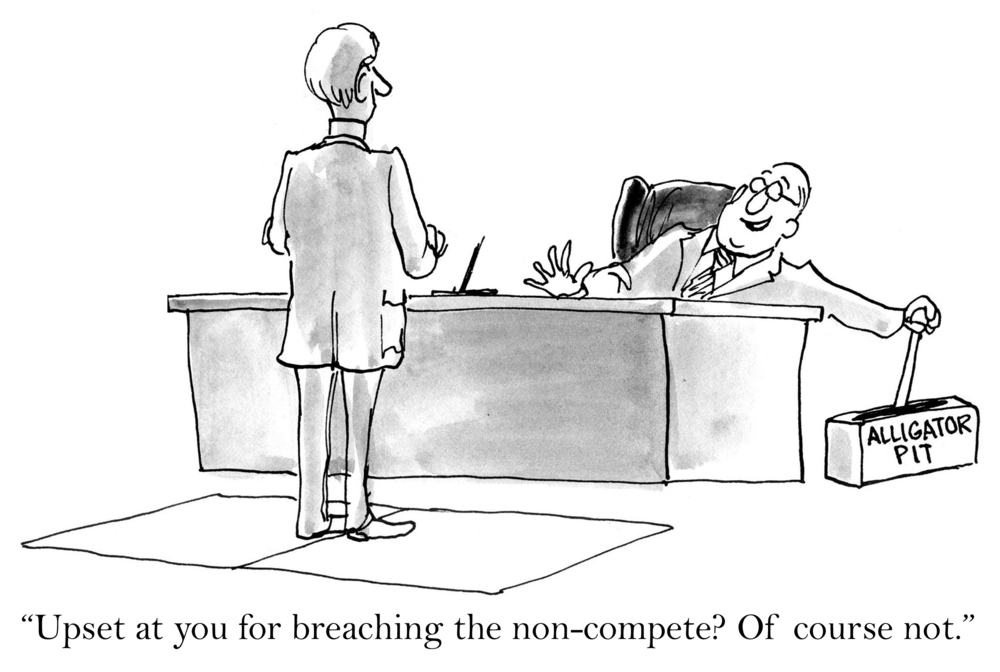 The agreements contained restrictions on his use of confidential information, as well as a non-solicitation clause:
The Regional Manager shall not . . . directly or indirectly solicit, entice, persuade or induce any individual who presently is, or at any time during such period shall be, an employee, sales associate or member of the company . . . to terminate or refrain from renewing or extending his or her employment, association or membership with the Company . . . or to become employed by or enter into a contractual relationship with Regional Manager or any business with which Regional Manager is affiliated.
Prior to leaving and joining Nerium, another multi-level marketing company that sold skin care products, Cahill called a meeting of "Elite Leaders" (high performing associates of his) and let them know he was leaving. Although he did not mention by name the name of the new company, he mentioned that anyone who was interested should email him.
After the meeting, he left. There was no allegation at this time that Cahill had access to any confidential associate or account information, but he did post information about his new company on several semi-private Pre-Paid Legal Facebook pages (pages Cahill had created to mentor his associates at Pre-Paid Legal). He did not post further to these pages, but he had been posting information about Nerium on his personal Facebook page.
Trade secrets claim: As to Pre-Paid Legal's trade secret claim, Cahill argued that he didn't possess any trade secret information. Pre-Paid Legal made available to its supervisors various tools to analyze and track the progress of their associates, but Cahill declared unequivocally that after his departure from Pre-Paid Legal he did not have access to any of these tools. The meeting where he announced his intent to leave had occurred in the past, and the court says that it's reluctant to issue an injunction where there is no evidence of ongoing conduct.
Non-solicitation argument: The court in a footnote rejects Pre-Paid Legal's argument that Cahill's invitations to Pre-Paid Legal associates to join Twitter somehow violate the non-solicitation clause. The invitations were merely to join Twitter and at most, follow Cahill's Twitter feed which did not contain information about either Pre-Paid Legal or Nerium.
The court also rejects Pre-Paid Legal's argument that Cahill's post on his Facebook page violated the non-solicitation clause. The court discusses two cases where courts rejected non-solicitation arguments based on online posts (Enhanced Network Solutions v. Hypersonic Technologies and Invidia v. DiFonzo) and says that Cahill's posts in this case were even less explicit than the posts in Hypersonic and DiFonzo. Cahill touted the benefits of Nerium, and he happened to be Facebook friends with people who were still associates at his former company. But it does not follow that his Facebook posts are solicitations. The court also adds that there is no evidence that anyone actually left Pre-Paid Legal as a result of Cahill's posts or that Cahill was trying to target any associates by posting "directly on their walls or through private messaging."
__
Employers understandably want to restrict the post-employment activities of their employees and prevent ex-employees from targeting customers and current employees. Although there have only been a few decisions in this arena, courts do not appear willing to restrict social interactions between ex-employees and customers or current employees. And this makes sense. Employers can probably restrict some additional activity around the edges (e.g., posting opportunities that are targeted at customers or employees) but this would probably require very precise contractual language. This would still not result in restricting informal interactions and networking between ex and current employees and customers.
Interestingly, Pre-Paid Legal did not raise the argument that the identities of the associates were trade secret information. (This was the argument relied on the Beatport case (which is surprisingly still ongoing), but it was a stretch.)
__
Eric's Comment: This case is a microcosm of the shifting balance of power between employers and professional employees. Any employee can develop their own brand and audience in ways that eclipse the brand/audience of their employers. Interest in Cahill's work and words extended beyond his relationship with his prior employer, so naturally his audience kept following him. As employers continue to invest in employees to help them aggregate audiences, only to recognize the portability of those audiences, it seems inevitable that employers will take ever-more-desperate efforts to prevent employee portability. It's nice to see the courts rejecting these attempts. At the same time, anyone signing non-compete and non-solicitation clauses would be well-served to contemplate how those contract provisions might consider the potential for unwanted restrictions on audience development and management post-termination.
Related posts:
MySpace Profile and Friends List May Be Trade Secrets (?)–Christou v. Beatport
Engaging Facebook Friends Doesn't Violate Non-Solicitation Clause–Invidia v. DiFonzo
Job Posting to LinkedIn Group Doesn't Violate Non-Solicitation Clause — Enhanced Network Solutions v. Hypersonic Technologies
Availability of Client Data on LinkedIn, Facebook, and Google Sinks Trade Secrets Claim — Sasqua Group v. Courtney
Posts about social media ownership in general:
"Social Media and Trademark Law" Talk Notes
Court Denies Kravitz's Motion to Dismiss PhoneDog's Amended Claims — PhoneDog v. Kravitz
An Update on PhoneDog v. Kravitz, the Employee Twitter Account Case
Another Set of Parties Duel Over Social Media Contacts — Eagle v. Sawabeh
Employee's Claims Against Employer for Unauthorized Use of Social Media Accounts Move Forward–Maremont v. SF Design oup
Courts Says Employer's Lawsuit Against Ex-Employee Over Retention and Use of Twitter Account can Proceed–PhoneDog v. Kravitz
Ex-Employee Converted Social Media/Website Passwords by Keeping Them From Her Employer–Ardis Health v. Nankivell
Court Declines to Dismiss or Transfer Lawsuit Over @OMGFacts Twitter Account — Deck v. Spartz, Inc.
Employee's Twitter and Facebook Impersonation Claims Against Employer Move Forward — Maremont v. Fredman Design Group
[image credit: Shutterstock / cartoonresources – "upset at you for breaching the non-compete, of course not"]