Section 230 Applies to NY Publicity Rights Claim–Ratermann v. Pierre Fabre
Patty Ratermann is a model. She signed a license with QuickFrame to use her likeness only on Instagram. Somehow (the court skips over exactly how), Pierre Fabre used her likeness to promote its Avène skincare products on its website, on Amazon, Walmart, and Ulta's websites, and in Walgreen stores. Ratermann sued all of these entities. This post focuses only on the New York publicity rights claims (NY Civil Rights Law 50 & 51) against Amazon Walmart, and Ulta.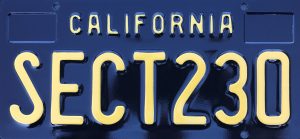 The three e-commerce players defended on Section 230 grounds. The court says "the three elements of Section 230 are satisfied":
ICS Provider. "Walmart, Amazon, and Ulta fall comfortably within that definition." Cites to Eberhart v. Amazon, Joseph v. Amazon, Almeida v. Amazon.
Third-Party Content. Her likeness "was content obtained from other companies, namely Pierre Fabre and QuickFrame."
Publisher/Speaker Claim. "Ratermann's claims are, indisputably, based on these Defendants' allegedly unlawful 'dissemination' of her likeness and nothing more….Even if Defendants 'used' Ratermann's likeness 'for advertising
purposes,' that does not defeat the protection of Section 230." Cites to Saveene v. Remo, Franklin v. X Gear, Calise v. Meta.
In a footnote, the court says that the complaint alleges that Walmart, Amazon, and Ulta all acted as online marketplaces for third-party vendor sales, not as retailers themselves. I'm not sure that's how I would have read the complaint–it literally called these three entities "retailers." This could be a point on appeal.
Having established the e-commerce players' prima facie eligibility for Section 230, the court then turns to 230's IP exception. In theory, this takes the court straight into the circuit split between the 9th Circuit (the ccBill case) and the 3rd Circuit (the Hepp case) over whether 230's IP exception applies to ALL IP claims or only FEDERAL IP claims. The court instead sidesteps this issue by concluding that the NY publicity rights statutes aren't IP claims at all.
The court says: "New York courts have long construed Sections 50 and 51 to provide a statutory right to privacy, not property….New York does not recognize the common law right of publicity. Instead, "the 'right of publicity' is encompassed under the Civil Rights Law as an aspect of the right of privacy…. claims under Sections 50 and 51 are 'entirely distinct from' common law right of publicity claims and not about property at all." The court summarizes:
These authorities leave no doubt that a claim under Sections 50 and 51 of the New York Civil Right Law sounds in privacy, not intellectual property, and thus does not fall within the intellectual property exception to Section 230
In Hepp, the 3rd Circuit held that Pennsylvania's publicity rights statute was an IP claim for 230 purposes. This court distinguishes that ruling based on the statute's specifics. For example, the Pennsylvania law only applies to people who develop their publicity rights through the investment of time, effort, and money.
Implications
This opinion highlights long-standing tensions about why we protect people's publicity rights at all. Originally, publicity rights were an outgrowth of privacy law. Indeed, "misappropriation" is one of Prosser's four privacy torts. The doctrines initially gave people the right to control their endorsements of third-party products and services. However, as publicity rights have become increasingly merchandisable and descendible, they have morphed well beyond any "privacy" rationale (by putting those rights into the hands of third parties) and look a lot more like "property" rights. Thus, at this point, there may not be a single standalone policy justification for publicity rights doctrines; and without such definitive rationales, there are no clear boundaries to decide what the laws should and shouldn't cover. Perhaps this court is concluding that New York's Civil Rights 50 and 51 laws have unique privacy-rooted origins and should remain exclusively viewed as privacy laws, but that approach doesn't necessarily apply to many other states' publicity rights laws.
This opinion also exposes that we don't have a clear understanding of what is and isn't an "intellectual property" law. When Section 230 excluded "IP" without defining the term, it left open the possibility of rulings like this one. In contrast, in 2016, Congress expressly said that the new federal trade secrets law (the DTSA) was NOT an IP law, which was really clear but surely counterintuitive to most IP and trade secret practitioners. If trade secret and publicity rights laws are NOT intellectual property laws, are you SURE you know what "IP" means?
This is a good defense-side ruling, but even if it survives the inevitable appeal, I wonder how much impact it will have. We now have at least three different approaches to the 230/publicity rights interface:
230 applies to publicity rights claims (and all other state IP claims) (ccBill)
publicity rights claims are IP and not covered by 230 (Hepp). Given how many other courts have rejected the ccBill approach, this is probably the de facto standard in most of the country
publicity rights claims are not IP claims at all (Ratermann)
If Hepp remains the legal standard in big chunks of the country, defendants aren't likely to become risk-tolerant about publicity rights claims. So this ruling may provide defendants special legal protections in NY if they happen to get sued there, but it may have no other meaningful impact beyond that.
Case Citation: Ratermann v. Pierre Fabre USA, Inc., 2023 WL 199533 (S.D.N.Y. Jan. 17, 2023)