2H 2018 Quick Links, Part 2 (Trademarks)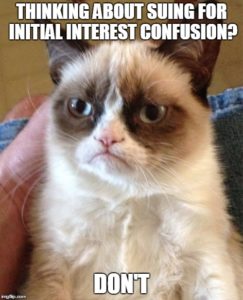 *  Chanel, Inc. v. Wgaca,  2018 U.S. Dist. LEXIS 158077 (SDNY Sept. 14, 2018):
Chanel's amended complaint plausibly alleges that WGACA's use of the hashtag #WGACACHANEL infringes Chanel's trademarks. It alleges that WGACA conjoined its acronym with the Chanel trademark to create the impression that WGACA is affiliated with Chanel or is an authorized Chanel retailer…. WGACA's Chanelbranded items would be readily identifiable as Chanel without the #WGACACHANEL hashtag and the multiple uses of Chanel's name and trademark in the hashtags….; the hashtag #WCAGACHANEL and WGACA's guarantees of authentication of themselves may be taken as suggesting sponsorship or endorsement by Chanel.
*  Natural Thoughts, Inc. v. Performance Touch, LLC, 2018 WL 3618315 (S.D. Cal. July 30, 2018):
Plaintiff's Complaint alleges Defendants use their website "to market and sell their professional massage and spa products online to consumers and businesses." As detailed in the factual background above, Plaintiff further alleges that, prior to a computer user's complete entry of certain words/ terms in Defendants' website's search bar, Defendants cause the BIOTONE Marks to appear in an autopopulated dropdown list for the user to select and search on Defendants' website. When a user selects one of the auto-populated BIOTONE Marks options, such as "biotone dual purpose," "the link instead directs the user to a page listing Bon Vital products" and displaying the statement "SEARCH RESULTS FOR BIOTONE DUAL PURPOSE." The Court finds these allegations sufficient to plead commercial use.
* Coachella Music Festival, LLC v. Simms, 2017 WL 6888499 (C.D. Cal. Dec. 13, 2017)
When a term appears in the metatags of a webpage, the webpage is more likely to appear near the top of a list of search results….using infringing terms in metatags can still result in "initial interest confusion." A user initially interested in the trademark owner's product who discovers the infringing product in a list of search results will realize the two products are not affiliated, but may be intrigued and simply decide to use the infringing product instead. Accordingly, the owner of the infringing mark may still improperly benefit from the trademark owner's goodwill and reputation.

Here, if Simms uses the term "Coachella" in the metatags of his website, it may result in initial interest confusion. The user originally interested in Coachella who conducts a search and discovers the Filmchella website will likely realize Filmchella and Coachella are not the same event. But the user may nonetheless be intrigued by Filmchella and decide to attend the event anyway. In that sense, Simms would improperly benefit from Coachella's goodwill and reputation.
Does anyone in this case know anything about metatags???
* Worldwide Media Inc. v. Twitter, Inc., 2018 WL 5304852 (N.D. Cal. Oct. 24, 2018). Twitter isn't liable for trademark infringement for a hacked account that it doesn't suspend quickly enough.
* Evoqua Water Technologies LLC v. M.W. Watermark LLC, 2018 WL 5784073 (W.D. Mich. Nov. 5, 2018): "Evoqua contends that the orders for all six DryMate dryers are sufficient to demonstrate infringement under a theory of "initial-interest confusion," citing Gibson Guitar Corp. v. Paul Reed Smith Guitars, LP, 423 F.3d 539, 549 (6th Cir. 2005). Evoqua never presented any evidence of initial-interest confusion, however. Moreover, in Gibson, the Sixth Circuit made clear that the core question in initial-interest cases is the same as in other contexts, i.e., "whether the consumer might be misled about the source of the relevant product or service.""
* Bains v. Taylor, 2018 WL 6787633 (Wash. Ct. App. Dec. 24, 2018). The defendant was covered by the following injunction:
Mark Taylor, or anyone working on behalf of Defendant Mark Taylor, shall not activate, update or otherwise post, any information about Plaintiff Raj Bains on a website that deceives the public into thinking that it is a website owned by, operated by, or endorsed by Plaintiff Raj Bains or any business he operates, including the Bains Law Office. This includes, but is not limited to, the websites bainslawoffice.com, bainslawoffices.com, bainslawfirm.com, and any derivations thereof.
The court says:
While Taylor did activate, update, and post information on his website "attorneyrajbainssuspension.com" these actions did not violate the plain language of the agreed final order for two reasons. First, while the order prohibits Taylor from posting on a list of websites including "bainslawoffice.com," "bainslawoffices.com" and "bainslawfirm.com," the website "attorneyrajbainssuspension.com" does not fall within this list and is not a reasonable derivation of that list. Thus, the agreed final order does not prohibit Taylor from posting on "attorneyrajbainssuspension.com."
Moreover, even if the agreed final order did prohibit Taylor from posting information on attorneyrajbainssuspension.com, the order only prohibits posting if the posts "deceived the public into thinking it is a website" owned, operated, or endorsed by Bain. The homepage for Taylor's website attorneyrajbainssuspension.com contains an express disclaimer stating: "This website is not authorized, endorsed, licensed, approved, recommended, published, maintained, edited or managed by Raj (Kulraj Singh) Bains or any of his affiliates, agents, or representatives." There is no evidence that the public would be deceived into thinking the website was in any way owned, operated, or endorsed by Bains
* Sen v. Amazon.com, Inc., 2018 WL 4680018 (S.D. Cal. Sept. 28, 2018): " "Nanner's" use of Plaintiff's "Baiden" trademark in her review, and by extension Defendant's publishing of such a review, was a permissible nominative fair use."
Also, "Plaintiff's allegation concern a review posted by an Amazon user, "Nanner," who acted as an independent content provider when she posted her review of Plaintiff's "Baiden Mitten" product. Plaintiff wishes to hold Defendant liable for failing to remove a review–published by an independent third-party user–which she alleges has infringed her trademark. This is the precisely the type of claim Congress sought to shield "interactive computer services" from with the passage of the CDA."
For more on this case, see my post from 2013.
* Carter v. Oath Holdings Inc., 2018 WL 5819458 (N.D. Cal. Nov. 5, 2018): "Plaintiff pled conclusory allegations regarding Defendant's "creation" of image hyperlinks, allegations that lack any factual support and are contradicted by judicially noticeable facts regarding how search engines work. Plaintiff also again fails to allege any facts regarding likelihood of confusion."
*  Youngevity International v. Smith, 2018 WL 6305763 (S.D. Cal. Nov. 30, 2018):
Plaintiffs argue that Defendants' use of Youngevity's trademark results in initial interest confusion. The Ninth Circuit has recognized that initial interest confusion can give rise to trademark infringement. See Brookfield Commc'ns, Inc., 174 F.3d at 1062–63. Plaintiffs contend that by using the Youngevity mark, Defendants have lured customers and distributors to meetings held at Defendants' offices and to visit their websites on which they promote Wakaya's products under false pretenses that they are authorized by Youngevity. Defendants raise two arguments in response. First, they point to the fact that after March 2016, Defendants used a disclaimer on their website stating that Defendant TNT was not an authorized Youngevity representative. However, Plaintiffs have submitted sufficient evidence demonstrating the extensive use of the mark which creates at least a genuine issue as to whether the disclaimer is effective.

Second, Defendants argue that Plaintiffs have not met their burden because they have failed to demonstrate that any consumers that intended on purchasing Youngevity products were diverted to purchasing Wakaya products. The lack of such evidence does not defeat the claim. The Ninth Circuit has recognized that "the use of another's trademark in a matter calculated 'to capture initial consumer attention, even though no actual sale is finally completed as a result of the confusion, may be still an infringement.' " Brookfield Commc'ns, Inc., 174 F.3d at 1062 (quoting Dr. Seuss Enters., L.P. v. Penguin Books USA, Inc., 109 F.3d 1394, 1405 (9th Cir. 1997)). Thus, in light of the evidence demonstrating extensive use of the trademark on the one hand, and evidence of the disclaimer on the other, the Court finds that there is a genuine issue of material fact as to whether Defendants' use of the trademark suggests sponsorship or endorsement by Youngevity. Given the highly factual nature of this claim, the Court finds that this is an issue more appropriately reserved for a jury.
So hard to believe a court is still citing Brookfield's definition of initial interest confusion 20 years later despite the many, many Ninth Circuit clarifications since then.
* 45 vanity TLDs have not been renewed by their registry operators.