Realistic Docudramas Don't Violate California Publicity Rights–deHavilland v. FX
By Guest Blogger Tyler Ochoa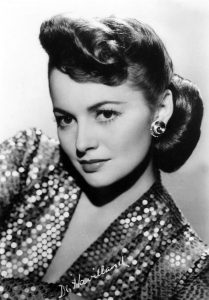 Last week, the California Court of Appeal ordered the dismissal of a right of publicity and false-light privacy lawsuit brought by legendary actress Olivia de Havilland  against FX Networks over the depiction of her in the television miniseries Feud: Bette and Joan (2017). The opinion is available here.
One of Hollywood's staples is the docudrama: a motion picture or television series based on real persons and real-life events.  Recent examples include the television series The People v. O.J. Simpson (which won nine Emmy awards), and the movies Hidden Figures (about female mathematicians and engineers at NASA in the 1960s) and Darkest Hour (about Winston Churchill's early days as Prime Minister). Sometimes docudramas are near-journalistic in nature, and sometimes they are heavily fictionalized; but all docudramas are necessarily dramatized to some extent, because it is impossible to depict real life with 100% accuracy.  To depict private conversations, for example, a screenwriter must invent dialogue, because no one was there to record what was said, and even the participants to the conversation may remember it differently when interviewed in later years.  It is also common for screenwriters to invent fictitious or composite characters to interact with the more well-known historical figures that are the focus of the docudrama.
Docudramas have frequently been the source of litigation disputes.  When real-life people are upset with how they are depicted in a movie or television series, they often turn to causes of action such as libel, false-light privacy, or the right of publicity to vindicate what they see as the truth.  More often than not, these lawsuits fail; but they succeed often enough to avoid Rule 11 sanctions, and the cost of litigating these disputes may have a "chilling effect" on the willingness of Hollywood to take on certain subject material.  Hollywood studios frequently pay people for the "rights" to tell their life stories, simply in order to avoid having a suit filed against them for a violation of their rights of privacy or publicity, and the attendant cost of litigation.
These cases have a historical pedigree.  In Binns v. Vitagraph Co., 210 N.Y. 51, 103 N.E. 1108 (1913), for example, the plaintiff was Jack Binns, a radio operator, who transmitted the first-ever distress call made by wireless telegraph when the White Star Line passenger ship RMS Republic collided with another vessel. Binns' actions resulted in the rescue of almost all of the passengers. In 1909, Vitagraph made and exhibited a (silent) motion picture about the shipwreck, titled CQD, or Saved by Wireless: A True Story of the Wreck of the Republic. Binns sued over his depiction in the movie, under a 1903 N.Y. statute prohibiting the unconsented use of a person's name or likeness "for advertising purposes or for purposes of trade."  [The statute, as amended, is now codified at N.Y. Civil Rights Law §51.]  The New York Court of Appeals stated: "The defendant used the plaintiff's alleged picture to amuse those who paid to be entertained," and held that "the name and picture of the plaintiff were used by the defendant as a matter of business and profit and contrary to the prohibition of the statute."  210 N.Y. at 58.
Binns was decided at a time when motion pictures were not protected by the First Amendment.  See Mutual Film Corp. v. Industrial Comm'n of Ohio, 236 U.S. 230, 243-44 (1915) ("We immediately feel that the argument is wrong or strained which seeks to bring motion pictures and other spectacle into practical and legal similitude to a free press and liberty of opinion."). It was not until 1952 that the U.S. Supreme Court overruled that case and held that "expression by means of motion pictures is included within the free speech and free press guaranty of the First and Fourteenth Amendments."  Joseph Burstyn, Inc. v. Wilson, 242 U.S. 495, 502 (1952).
The leading docudrama case in California is Guglielmi v. Spelling-Goldberg Productions, 25 Cal. 3d 860, 160 Cal. Rptr. 352 (1979),  in which the nephew of silent film star Rudolph Valentino sued over his uncle's depiction in the TV movie The Legend of Valentino (1975) (starring Franco Nero as Valentino).  A majority of the California Supreme Court held that a person's heirs could not maintain a common-law right of publicity claim for conduct occurring after that person's death.  (California later enacted a statute protecting deceased celebrities for 70 years after their deaths; but that statute contains an express exception for any "audiovisual work, [or] radio or television program . . . if it is fictional or nonfictional entertainment."  Cal. Civ. Code § 3344.1(a)(2).)  Chief Justice Rose Bird wrote a concurring opinion, joined by two other justices, expressing the view that there was a descendible right of publicity, but indicating that the TV movie was protected by the First Amendment, even though it was fictionalized and made for profit.  A fourth justice endorsed the First Amendment portion of her opinion, even though he agreed with the majority that the common-law right of publicity was not descendible.  Thus, Chief Justice Bird's opinion on the First Amendment issue was endorsed by a majority of four justices, and it is controlling in California.
Since Guglielmi, a raft of cases have held that real-life persons (and their heirs) cannot maintain a cause of action for violation of their rights of publicity based on their depiction in a motion picture or television show, regardless of whether it is dramatized or fictionalized.  For example, Elizabeth Taylor unsuccessfully sued to stop a television miniseries about her life.  Taylor v. National Broadcasting Co., 22 Media L. Rep. 2433 (Cal. Super. Ct. 1994).  The heirs of Agatha Christie unsuccessfully sued to prevent the release of the movie Agatha, which speculated as to what happened during the eleven days that Christie disappeared in 1922.  Hicks v. Casablanca Records, 464 F. Supp. 426 (S.D.N.Y. 1978). The heirs of Captain Billy Tyne unsuccessfully sued over the depiction of themselves and their father in the movie The Perfect Storm (2000).  Tyne v. Time Warner Ent'mt Co., 901 So.2d 802 (Fla. 2005).  And in 2016, the Ninth Circuit affirmed the dismissal of a lawsuit brought by an Army bomb disposal expert, claiming that the lead character in the Oscar-winning Best Picture The Hurt Locker (2009) was based on him. Sarver v. Chartier, 813 F.3d 891 (9th Cir. 2016).
So it was a shock to Hollywood when a California trial court held in 2017 that Oscar-winning actress Olivia de Havilland, age 101, could maintain an action for a right of publicity violation and false-light privacy based on the depiction of her (played by actress Catherine Zeta-Jones) in the recent television miniseries Feud: Bette and Joan, which chronicles the stormy relationship between actresses Bette Davis and Joan Crawford during the filming of the movie Whatever Happened to Baby Jane?  De Havilland was a real-life friend of Davis, and in the miniseries the screenwriters imagined a fictional interview with de Havilland at the 1978 Oscar ceremony, using her supposed recollection of the events as a framing device for the story.  The trial court held that de Havilland made out a false-light privacy claim, because she submitted evidence that the interview never occurred, and that she never called her sister, actress Joan Fontaine, a "bitch."  [Opinion at pp. 8-9]  Relying on the California Supreme Court's opinion in Comedy III Productions v. Gary Saderup, Inc., 25 Cal. 4th 387, 106 Cal. Rptr. 3d 126 (2001), the trial court held that Feud was a "literal depiction or imitation of a celebrity for commercial gain," rather than a "transformative" work that added significant expression to the portrayal. [Opinion at pp. 13-14]
The claim that FX Networks was trying to capitalize on de Havilland's fame is absurd.  De Havilland was not the focus of the miniseries; Bette Davis and Joan Crawford were.  (Both are deceased, so Cal. Civ. Code § 3344.1(a)(2) shielded producers from claims by either Davis or Crawford.)  De Havilland's character appeared for only 17 minutes in an eight-episode miniseries (less than 4% of the work). The false-light privacy claim is also weak, as it is well-documented that de Havilland and her sister Joan Fontaine did not get along, and that de Havilland had called her sister "Dragon Lady";  and FX argued that the phrase was equivalent in meaning to the term "bitch."  Regardless, the substitution and the fictional interview are well within the dramatic license that has been allowed to docudramas under the First Amendment.
On appeal, de Havilland was supported by an amicus brief from the Screen Actors Guild and the American Federation of Television and Radio Artists, while FX was supported by amicus briefs filed by the Motion Picture Association of America and Netflix; A&E Television Networks, the Discovery Channel, and the Reporters' Committee for Freedom of the Press; the Electronic Frontier Foundation and Wikimedia Foundation; the International Documentary Association; and a group of Intellectual Property and Constitutional Law Professors.  [In the interests of full disclosure, it should be noted that I was one of the group of law professors who signed an amicus brief supporting FX Networks in the case.]  A New York Times article about de Havilland and the case is available here.
The California Court of Appeal reversed, holding that the trial court should have dismissed both the right of publicity claim and the false-light privacy claim under California's anti-SLAPP law. The court said that people depicted in docudramas, whether famous or unknown, do not "have the legal right to control, dictate, approve, disapprove, or veto the creator's portrayal of actual people."  [Slip. op. at 3]  (SLAPP stands for "strategic lawsuit against public participation"; an anti-SLAPP law allows for an accelerated hearing on a motion to dismiss that essentially functions as a summary judgment motion, but before significant discovery has been taken and its attendant costs have been incurred.  For more details on California's anti-SLAPP procedure, see my previous blog post on the Manual Noriega lawsuit against Activision.)
Regarding the right of publicity claim, the court questioned whether a television movie is a "product, merchandise, [or] good" within the meaning of California Civil Code section 3344. [Slip. op. at 14-17]  Regardless, it opined, the miniseries "is speech that is fully protected by the First Amendment, which safeguards the storytellers and artists who take the raw materials of life — including the stories of real individuals, ordinary or extraordinary — and transform them into art, be it articles, books, movies, or plays." [Slip. op. at 19, quoting Sarver]  The court held that de Havilland's depiction did not amount to an implicit "endorsement" of the mini-series.  [Slip. op. at 22]  Finally, the court held that the miniseries was "transformative" within the meaning of Comedy III:
The fictitious, "imagined" interview in which Zeta-Jones [as de Havilland] talks about Hollywood's treatment of women and the Crawford/Davis rivalry is a far cry from T-shirts depicting a representational, pedestrian, uncreative drawing of The Three Stooges. The de Havilland role, performed by Zeta-Jones, constitutes about 4.2 percent of Feud. The docudrama tells the story, in nearly eight hours, of the competition between Hollywood's leading ladies of the day, Bette Davis and Joan Crawford, for film roles, attention, awards, and acclaim….

In the words of the Comedy III Court, Zeta-Jones's "celebrity likeness [of de Havilland] is one of the 'raw materials from which [the] original work [Feud] is synthesized." …  Applying Comedy III's "useful subsidiary inquiry" here, we conclude as a matter of law that Feud's "marketability and economic value" does not "derive primarily from [de Havilland's] fame" but rather "comes principally from . . . the creativity, skill, and reputation" of Feud's creators and actors…. While viewers may have "tuned in" to see these actors and watch this Hollywood tale, there is no evidence that de Havilland as a character was a significant draw.  [Slip. op. at 25-27]
Of course, even if the de Havilland character was a significant draw for viewers (as were the Bette Davis and Joan Crawford characters), it shouldn't matter.  The only possible scenario in which the First Amendment would not apply would be defamatory lies masquerading as truth, as in two cases in which Clint Eastwood successfully sued the National Enqurier for publishing cover stories about him that were entirely fictional, but were presented as news, in order to spur sales.  One was about an adulterous affair that never occurred, Eastwood v. Superior Court, 149 Cal. App. 3d 409, 198 Cal. Rptr. 342 (1983); and the other was an invented "interview" with Eastwood about becoming a parent at age 63.  Eastwood v. National Enquirer, 123 F.3d 1249 (9th Cir. 1997).  (Not only was the interview fiction, but Eastwood objected to the false implication that he would give an "exclusive" interview to the National Enquirer.)  In both cases, had the newspaper indicated that the articles were fiction instead of news, it is unlikely that Eastwood would have prevailed.
Regarding the false-light privacy claim, the court questioned whether viewers would view the docudrama as 100% factual:  "Viewers are generally familiar with dramatized, fact-based movies and miniseries in which scenes, conversations, and even characters are fictionalized and imagined."  [Slip. op. at 30]  But even assuming an average, reasonable viewer would accept the movie as truthful, the court held that two of the alleged fictions about de Havilland — the invented interview and a light-hearted joke about Frank Sinatra's alcohol consumption — were neither defematory nor "highly offensive to a reasonable person."  "Zeta-Jones plays de Havilland as a wise, witty, sometimes playful woman…. Taken in its entirety and in context, Zeta-Jones's portrayal of de Havilland is overwhelmingly positive."  [Slip. op. at 32]  The other two alleged fictions — in which de Havilland refers to her sister Joan Fontaine as a "bitch" — were held to be substantially truthful, in light of evidence that de Havilland had publicly referred to her sister as "Dragon Lady."  [Slip. op. at 33-35]  For good measure, the court added that even if the statements were defamatory or highly offensive, de Havilland could not prove that the producers had made them intentionally to defame de Havilland or recklessly, without regard as to whether audiences would perceive them to be completely truthful.  [Slip. op. at 35-36]
The ruling in the de Havilland case will bring comfort to Hollywood studios and producers, adding to the string of legal rulings in favor of strong First Amendment protections to docudramas.  Moreover, the anti-SLAPP provision awarding costs and attorneys fees to FX, in addition to its costs on appeal [slip. op. at 38] will probably deter all but the most deep-pocketed celebrities (or ones more grieviously offended) from bringing such suits in the future.  There remains the possibility of an appeal to the California Supreme Court, but it seems unlikely that the court will want to reconsider its nearly 40-year old ruling in Guglielmi.  A possible appeal to the U.S. Supreme Court seems even less likely, because it is unclear how much of the ruling is based on California law, as opposed to federal law (the First Amendment). A settlement in which de Havilland agrees not to seek a further appeal in exchange for a forebearance in collecting the costs and attorneys fees seems likely.
Despite the successful defense, however, one wonders whether the legal saga will make Hollywood producers more wary of depicting living celebrities in fictionalized docudramas.  Feud's second season will reportedly focus on the marriage of Prince Charles and Princess Diana, and the British royal family is unlikely to ever appear in a California courtroom.  But there is another real-life feud that seems tailor-made for the anthology series: de Havilland's own legendary feud with her sister, Oscar-winning actress Joan Fontaine.  One suspects that a movie about that feud will likely not be produced until after de Havilland's death, when it will be shielded by the express exemption in Civil Code section 3344.1.  California's lawmakers should consider adding a similar exemption to Civil Code section 3344 (covering living persons) as well.  But so long as these statutory causes of action do not preempt California common-law rights of privacy and publicity, we can expect to see future cases in which the fictional elements of docudramas are alleged to be defamatory or highly offensive to a reasonable person.