Announcing the 2016 Edition of 'Internet Law: Cases & Materials'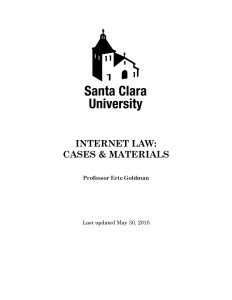 I'm pleased to announce this year's edition of my Internet Law casebook, Internet Law: Cases & Materials. It's available for sale as a PDF at Gumroad for $8, as a Kindle book for $9.99, and in hard copy at CreateSpace for $20 + shipping–all the same prices as last year. For my thoughts about self-publishing an ebook casebook, see this article.
If you're an academic and would like a free evaluation copy, please email me. I can also send you my presentation slides and lecture notes. You might also check out my Internet Law course page, which includes 20 years of syllabi and old exams with sample answers, and my old article "Teaching Cyberlaw."
I was on leave last year, so I didn't teach the course in 2015-16. Because of that, I debated whether or not to do a new edition this Spring. I'm glad I decided to spend the time. It may not look like it from the table of contents, but I spent a month revising the book from top to bottom. I took a hard look at every single item in the book to make sure it still deserved the time. So although some of the cases are a little old, I can validate the pedagogical benefits of every remaining case. Beyond adding and subtracting items, I found additional edits in numerous cases (even cases I've taught for years), added lots of new explanatory material (including notes on some recent cases), added a few new problems and student technical exercises, and made lots of little fixes, tweaks, reorderings, etc. As a sign of how significant the changes are, this is the first year I'll be registering the copyright in the book.
Despite the additions, I trimmed other material so that the book's net length remains about the same at about 400 pages and 180,000 words–easily covered in 3 units and more readily adaptable for a 2 unit course than a 1,000 page casebook.
Some of the major additions this year:
* I swapped out the existing article on geolocation (from 2007!) for a new series of blog posts by Ben Kneen. The Kneen blog posts are also a little dated (they're from 2012), and they still aren't perfect pedagogical resources. I've been looking for years but have not found an ideal primer/explainer about different geolocation technologies. If you have any leads, especially one that's public domain or CC licensed, I would be very grateful.
* I added two new cases this year. People v. Lopez does a great job showing the definitional issues associated with the term "social media." Farley v. Callais provides an enlightened review of discovery requests for social media content.
* I added lengthy notes on several major cases from the last year, including the Google Books ruling (Authors Guild v. Google), Multi-Time Machine v. Amazon and Lenz v. UMG. I also updated the "right to be forgotten" materials to address regulators' demands to extend the censorship obligation globally.
Some of the major subtractions this year:
– my article on post-SOPA developments. It was a little dated at this point, and I plan to address the topics through lectures.
– MySpace v. theglobe. It was designed to revisit several topics in the book, but that also meant it was a little redundant. Furthermore, I can't justify spending much classtime on spam any more.
– my article on employee social media privacy laws. I think People v. Lopez gets at the definitional problem in a better way.
I'm on leave again next academic year, so I won't teach the course in 2016-17. However, I'm planning to continue my tradition of annual updates and do a 2017 edition next summer. I have already identified some material to address in the next edition (Model Mayhem and Capitol v. Vimeo).
As always, I invite your comments and questions.
______
The complete table of contents:
I. What is Cyberspace? Who Regulates It?
ACLU v. Reno (CDA I District Ct. Facts Only) Page 1
Noah v. AOL (E.D. Va.) 19
Determining the Geography of Internet-Connected Devices 27
II. Jurisdiction
Protocol for Evaluating Personal Jurisdiction 34
Toys 'R' Us v. Step Two (3d Cir.) 35
Illinois v. Hemi Group (7th Cir.) 45
III. Contracts
Specht v. Netscape Communications (2d Cir.) 50
Register.com v. Verio (2d Cir.) 65
Courts Won't Bail You Out If You Can't Remember What Contract Terms You've
Agreed To 76
Harris v. Blockbuster 79
How Zappos' User Agreement Failed In Court and Left Zappos Legally Naked 83
IV. Trespass/Computer Fraud & Abuse Act
Review: the Computer Fraud & Abuse Act, 18 U.S.C. §1030 [http://www.law.cornell.edu/uscode/text/18/1030], and California Penal Code §502 [http://www.leginfo.ca.gov/cgi-bin/displaycode?section=pen&group=00001-01000&file=484-502.9]
Comparison of Trespass to Chattels Doctrines 93
Intel v. Hamidi (Cal. Sup. Ct.) 94
Register.com v. Verio (Trespass to Chattels section) 115
Online Trespass to Chattels: a Failed Experiment 116
V. Copyright
Copyright Office Circular 1 120
Note About Fair Use 126
Cartoon Network v. CSC (2d Cir.) 130
MGM Studios v. Grokster (Sup. Ct.) 142
Secondary Liability
Review: 17 U.S.C. §512 [http://www.copyright.gov/title17/92chap5.html#512]
Goldman's 512(c) Cheat Sheet 155
UMG v. Shelter Capital (9th Cir. revised opinion) 156
How the DMCA's Online Copyright Safe Harbor Failed 174
Recap
Ticketmaster v. RMG 177
VI. Trademarks and Domain Names
Review: 15 U.S.C. §1114 [http://www.law.cornell.edu/uscode/text/15/1114], 15 U.S.C. §1125 [http://www.law.cornell.edu/uscode/text/15/1125] and 15 U.S.C. §8131 [http://www.law.cornell.edu/uscode/text/15/8131]
Trademark FAQs 189
Trademark Glossary 191
A. Domain Names and Metatags
Review: ICANN Uniform Domain Name Dispute Resolution Policy [http://www.icann.org/en/help/dndr/udrp/policy] and Rules for Uniform Domain Name Dispute Resolution Policy [http://www.icann.org/en/help/dndr/udrp/rules]
Lamparello v. Falwell (4th Cir.) 194
Promatek v. Equitrac (7th Cir.) Original Order and Revision 208
B. Search Engines
Review: Google's Trademark Policy [https://support.google.com/adwordspolicy/answer/6118]
Network Automation v. Advanced Systems Concepts (9th Cir.) 215
Suing Over Keyword Advertising Is A Bad Business Decision For Trademark
Owners 232
With Its Australian Court Victory, Google Moves Closer to Legitimizing Keyword
Advertising Globally 235
Tiffany v. eBay (2d Cir.) 237
VII. Pornography
Pornography Glossary 252
Reno v. ACLU (Sup. Ct. 1997) 253
Ashcroft v. ACLU (Sup. Ct. 2004) 269
VIII. Defamation and Information Torts
47 U.S.C. §230 283
Zeran v. America Online (4th Cir.) 286
Fair Housing Council v. Roommates.com (9th Cir. en banc) 294
The Value of Consumer Review Websites and 47 U.S.C. § 230 320
'Silk Road' Ruling Will Hurt Online Commerce 322
International Approaches to Liability for Information Torts 325
IX. Privacy
Review: 16 C.F.R. Part 312 [http://www.gpo.gov/fdsys/pkg/FR-2013-01-17/pdf/2012-31341.pdf (starting at page 38)]
Excerpts from 16 C.F.R. Part 312, the Children's Online Privacy Protection Act's Regulations 334
In re. Pharmatrak (1st Cir.) 336
X. Spam
Review: CAN-SPAM Act of 2003 [http://www.gpo.gov/fdsys/pkg/PLAW-108publ187/pdf/PLAW-108publ187.pdf] and 16 C.F.R. Part 316 [http://www.ecfr.gov/cgi-bin/text-idx?c=ecfr&rgn=div5&view=text&node=16:1.0.1.3.40&idno=16]
Where's the Beef? Dissecting Spam's Purported Harms 347
XI. Blogs and Social Networking Sites
The Third Wave of Internet Exceptionalism 356
People v. Lopez (Cal. App. Ct.) 358
Doe v. MySpace (5th Cir.) 361
Zimmerman v. Weis Markets 369
Farley v. Callais & Sons 372
In re Rolando S. (Cal. App. Ct.) 377
Moreno v. Hanford Sentinel (Cal. App. Ct.) 382
REVIEW QUESTION ANSWERS 389