Doing Online Reputation Management? Don't Do It This Way (Forbes Cross-Post)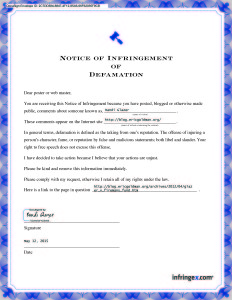 Recently, I got two identical emails from info@infringex.com sending me a "Notice of Infringement of Defamation." The notice informs me that a 2012 blog post–written by my perma-guest blogger, Venkat–makes public comments about the purported sender. It further says that my actions are "unjust" and asks me to "please be kind" and remove the content. However, the notice is cagey about any alleged legal violations. Between the "Notice of Infringement of Defamation" headline and an incorrect definition of defamation ("the taking from one's reputation"–uh, no), the notice implies that the post is defamatory–but never actually says that. The notice further tries to enhance its perception of legal seriousness by showing it was DocuSigned and using a border similar to what we might see on official legal documents (though I think it looks like cheesy clip art).
Despite the notice's efforts to make me think there might be a defamation problem, I will ignore the notice. It has numerous legal shortcomings, including:
* the California statute of limitations for defamation is 1 year, and the post was made in 2012. So any defamation claim is already 2 years too late.
* A federal statute, 47 USC 230, says I am not liable for someone else's online content, including a guest blogger's content on my website. The notice blithely is addressed to "Dear poster or web master" even though the law makes a crucial distinction between the two.
* the notice did not provide any specific details about what it thinks is defamatory or why, nor did I see anything obviously problematic in the post.
Plus, if I ever got sued for the blog post, the lawsuit would almost certainly be protected by California's broad anti-SLAPP law that would require the plaintiff to pay my attorneys' fees.
While I can easily and confidently disregard the notice, I suspect some recipients of an Infringex "Notice of Infringement of Defamation" won't feel so certain. Instead, they may perceive the notice as a serious legal threat and respond by quickly removing the identified content to avoid any further legal entanglements. If you are a recipient of such a notice, I can't provide you with legal advice, but I do hope you will scrutinize the letter and the identified content carefully to figure out if there's really any risk. Further, if the notice clearly overreaches, there may be pro bono legal assistance to help defend your content.
While investigating the notice, I reviewed the Infringex website. I was skeptical about the service due to the frilly clip-art and legal dubiousness of the notice's content. My skepticism increased when I saw the site doesn't identify its management team and had a news release announcing that "trademark rights have been granted by the USPTO," perhaps trying to imply that the federal government has somehow blessed the business when trademark registrations mean something far less.
Infringex is just one of the countless ventures in the reputation management space, an industry plagued with some serious reputation issues of its own. As I've said before, some folks desperately want a magic wand that would allow them to remove online discussions about them at their discretion. No such magic wand exists, but plenty of businesses are happy to peddle the dream.
So if you need online reputation management, is Infringex the best choice for you? I can't answer that, but consider that Infringex tells its customers that:
You can hire a lawyer and begin legal proceedings, or you can choose to send an affordable, effective legal document right now with infringex.com. Send them a legal document that will put the law on your side, giving you the best chance for a quick resolution.
Hmm. How is the notice "effective"? How will it "put the law on your side"? And how do we know it will give customers "the best chance for a quick resolution"? These statements might be puffery; if not, I remain skeptical Infringex can deliver on these promises. The head-scratchers continue on the defamation-specific page, which says notice recipients "will be ORDERED to DELETE and REMOVE the blog, post or review, immediately." Not only do customers not obtain any legally binding"order," the actual notice I received didn't contain any imperative language at all.
As for costs, my heart sank when I saw that Infringex charges $140 for its service. At no cost to the sender, I could have just as easily rejected a takedown notice sent directly to me. Plus, initiating an effort to scrub online content risks a Streisand Effect (like this blog post), so using the service potentially exposes its customers to more than just financial costs.
[UPDATE: After I made this post originally at Forbes, I've since gotten emails from Infringex's principal indicating that they were reviewing my post and considering some changes to their service.]