Burlap Flower Wraps Aren't Protectable Trade Dress–Farmgirl v. Bloom That
Farmgirl sells flowers in San Francisco. It wraps its flower arrangements in recycled coffee burlap sacks. Here is an example I found on their website: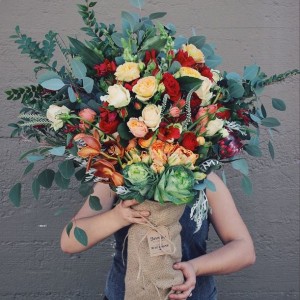 Farmgirl spurred competition from Bloom That, which replicated Farmgirl's use of recycled coffee burlap sacks as wraps for the flowers (eventually Bloom That switched to new sacks to avoid coffee/mildew odors). Here is an example of a Bloom That flower arrangement with a burlap wrap: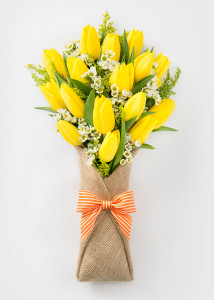 Bloom That also allegedly copied several other aspects of Farmgirl's offerings. So what? Such imitation is part of well-functioning competitive markets, but the first mover tends to be unhappy about such competition especially after they've validated market demand for the feature. Consistent with this, Farmgirl claimed that coffee burlaps sacks as flower wraps constituted its trade dress and sought to enjoin Bloom That's burlap wraps.
This squarely presents a trademark functionality problem: Is wrapping flowers in burlap functional? The court easily concludes yes because:
* burlap "is known for its strength, waterresilience, and versatility. These properties, combined with the low cost of burlap, have resulted in burlap's use as packaging for many commodities, such as coffee, and for the transportation of live plants."
* burlap performs better when delivering flowers by bicycle courier because it better protects the flowers from the elements, and other similar water-resistant fabrics (such as canvas or hemp) would cost much more. Bloom That represented that using new burlap costs $0.50—$0.65 per bouquet (and Farmgirl got its recycled bags for free), while alternatives would cost Bloom That $5 per bouquet.
* burlap is eco-friendly.
* using burlap to wrap flowers was covered by U.S. Patent No. 5,706,629, a strong indicator of functionality per TrafFix.
As a bonus, the court also finds aesthetic functionality. First, consumers like burlap because it looks rustic and provides a "curated" look, plus Bloom That relies on other packaging gimmicks (an orange and white striped ribbon tie plus a luggage-style tag affixed with a wooden clothes pin) as source identifiers. (I'm not sure about the relevance of the latter fact, but then again, I'm never sure about aesthetic functionality). The court also seemed troubled by the seeming overreach of Farmgirl's trade dress claim:
the scope of trade dress protection sought by Farmgirl would foreclose any other florist from using burlap as a wrapping for a bouquet, even if the bouquet or burlap clearly identified the source of the bouquet by the use of the florist's brand name or logo. In other words, Farmgirl's alleged trade dress is not limited to burlap of a certain color, shape, or size, nor is it limited to burlap bearing a particular pattern or logo. In fact, Farmgirl's recycled burlap still bears the mark of the coffee roaster who previously used the burlap for holding coffee beans. Farmgirl has failed to carry its burden to establish that the consumer would associate any use of burlap as a wrapping material for a bouquet of flowers with a single florist, rather than improving the appeal of the bouquet.
I liked this case (enough to blog it) because trade dress law is such a mess. We have overexpansive standards for trademarkability that reaches too deeply into product design and features, and the Supreme Court's trade dress jurisprudence has only compounded this problem. The result is that trademark owners can use trade dress law to bring bogus anti-competitive cases like this one–cases that hurt social welfare whether or not they succeed (i.e., if they succeed, it hurts competition; if they fail, we paid a social tax for the adjudication costs). Fortunately the court used the right legal tool to reach the right legal result, but the fact we had to go to court at all is an indictment of trade dress law.