Blogger Isn't Liable For Anonymous Reader Comments–Mezzacappa v. O'Hare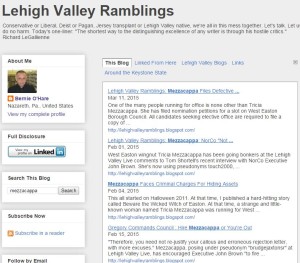 Bernie O'Hare ran a blog called "Lehigh Valley Ramblings." I'm focusing on the court's treatment of four anonymous comments posted in response to O'Hare's blogging about Tricia Mezzacappa.
In general, bloggers aren't liable for reader comments per Section 230. See generally my 2011 recap of Section 230 and message boards. The Pennsylvania law is particularly defense-favorable, including the cited D'Alonzo and Supplementmarket cases plus the Third Circuit's DiMeo v. Max case. The court also references the New Jersey state court Donato case from 2005.
In this case, the court says the blog an interactive computer service, Mezzacapp's claims of defamation and privacy invasion are publisher/speaker claims, and "it was apparent" that the anonymous comments came from third parties. For reasons that aren't explained, the court doesn't discuss the obvious possibility that some of the comments could have been anonymously posted by O'Hare himself. Mezzacappa weakly argued that O'Hare "exclusively controlled" the blog comments by deleting some comments, so O'Hare approved the remaining comments. The court swats that argument away citing Donato and DiMeo. Thus, the court dismisses all of the claims based on the anonymous comments.
Case citation: Mezzacappa v. O'Hare, C-48-CV-2014-4521 (Pa. Ct. Common Pleas March 31, 2015)
Some related posts
* Law Professor Blogger Wins Anti-SLAPP Ruling, But It's Hard To Celebrate The Win–Welch v. USD
* Blogspot Gets Section 230 Win In 11th Circuit–Dowbenko v. Google
* Don't Roll The Dice On Defamation Suits Against Gripe Sites, Especially In California–Ocean's Eleven v. Anders
* Linking to Defamatory Content Protected by Section 230—Vazquez v. Buhl
* Court Lauds Blogs "As A Means Of Free Dissemination Of News And Public Comment"–Comins v. Vanvoorhis
* 9th Circuit Issues a Blogger-Friendly First Amendment Opinion–Obsidian Finance v. Cox
* UK's New Defamation Law May Accelerate the Death of Anonymous User-Generated Content Internationally
* Blogger Gets 47 USC 230 Dismissal for Third Party Comment–Kruska v. Perverted Justice
* Blogger Wins Lawsuit Over Gripe Post–BidZirk v. Smith