A Fishy Jurisdiction Ruling Involving Mobile Apps–Tomelleri v. MEDL
For those of you who teach the Zatarain's v. Oak Grove Smokehouse trademark case, you know how much I wanted to stock this blog post with fish puns.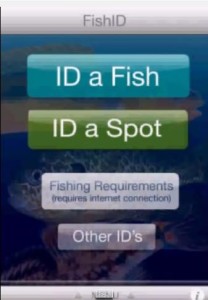 Joseph Tomelleri draws fishes, and he sells his illustrations via his website americanfishes.com. MEDL makes mobile apps, including an app co-produced with Siniscalchi called FishID, described as "a flexible tackle box of tools for identifying any catch, finding fishing spots, [and] reading up on local regulations." See the YouTube promotional video.
Tomelleri alleges that Siniscalchi included his copyrighted illustrations in the app. Siniscalchi claims the app's images came "almost exclusively from government websites (i.e., the public domain)." (I know some of you are thinking ruh-roh right now). MEDL claims it had no clue of the possible infringement until it got Tomelleri's notice. It then tried to upload a corrected app to Apple's app store, but for some reason the corrected app didn't stick, the old app kept selling and MEDL "simply lost track of this issue" until it got Tomelleri's complaint.
MEDL is based in California. Siniscalchi is based in Connecticut. Tomelleri sued for copyright infringement in his home court of Kansas. After jurisdictional discovery, the court dismisses MEDL for lack of jurisdiction.
Tomelleri first asserts general jurisdiction even though MEDL had no real contact with Kansas. Nevertheless, Tomelleri alleged that "users in Kansas have installed MEDL's apps onto mobile devices on at least 6,663 occasions." 6600+ "transactions" in Kansas sounds like a lot, but the court shrugs its shoulders and says those transactions represent "only 1.2% of [MEDL's] app installations in the United States and .5% of installations worldwide," a "modest" amount of sales activity that doesn't come close to establishing general jurisdiction.
Onto specific jurisdiction. Tomelleri argued the Calder v. Jones "Effects Test" about expressly aiming intentional torts at Kansas. But copyright liability is a strict liability tort, and MEDL claimed it was clueless about the infringement until it first got Tomelleri's notice. Even after that, MEDL didn't take any intentional acts towards Kansas; there were no allegations of sales made, or marketing sent, to Kansas residents.
Next, relying heavily on the Shrader case, the court dismisses the fact that MEDL advertised the app on its website:
MEDL makes no sales through its website. Plaintiff does not allege that MEDL has ever engaged in communications or other interactions with Kansas users through the website. And to the extent MEDL, by providing hyperlinks to the stores of third-party app providers, can be deemed to have directed electronic activity into all states from which customers click on those links, Plaintiff does not allege that any customer in Kansas has ever done so. In fact, Plaintiff does not contend that any Kansas resident has purchased a copy of the FishID app at all….

Nothing visible on the website itself manifests an intent to do business in Kansas. The screenshots Plaintiff submits portraying pages of MEDL's website contain no marketing information directed toward Kansas users in particular. Further, MEDL's provision of information about its products and where and how to purchase them does not demonstrate an intent to do business in every state where that information is viewable.
Tomelleri responded that the app, by its design, had state-specific information–including information about Kansas fish:
Plaintiff alleges that the app displays maps that "tag" lakes and rivers located in Kansas, provides range maps allowing users to identify fish species that can be found in certain bodies of water within Kansas, and links to the fishing regulations of each state, including those of Kansas. Plaintiff thus contends the design of the FishID app itself manifests MEDL's intent to create and exploit a market for the app within this state
The court agrees that state-specific product design can indicate "purposeful direction":
MEDL's FishID app contains Kansas-related regulatory and wildlife information that can make the fishing experience more convenient and enjoyable for Kansas users. Those features evidence MEDL's intent to create demand for the app within Kansas and, thus, to increase sales by serving the market in this state.
The court sidesteps the obvious retort–that app buyers outside of Kansas might value the app because their fishing tourism might take them to Kansas. MEDL did argue that its app was national in scope, so it didn't target Kansas; but the court says that MEDL may have been targeting all 50 states simultaneously.
The court never expressly says the FishID app was geo-located, but the result doesn't make sense unless that's the case. Otherwise, the court would be saying that every passive publication with state-specific content would be purposefully directed to the state; e.g., a national field guide to mushrooms with a chapter on Kansas mushrooms would be purposefully directed to Kansas (and every other state that got a specific chapter). I don't think that's the law. If, in fact, the case turns on the app's geolocation capabiilty, this ruling has significant implications for the many mobile apps that customize content based on geographic location. There's a good argument that designing an app to work better in a state once it knows the user's location necessarily means that the app is purposely directed to that state. Following this court's logic, it will be hard for any app that does geotargeting to argue otherwise. (For more on this, see my 2007 dystopian post).
Nevertheless, the court lets MEDL off the hook because the copyright claim isn't connected to the Kansas-specific product design. For example, the court says:
the app's Kansas-specific features—including range maps for various fish species and a link to Kansas fishing regulations—appear wholly unrelated to the reproduction of Plaintiff's fish illustrations in the app's fish species profiles…MEDL is able to reproduce Plaintiff's illustrations without incorporating Kansas-related information into the app at all…it does not appear that MEDL's incorporation of Kansas-specific features into the FishID app are in any way relevant to the merits of Plaintiff's claims for copyright infringement.
This is the key step skipped by so many pro-plaintiff rulings in online jurisdiction cases. It's not just that the defendant directed activity towards a state; the claim must relate to that activity. Here, the app's Kansas-specific material doesn't depend on infringing the plaintiff's copyright, and the facts otherwise indicate the defendant wasn't trying to infringe. This lack of "nexus" between state-specific activity and the cause of action should be similar in many other cases involving geolocated apps; let's hope those courts are equally attuned to the issue.
Case citation: Tomelleri v. MEDL Mobile, Inc., 2015 WL 1957801 (D. Kansas April 29, 2015)
For another dispute involving copyright claims in animal-related online publications, see the "American Loons" case.
A few recent related posts:
* No Personal Jurisdiction Over Nasty Facebook Post–Burdick v. Superior Court
* Keyword Advertising Doesn't Create General Jurisdiction–Rocke v. Pebble Beach
* Consumer Reviews at "Local" Review Sites Don't Support Jurisdiction–Wilkerson v. RSL
* The 9th Circuit Tackles a Pair of Internet Jurisdiction Cases