Online Marketplaces Facilitating Gun Sales Don't Kill People. People Kill People (Forbes Cross-Post)
We're seeing increasing attempts to hold online marketplaces responsible for illegal user transactions on their site. A recent federal appellate ruling rejected one such lawsuit involving an online gun marketplace transaction that led to a murder.
What Happened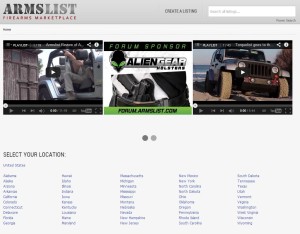 After his romantic overtures were spurned, Demetry Smirnov shot and murdered Jitka Vesel. For this crime, Smirnov was sentenced to life in prison. Smirnov acquired the murder weapon via Armslist, a website that runs classified ads for guns. Through Armslist, Smirnov found the gun seller, Ladera. Ladera's gun sale to Smirnov violated federal law, and Ladera served over a year in prison for his crime.
Jitka's brother, Alex, sued Armslist for its contributing role to her murder (he didn't sue either Smirnov or Ladera). Alex claimed that Armslist was negligent. The court disagreed. The court said that Armslist did not have a duty to protect Jitka because they lacked the necessary "special" relationship:
Alex did not, nor could he, allege that a special relationship existed between the parties; the fact is that no relationship between Armslist and Jitka, special or otherwise, ever existed.
Alex also claimed that Armslist encouraged the illegal gun transaction. The court rejected that argument as well:
simply enabling consumers to use a legal service is far removed from encouraging them to commit an illegal act….Armslist permitted Ladera to place an advertisement on its website and nothing more. It did not invite Ladera or Smirnov to break the law
Implications
The Role of Section 230. In 1996, Congress enacted 47 USC 230 (Section 230), which says that websites aren't liable for third party content. Ordinarily, Section 230 protects online marketplaces from liability for user-to-user interactions gone wrong. See my prior post, Online Dating Websites Aren't Required To Warn That Some Members May Be Murderers.
To bypass Section 230, plaintiffs routinely allege that they are not suing the website for user posts, but instead they are suing for "negligent" behavior by the website. This negligence-based workaround doesn't work. See, e.g., Gibson v. Craigslist, another case where an online marketplace was sued for helping a gun buyer purchase a murder weapon; Doe v. MySpace; and the seminal 1997 Section 230 case, Zeran v. AOL.
What if Section 230 Isn't Available? The Armslist opinion doesn't mention Section 230 at all (neither did the lower court opinion). While Section 230 would have simplified the analysis, in some ways this ruling is more powerful because of that omission. The court's legal conclusion–interpreting common law principles of negligence–applies even if Section 230 isn't available for whatever reasoning. As a result, this ruling supplements Section 230 as a double-confirmation that online marketplaces aren't liable for offline injuries a user inflicts on someone else.
What if the Federal Government Prosecuted Armslist? I'm not aware of any federal crimes against publishing third-party gun advertisements. Nevertheless, as I previously mentioned in my blog post about Silk Road, the federal government always can allege that an online marketplace is conspiring with its buyers and sellers who engage in illegal transactions (such as Smirnov and Ladera in this case). Even if Armslist could defeat any such prosecution, such a prosecution would almost certainly be fatal to Armslist due to the astronomical defense costs and the likely seizure of Armslist's assets. This reminds us why the Silk Road case is so important. The federal government has the de facto power to unilaterally and capriciously eliminate online marketplaces as industry participants; we just hope they wield that discretion wisely.
The Legality of Online Marketplaces. Despite the troubling Silk Road ruling, online marketplaces have racked up a series of legal victories in the past few years. See, e.g., wins by Topix, the HP app store, Match.com and Amazon. I'd like to think this means we're slowly embracing the idea that online marketplaces benefit society by lowering transactions costs and accelerating transactions, even if some of those transactions are illegal.
Case citation: Vesely v. Armslist LLC, 13-3505 (7th Cir. Aug. 12, 2014). Prior blog post.