IP Battle Between Jumpy House Manufacturers Isn't Bounced – WhatRU Holding v. Bouncing Angels
At any moment, a product manufacturer can find itself trapped in a tangled nightmare of IP infringement claims. In WhatRU Holding, LLC v. Bouncing Angels, Inc., a district court in Minnesota found personal jurisdiction over a defendant company that sold a single (allegedly infringing) inflatable carousel bounce house within the state.
Cite: WhatRU Holding, LLC v. Bouncing Angels, Inc., No. 13-2745 (D. Minn. February 19, 2014)
Background
Plaintiff WhatRU Holding is a Minnesota company that manufactures and distributes "inflatable tents and party accessories." Defendants Bouncing Angels and EZ Inflatables ("EZI") are both small California companies that also manufacture inflatables.
In connection with a product called the Carousel Jumper, WhatRU Holding sued defendants alleging several federal and state causes of action: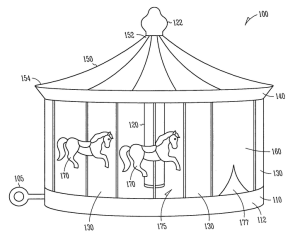 Patent infringement,
Copyright infringement,
Trade dress infringement,
False advertising,
Deceptive trade practices, and
Unfair competition.
Both Bouncing Angels and EZI moved to dismiss for lack of personal jurisdiction. Ultimately, the court decided to grant the motion for EZI but not Bouncing Angels.
Single Sale Sufficient for Jurisdiction over Bouncing Angels
The court cited the general rule that a forum may exercise personal jurisdiction over a defendant who sold an allegedly infringing product in the forum state. In this case, Bouncing Angels sold a whopping total of three products to Minnesota customers over the course of thirteen years. Even so, the court held that those sales sufficed Plaintiff's burden in proving personal jurisdiction:
Bouncing Angels purposefully directed its activities at the forum, by accepting an order and shipping the accused product to the forum, such that the first condition is met . . . As to the second factor, the infringement claim adequately arises out of or relates to Bouncing Angel's forum activities because the product it sold in Minnesota is the product accused of infringement.
Bouncing Angels's main argument against jurisdiction was to emphasize the fact that it only had one allegedly infringing sale to a customer in Minnesota. The court did not buy this argument, however, arguing that multiple other district courts had found personal jurisdiction over a patent claim based on a single sale or minimal sales within the forum.
Finding personal jurisdiction over the patent count, the court noted that jurisdiction also exists for the other counts under the supplemental jurisdiction statute.
Website Access & Facebook "Likes" Not Sufficient for Jurisdiction over EZI
Establishing jurisdiction for EZI was not as EZ. Unlike Bouncing Angels, EZI had no direct sales to Minnesota residents. Thus, WhatRU Holding had to argue that EZI's website constituted minimum contacts with the forum state. The court disagreed:
EZI's website does not show that EZI purposefully directed its activities at residents of the forum as required under the first prong of the Federal Circuit's specific jurisdiction test. A website that is not specifically directed at the forum and is available to customers throughout the country cannot, standing alone, establish personal jurisdiction over the website owner. See Campbell Pet Co. v. Miale, 542 F.3d 879, 884 (Fed. Cir. 2008).
Even with its social media, EZI did not direct much (if any) attention to Minnesota. Although EZI has general invitations to "Like" on Facebook and "Follow" on Twitter, the court noted that the minimal interaction with Minnesota residents was not a hook for specific jurisdiction:
The record does show one inquiry on Facebook initiated by a Minnesota resident about a pricing list for EZI's products. But given the primary importance of quality, quantity, and relationship to the cause of action of EZI's contacts in the jurisdictional analysis . . . that one lonesome communication—without any apparent connection to the Carousel Jumper—does not support a finding of specific jurisdiction.
Ultimately, WhatRU simply could not point to any meaningful EZI interaction with Minnesota residents via its website or social media, and the court consequently granted EZI's motion to dismiss.
________
With this complaint, WhatRU Holding essentially blasted its IP shotgun at both defendants and prayed that it would hit something. Not only is the purported damage to plaintiff minimal at best, but each claim is weak.
The patent infringement argument construes the patent's coverage broadly. Also, asserting an "inflatable sculpture" copyright in this context seems troubling because the purpose is to maintain a monopoly on inflatable carousels, not the expression of this particular inflatable carousel. Further, how would WhatRU argue that Bouncing Angels copied their design specifically, and not just the common visual elements of all carousels that came before it?
The rest of the claims are equally laughable given the de minimis nature of the alleged harm, but the trade dress argument is especially ridiculous. How can WhatRU argue with a straight face that the visual elements of a carousel are so distinctive that they identify the company to consumers?  Honestly . . . WhatRU smoking?
On the bright side, the court did right to deny general jurisdiction over EZI. As Venkat mentioned in a post from a few years ago:
[The resolution of an Internet jurisdiction question] ends up being a crapshoot much of the time, albeit one that's informed by the court's view of the equities.
But similarly to these recent jurisdiction cases, the court shunned the importance of the defendant website's "interactivity" and focused more on concrete evidence of activity purposely directed at the forum state (often for pecuniary gain).
In Mavrix (discussed in Venkat's post linked above), the court stated:
Not all material placed on the Internet is, solely by virtue of its universal accessibility, expressly aimed at every state in which it is accessed. But where, as here, a website with national viewership and scope appeals to, and profits from, an audience in a particular state, the site's operators can be said to have "expressly aimed" at that state.
This case did not cite Mavrix, but its reasoning seems consistent with the above sentiment. Here, EZI did not have a national viewership by any account and it certainly did not profit (even once) from customers in Minnesota.
Unfortunately for Bouncing Angels, the dark (inflatable) carnival continues.
Related Posts:
The 9th Circuit Tackles a Pair of Internet Jurisdiction Cases
Consumer Reviews at "Local" Review Sites Don't Support Jurisdiction–Wilkerson v. RSL
Facebook Faces Jurisdictional Hurdle in its Trademark Lawsuit Against Faceporn–Facebook v. Pedersen
Facebook's Trademark Enforcement Effort Against "Faceporn" Hits Jurisdictional Snag — Facebook v. Pedersen
Consumer Reviews at "Local" Review Sites Don't Support Jurisdiction–Wilkerson v. RSL
Two Recent Social Media Defendants Avoid Personal Jurisdiction