Online Retailer Pays Minimum Damages When Taken Down Item Inadvertently Returns–Rosen v. Netfronts
By Jake McGowan
Rosen v. Netfronts, CV 12-658 CAS (C.D. Cal. July 9, 2013)
What happens when a website operator takes down a potentially copyright-infringing item, only to have it reappear through a technical mix-up?
On July 9, a district court in California found that an online memorabilia seller was liable to a photographer for copyright infringement, but awarded the absolute minimum in statutory damages since it was "an honest mistake."
Background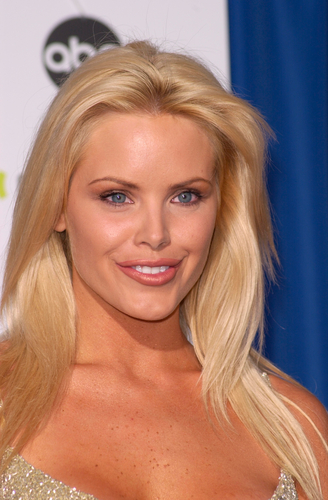 This is a fact-driven case that revolves around four photographs of actress Gena Lee Nolin (The Price is Right, Baywatch) taken by plaintiff Barry Rosen and registered with the Copyright Office in 2004.
Defendant Stephen Pierson sells entertainment memorabilia by mail, online, and he once operated a retail store in Los Angeles. Sometime in the late 1990s, visitors showed up at Pierson's retail store and sold him several prints (including the Nolan prints). Upon purchasing the prints, Pierson offered them for sale through his store, through mail-order catalogs, and over the Internet. When Rosen found out, he began confronting Pierson and demanding that he back off from selling the prints.
In the early 2000s, Rosen issued several notices under the DMCA demanding that the photographs be removed from eBay and Pierson's website, "dejavugalleries.com." But Pierson did not learn of the notices from his webmaster until around 2004, at which point he decided not to risk it and ceased trying to sell the photographs online.
A year later, however, his website crashed and he discontinued his online business. In 2010, Pierson hired someone new to rebuild his website. As part of the rebuild, the new site iteration pulled content from an older database that included Rosen's photographs, even though they had been removed from the original site in 2004.
Defenses
The case for infringement was not a hotly contested question, and the court quickly put away any defenses. First of all, the first sale doctrine is not applicable in this case because Pierson presented no evidence that the prints he tried to sell were authorized copies. The court also dismissed any laches argument, noting that the evidence showed that Rosen did not unreasonably delay in asserting his rights–he refrained from bringing a suit earlier because he believed Pierson had gone out of business when the website went down.
Remedies
Pierson argued that statutory damages were unavailable under the doctrine of continuing infringement. After all, these were the same prints he had been trying to sell since the late 1990s, which was before Rosen had registered the prints with the Copyright Office. While this may be true with regard to the catalog, the court found that Rosen could pursue statutory damages arising out of of the offers that occurred through Pierson's website:
The doctrine of continuing infringement does not apply to these acts because Pierson ceased displaying the Photographs through his website between 2005-2010, and this cessation of infringing activity renders the defense of continuing infringement inapplicable to the claims arising out of the website.
Thus, the court found that Rosen could be awarded statutory damages for each of the four photographs. But while the standard amount per work ranges from $750-$30,000, courts are able to award as little as $200 per work if the infringement is "innocent." In this case, Pierson argued that the infringement was innocent because he was unaware that he had actually posted the photos online with offers to sell. The court agreed:
The evidence at trial showed that Pierson did not personally handle technical duties regarding his website, but instead retained Romero and Daniel for this purpose. Moreover, Pierson consistently directed both Romero and Daniel to remove the Photographs from the website upon learning of Rosen's complaints . . . when he reestablished his online business in 2010, Pierson had no reason to believe that he would engage in infringing acts by reviving the website . . . Pierson's infringement was the result of a reasonable mistake, and therefore Pierson's infringement was innocent.
The court denied Rosen attorneys fees, citing much of the same reasoning and especially noting Pierson's "good faith attempts to avoid infringement."
_____________
This is one of those copyright cases where after all is said and done, was it really worth it for the rights holder to pursue? Four photograph prints whose asking prices were roughly $50 each? This was an extremely fact-driven case, which means higher attorneys' fees and thus a diminishing return on investing in a lawsuit. Even to this cash-strapped law student, it seems like the juice is not worth the squeeze.
It's possible that Rosen may have been deceived by an "easy win." By "easy," I mean that it did not take too long for the court to establish a prima facie case for infringement. The key was always going to be the remedies, and in this case the court thought the defendant's actions throughout the dispute warranted an appropriately measured response.
One last thing: this case seems like it would have been suited well for some type of copyright small claims court. For an update on the potential of such a court, check out Jonathan Bailey's coverage at Plagiarism Today.
[Photo Credit: Featureflash / Shutterstock.com]