Google Crushes Home Decor Center's Trademark Challenge to AdWords
By Eric Goldman
Home Decor Center, Inc. v. Google, Inc., 2:12-cv-05706-GW-SH (C.D. Cal. May 9, 2013)
Home Decor Center sued Google in the wake of the Fourth Circuit's Rosetta Stone ruling. The lawsuit did not go well for it. Recently, the court granted Google's summary judgment motion on two grounds. The trademark challenges were dismissed because the court held that "Home Decor Center" was generic and therefore ineligible for trademark protection. All of the non-trademark claims were dismissed per 47 USC 230. Thus, not only has Home Decor Center's lawsuit died, so has its trademark. The only thing that could be worse is if the court orders Home Decor Center to pay Google's legal fees (I imagine Google will ask). Perhaps Home Decor Center will appeal the ruling—at this point, it has nothing to lose in the case other than more legal fees.
Purists will be disappointed that yet another court sidestepped the conceptually interesting question of when Google could be liable for selling trademarks as keyword ad triggers—a question that still has not been definitively resolved in court after more than a decade of legal battles, and now appears that it may never be answered. Google recently settled the CYBERsitter lawsuit, so Google has whittled its AdWords trademark litigation docket down to just two pending lawsuits: Parts.com and Ison. Parts.com will almost certainly end like this one did—a complete plaintiff loss on the merits plus a finding that the putative trademark Parts.com is generic—and Ison has already lost at the lower court and has zero chance on appeal. Thus, with just a little mop-up work remaining, Google has effectively cleared its AdWords trademark docket, reinforcing that Google has won the trademark battles over AdWords. It will be interesting to see if any future trademark owners make the sucker's bet of challenging the Mighty Google.
Home Decor Center is Generic
The Home Decor Center lawsuit baffled me generally, but perhaps the most baffling fact is that it only had a trademark registration on the Supplemental Register, not the Principal Register. The Supplemental Register is only for descriptive trademarks that haven't achieved secondary meaning, so the registration is usually worthless in court. Indeed, though the PTO makes a finding that the term is a descriptive trademark and not generic as part of granting a supplemental registration, courts don't need to defer to the PTO's determination, and this court didn't.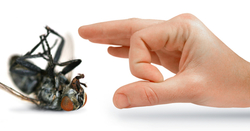 To help crush the trademark, Google conducted at least two consumer surveys, while Home Decor Center apparently didn't conduct any. Trademark defendants don't typically do their own consumer surveys about the plaintiff's trademark, but Google's surveys proved devastating to Home Decor Center's case. I don't know how much money Google spent on its consumer surveys, but I doubt the price tag was less than a quarter-million dollars. Thus, Google was willing to invest in a nuclear flyswatter to destroy a lawsuit it was likely to win even without the surveys. In a similar vein, Google did a consumer survey in the Ison case, which was an even weaker lawsuit. Google's willingness to vastly outspend its opponents provides a good cautionary tale for the next plaintiff who thinks it can challenge Adwords "on the cheap."
The court summarized its discussion on genericness:
Combining the words "home decor" with "center" does not primarily denote a specific origin or source. Rather, it merely identifies the "type of product" sold by Plaintiff, answering the consumer's "what are you" question with the response, a "center" that provides "home decor."
Overall, I've previously argued that the term "[noun] Store" is categorically generic for a retailer selling [noun]. This ruling is similar; using "center" rather than "store" doesn't really change the analysis. As Parts.com will soon find out, "[noun].com" is also generic for an online retailer of [noun].
The Section 230 Analysis
The court says that Home Decor Center's state law claims are all derivative of its trademark claims. Thus, when the trademark died, so did the derivative claims. But even if that wasn't true, the court says the derivative claims are preempted by 47 USC 230. This is because Home Depot, the AdWords advertiser who purchased the allegedly problematic ads, used Google's tool to dynamically insert the search query (in other words, the purported trademark) into the ad copy. When the advertiser uses Google's dynamic keyword insertion feature, Google doesn't "create or develop" the ads in question (with cites to Jurin and Goddard). Home Decor Center presented some evidence that Google's sales rep discussed the ad copy with Home Depot, but ultimately it appears Home Depot wrote all of the ad copy itself. Compare the murky Section 230 discussion in the CYBERsitter case, now effectively orphaned by settlement of that case.
___
For more on this topic, see my recent blog posts on trademark infringement and keyword advertising:
* Suing Over Keyword Advertising Is A Bad Business Decision For Trademark Owners
* Florida Proposes to Ban Competitive Keyword Advertising by Lawyers
* More Confirmation That Google Has Won the AdWords Trademark Battles Worldwide
* Google's Search Suggestions Don't Violate Wisconsin Publicity Rights Law
* Amazon's Merchandising of Its Search Results Doesn't Violate Trademark Law
* Buying Keyword Ads on People's Names Doesn't Violate Their Publicity Rights
* With Its Australian Court Victory, Google Moves Closer to Legitimizing Keyword Advertising Globally
* Yet Another Ruling That Competitive Keyword Ad Lawsuits Are Stupid–Louisiana Pacific v. James Hardie
* Another Google AdWords Advertiser Defeats Trademark Infringement Lawsuit
* With Rosetta Stone Settlement, Google Gets Closer to Legitimizing Billions of AdWords Revenue
* Google Defeats Trademark Challenge to Its AdWords Service
* Newly Released Consumer Survey Indicates that Legal Concerns About Competitive Keyword Advertising Are Overblown
[Photo Credit: Give Pests The Flick With An Isolated Hand Flicking A Huge Dead Fly // ShutterStock]