Copyright Trolling Is Really Hard to Do Profitably–Righthaven v. Hoehn
By Eric Goldman
Righthaven LLC v. Hoehn, 2013 WL 1908876 (9th Cir. May 9, 2013)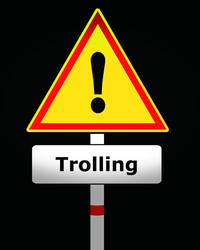 It's been a rough week for copyright trolls. First, Judge Wright destroyed the Prenda Law enterprise in a sanction-filled opinion. Second, today the Ninth Circuit emphatically rejected Righthaven's attempt to manufacture copyright standing. I don't see how either the Prenda Law outfit or Righthaven survive these blows. Both offer a good cautionary tale for anyone who thinks there's gold in copyright trolling. Not only isn't it a path to riches, but it's likely a road to ruin; I'm still waiting to see how many lawyers lose their license from the ill-fated efforts.
The Ninth Circuit says that Righthaven failed to obtain bona fide copyright transfers to Stephens Media's copyrights, despite several attempts to do so. The funny thing is, it would have been possible to satisfy the standing requirement, but only if Stephens Media had been willing to give up control of its copyrights. Instead, Stephens Media simultaneously wanted the cash from Righthaven's litigation campaign but was never comfortable enough actually giving Righthaven any real rights. Using too many double negatives, the court says:
Moreover, the contract evinced not just an intent that Righthaven receive whatever rights were necessary for it to sue, but also an intent that Stephens Media retained complete control over all exclusive rights. The problem is not that the district court did not read the contract in accordance with the parties' intent; the problem is that what the parties intended was invalid under the Copyright Act.
The final version of the Stephens Media-Righthaven deal (contained in a "Clarification and Amendment to Strategic Alliance Agreement") said that Stephens Media "convey[ed] all ownership rights in and to any identified Work to Righthaven through a Copyright Assignment so that Righthaven would be the rightful owner of the identified Work." Yet, even this contract provision failed because Righthaven had to give Stephens Media 30 days notice before exploiting the work, and Stephens Media could buy the rights back by giving 14 days' notice and paying $10. The court says:
Consequently, Righthaven was still unable to exploit any exclusive rights unless Stephens Media permitted it to. Meanwhile, Stephens Media was free to exploit the works to the full extent it wished, and it presumably would with any article that it perceived to have additional value.
Sounds like Righthaven could have benefitted from a real copyright expert to handle these provisions. Where was Dale Cendali when Righthaven needed her most?
Because Righthaven never properly procured a copyright transfer to any of Stephens Media's works, it lacked standing for all of its lawsuits based on Stephens Media's works. In turn, because Righthaven lacked standing, the Ninth Circuit vacates the lower court fair use rulings in the Hoehn and DiBiase cases (and presumably Righthaven's other fair use losses are similarly suspect), an unfortunate but logical collateral consequence.
In theory, Righthaven could try once again to acquire proper copyright transfers from Stephens Media and refile all of its lawsuits, but that won't happen. It's clear Righthaven didn't know how to litigate properly, it's clear that there's not a lot of easy profits in suing mom-and-pop bloggers who may unintentionally violate a newspaper's copyright, and Righthaven has lost all of its assets. So Righthaven is dead, and it won't be resurrected. Good riddance. The remaining mop-up issues from the Righthaven debacle include whether Stephens Media will have to cough up more money for its role in the sordid affair, and how the various state bar discipline enforcers view the conduct of some of Righthaven's attorneys.
In September 2010, I had a telephone "debate" with Steve Gibson of Righthaven. In the call, I kept pounding the point that I didn't believe his scheme could be profitable. Over the last three years, I haven't seen anything that changes my view. Copyright trolling requires a high volume of low-value cases, which requires lawyers to keep costs down–inevitably by cutting legal corners. Thus, there is an intrinsic tension between keeping costs down and generating enough bona fide copyright infringement cases to get paid off. Good data points for future copyright owners who thinks trolling is the path to riches.
Prior blog posts:
* Righthaven Hit With Another Fee/Cost Award, This Time Nearly $120k–Righthaven v. DiBiase
* Colorado Judge Drills Righthaven and Awards Attorneys' Fees–Righthaven v. Wolf
* Resetting the Righthaven Fiasco
* Righthaven Defendant Awarded $3,800 in Attorneys' Fees–Righthaven v. Leon
* Recapping Righthaven Developments from the Past Two Weeks
* Righthaven Benchslapped in Ruling Saying It Lacks Standing–Righthaven v. Democratic Underground
* Another Defense-Favorable Righthaven Ruling–Righthaven v. Choudhry
* Republishing Entire Newspaper Story is Fair Use–Righthaven v. CIO
* Blogger Wins Fair Use Defense…On a Motion to Dismiss!–Righthaven v. Realty One
[Photo Credit: trolling road sign // ShutterStock]