Bit-Torrent Copyright Litigation Updates, and a Potentially Significant Decision on Joinder
[Post by Venkat Balasubramani]
We don't track the numerous mass file sharing cases going on around the country. There are too many of them, and it's not easy to glean any sort of a clear trend. But here are a few that came across the transom recently.
Well Go USA, Inc. v. Filesharing Swarm, 12 cv 00963 (S.D. Tx. Sept. 25, 2012): the court first deals with whether a subpoena is properly issued under 17 USC section 512(h). Following RIAA v. Verizon, the court says that these subpoenas are only available to obtain information from ISPs that actually store—rather than act as conduits for the access of—the files in question.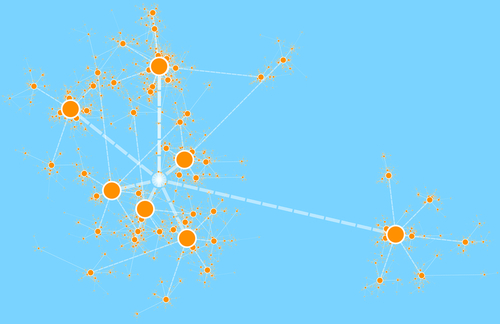 The court grants limited discovery (subject to a protective order). Finally, the court expresses concerns as to whether the defendants are all properly joined. The court allows the defendants to be part of the lawsuit at this stage but allows defendants to present arguments (after service) as to why joinder is not proper.
AF Holdings v. Doe & Botson, 12-CV-02048-EJD (N.D. Cal. Oct. 3, 2012): this case squarely addresses a person's liability for infringements effected via an open wi-fi connection (the order mentions that plaintiff is trying to hold Botson liable for "failing to secure his internet connection," so I read this as a case involving open wi-fi, rather than a case where someone was provided a password and engaged in infringing acts). Either way, the court says that a claim of negligence is preempted by the Copyright Act. For good measure, the court also says in the alternative that the claim is barred by Section 230, and that there's no special relationship between the plaintiff and defendant so there's no duty, and no underlying basis for a negligence claim.
Aerosoft GMBH v. Does, 12-21489-CIV-SEITZ/SIMONTON (S.D. Fl. Oct. 23, 2012): this is a case where the court granted limited discovery (as in the Well Go USA case). Defendants then brought motions to quash, arguing that joinder was improper. The court says that there is mixed authority on the issue but ultimately finds that Bit-torrent swarm joinder is not proper. Plaintiffs argued that the various pieces of the file shared by defendants could have been used to aggregate a whole copy, but the court says this argument is "deceptive in its allure." While the trackers may all fit together to form the whole file, there's no allegation or evidence that defendants actually participated in the same transaction. The court also says that each user didn't choose to engage with the other users. The court quashes all subpoenas that seek information regarding doe defendants (except for the first named defendant).
Discount Video Center, Inc., et al. v. Does, 12-10805-NMG; 12-10532-GAO; 12-10758-GAO (D. Mass. Nov. 16, 2012): I'm not sure exactly what happened in this case (three different cases–two brought by Patrick Collins and one by Discount Video Center). The court basically loses patience with counsel for plaintiff and concludes that plaintiffs have no intention of litigating these cases:
Plaintiff Patrick Collins, Inc. has sued at least 11,570 John Doe Defendants in litigation around the country without ever serving a single defendant.
They are just looking to identify and send letters to Doe defendants. In fact, the court is not even sure that plaintiffs have any plan to identify the defendants ("[plaintiffs] have not proposed a discovery plan aimed at identifying the infringers they have sued"). The court has some choice words for plaintiffs' counsel (e.g., the "course of action [plaintiffs intends to pursue] . . . suggests an improper effort to engage in judge shopping and evidences a disregard for the Court's limited public resources"). End result: requests for early discovery denied; plaintiffs ordered to show cause as to why the lawsuits should not be dismissed for failure to effect timely service.
Third Degree Films v. Does 1-47, 12-10761-WGY (D. Mass. Oct. 2, 2012): Judge Young, who had previously rejected an improper joinder argument raised by Doe defendants, revisits the issue. The court finds that joinder is proper under Rule 20(a)(2)(B) because there's a logical relationship between the claims brought against the various defendants. There is also evidentiary overlap, and an "aggregate of operative facts." However, the court says it has discretion under Rule 20 to implement "protective measures," and it exercises that discretion:
This Court is concerned that the joinder mechanism is being manipulated to facilitate a low-cost, low-risk revenue model for the adult film companies . . . . Third Degree and like companies file a single cookie-cutter complaint alleging copyright infringement against tens, hundreds or thousands of individuals based on their IP addresses, paying only a single $350.00 filing fee, and likely employing a contingency fee structure . . . . The company relies on the combined threat of substantial statutory damages and the embarrassment of being publicly named as illegally downloading a pornographic film . . . to assume that at least some of the defendants will settle for perhaps $2,000 or $3,000 – which result comes at minimal cost to the company. . . . [O]ur federal court system provides litigants with some of the finest tools available to assist in resolving disputes; the courts should not, however, permit those tools to be used as a bludgeon.
The court is careful to say that it's not aware of any bad conduct on the part of Third Degree, but that it is uncomfortable with the overall structure of these lawsuits and settlements. The court severs Does 2-47 from the lawsuit and requires Third Degree to file individual complaints against them.
__
As mentioned initially, it's pretty difficult to discern any sort of a trend from this litigation. That said, judges are expressing discomfort with the litigation tactics being used against Bit-torrent defendants. Maybe a few bad apples are ruining it for the rest of the litigants? Who knows. (Someone should map out the jurisdictions where judges have ordered the copyright plaintiffs to proceed individually. This would be useful for both sides, and sounds like a great project for a law student to undertake.)
Judge Young's opinion is particularly significant because it's a reversal of his previous position. It's also a thorough opinion. The fact that it relies on the court's discretionary power under Rule 20 (rather than the question of whether joinder is appropriate in the first instance) is interesting as well. That discretion is more insulated from appellate review.
Finally, see this article from Timothy B. Lee at Ars: "Porn trolling firm dogged by identity theft allegations." Ouch.
Previous posts:
Court Nukes Another Mass Defendant File-Sharing Lawsuit — Digiprotect v. Does
Copyright Doe Defendant Can't Quash Disclosure Subpoena Anonymously—Hard Drive Productions v. Does
[image credit: Shutterstock/Kentoh – "social networking online"]