Ninth Circuit Easily Dismisses Account Termination Case–King v. Facebook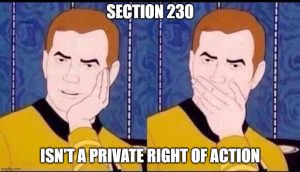 This is a standard account termination case. The specific facts don't matter to the outcome, but I enumerate a little more detail in my prior blog post. The 9th Circuit panel's very short narrative includes:
"there is no private right of action under the CDA"
"The specific promise to take down explicit content at issue in Barnes does not compare to the general promise made by Facebook, and incorporated into its TOS, to use "good faith" or make an "honest" determination before deciding to exercise publishing or editorial discretion."
A unanimous per curiam memo disposition means the plaintiffs weren't even close. You might expect a better showing from a lawyer-plaintiff. Instead, this becomes another banal entry in the ever-growing pile of failed account termination and content removal lawsuits.
Case citation: Adrienne Sepaniak King and Christopher Edward Sepaniak King v. Facebook, Inc., 2023 WL 5318464 (9th Cir. August 18, 2023)