YouTube Defeats Trademark Lawsuit–Lops v. YouTube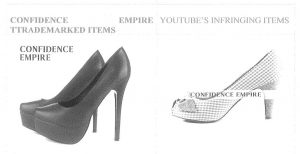 Leonel Lops claims a trademark in the term "Confidence Empire" for shoes. He alleges that YouTube sold items under the "Confidence Empire" brand and published videos from a dance troupe named Confidence Empire (maybe this one?). He sued YouTube for allegedly infringing his trademark and sought "$1 billion in damages, $2 million in costs, at least $500 million in punitive damages, and temporary and permanent injunctive relief." (Spoiler: he doesn't get $1B).
The trademark infringement claim fails because "YouTube is a 'streaming platform,' not an 'online marketplace.' Lops fails to plausibly allege that YouTube sells tangible goods, much less that it sells tangible goods that bear the mark 'Confidence Empire.'" Cites to Yout v. RIAA and Ripple Labs. As for the dance troupe video, "YouTube cannot be subject to direct liability for trademark infringement based on videos uploaded by third parties." Cites to Tiffany v. eBay and Sellify v. Amazon.
The false advertising claim fails because Lops didn't show that the videos "are commercial speech and made for the purpose of influencing consumers to buy YouTube's goods or services."
Lops also had an unsuccessful lawsuit against Facebook.
Case Citation: Lops v. YouTube, LLC, 2023 WL 2349597 (D. Conn. March 3, 2023). The complaint.