Section 230 Protects BBB from Liability for Consumer Complaints–Amuze v. BBB
Amuze is an online clothing retailer. Consumers left negative reviews of Amuze at the Better Business Bureau of Greater Maryland (BBB-GM) website. (This page?) Amuze sued BBB and BBB-GM for defamation and IIED. The BBB entities successfully invoked NY's anti-SLAPP law.
Issues of Public Interest in Public Forum. "the reviews and complaints posted to BBB and BBB-GM profiles concern issues of public interest because such posts are intended to provide otherwise unavailable information about specific businesses to the public and future potential consumers."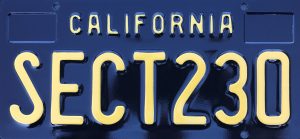 Section 230. The court's 230 analysis is a little garbled, but 230 applies to third-party reviews. Amuze argued that the BBB is different from traditional consumer review websites because it claims to investigate complaints and offers an ADR. The court says that conduct sounds like "traditional editorial functions," and defendants have not "altered or in any way included its own views when displaying the consumer complaints….every complaint and review (which defendants display separately) are posted without comment and input from defendants." Thus,
the allegation that defendants hold themselves out as neutral mediators or investigators—without allegations describing defendants' own input in the posts—does not transform defendants into "interactive content providers"
(The court botches several of the statutory terms. Here, it meant "information content providers").
Defamation. The court says that the defamation claim would have independently failed, even without Section 230, because:
the statements that "plaintiff "is a fraud," "guilty of unethical business practices," and "will charge a huge return shipping fee and offer credit for more defective or counterfeit merchandise" are all statements of pure opinion. Such statements are readily understood as conjecture, hypothesis, or speculation."
"the statement about plaintiff charging huge return fees and credit for counterfeit merchandise is necessarily conjecture because it anticipates future-oriented behavior."
"the surrounding context—that the reviews and complaints were posted in a public forum whose existence is designed to give outlet to consumers who, rightly or wrongly, feel mistreated by particular businesses—suggests to the reader that such statements are not intended to be recitations of fact."
Your ongoing reminder that reforming Section 230 may not always change the substantive outcome (like in this case), but it will often have deleterious procedural consequences.
Amuze also complained about the F grade given by the BBB. The court responds: "the nature of the information communicated by the letter grade would lead a reasonable person to believe that BBB was expressing an opinion."
Case citation: Amuze v Better Bus. Bureau, 2023 N.Y. Misc. LEXIS 958 (N.Y. Supreme Ct. March 3, 2023)
Prior BBB Posts