What Does the "Water" Emoji Mean? Perhaps Not What You Think–US v Swanagan
[Just a reminder that there are no "off-limits" topics in Internet Law. So yes, this post is going to go there.]
Law enforcement took down a methamphetamine ring in Kentucky. Based in part on Facebook messages between two defendants that used the "water" emoji, law enforcement got wiretap court orders. This ruling involves a motion to suppress evidence from one of the wiretaps because "Officer Budde's conclusory interpretation of a 'water emoji' is false and misleading because the 'water emoji' is synonymous with sexual activity not methamphetamine."
In the wiretap affidavit, the officer wrote:
On October 11, 2021, SWANAGAN sent a Facebook message to HUFF that reads, "pull up need sum [water emoji] plus i got yu on the one tip" and HUFF replied, "I'm not mobile atm dough boi otw to get me tho" followed by a message that reads, "I'm tryna make sum cash boo" to which SWANAGAN replied, "ite" followed by a message that reads, "i see yu gta make et money back huh" and HUFF responds, "Swear".

Based on your Affiant's training, experience and knowledge of this investigation, these messages between HUFF and SWANAGAN indicate HUFF is utilizing SWANAGAN as a source of crystal methamphetamine supply. The crystal methamphetamine is indicated by the use of the water emoji as crystal methamphetamine is commonly referred to as water. When HUFF says that she "need[s]" SWANAGAN that is her indicating that she is in need of more controlled substances from her source of supply.
The opinion doesn't depict the "water" emoji, and it could mean a few different symbols. I'm guessing they were referring to the "sweat droplets" emoji: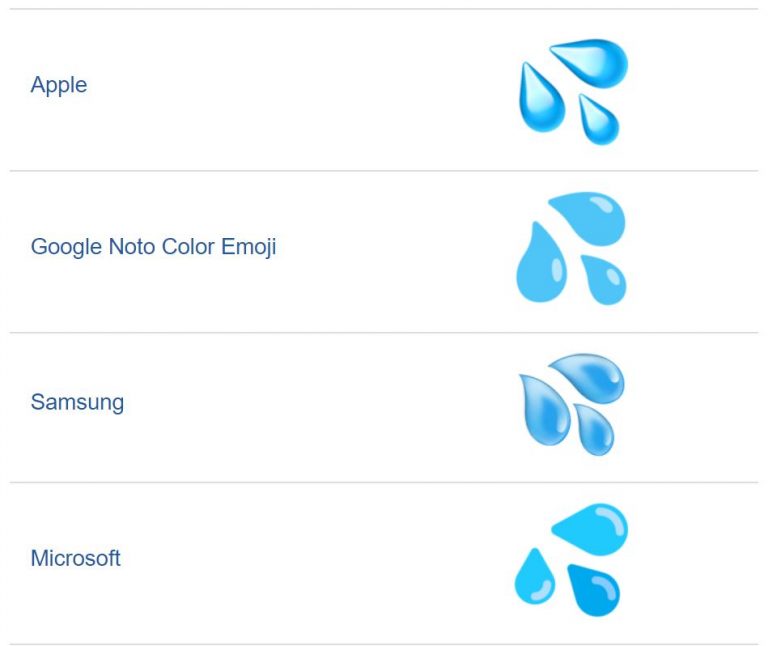 Emojipedia describes this symbol:
Three, light blue droplets, as sweat beads, splashing down to the right. Resembles plewds, stylized sweat droplets used in comics and animation to show characters working hard or feeling stressed.

May be used to represent various types of liquids, including sexual fluids. May also be used to represent various liquid-based slang expressions (e.g., drip, "exceptional style, swagger").
In challenging the affidavit, Swanagan asserted that:
Huff and Swanagan were in a romantic relationship, and Huff was letting Swanagan know that she was wanting to have sex with him. Swanagan maintains that no support exists for Officer Budde's conclusion that the "water emoji" is synonymous with crystal methamphetamine. Swanagan contends that that [sic] the "water emoji" references sexual relations and that any reference to crystal methamphetamine as "water" cannot be found in the common urban vernacular.
FWIW, today I did a Google search for "water emoji" and "methamphetamine" and I didn't immediately see search results making the linkage the officer made. That may not be dispositive. Drug slang changes all of the time; and conversation participants can develop idiosyncratic meanings in their conversations even if that usage wouldn't be understood elsewhere. When I give my emoji law talk, I use this chart to illustrate a few of the many ways that emojis have developed slang meanings related to drugs: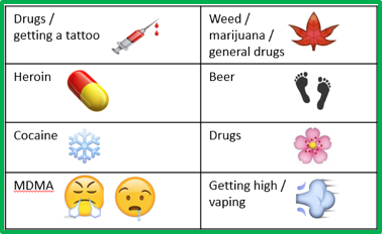 Any chart like this is out-of-date from day 1.
The court upholds the affidavit because (1) other defendants in the ring referred to meth using "water," and (2) "while water may reference sexual relations, case law also confirms that water can also refer to methamphetamine in drug trafficking communications."
This case was really a he-said/she-said dispute. The defendant said the water emoji meant sex; the officer said the water emoji meant drugs. Who's right, and how does the court decide? The defendant certainly had plenty of evidence to support his interpretation. However, the legal standards applicable to wiretap affidavits are forgiving enough to include the officer's interpretation based on the meth-water linkage, even if that meaning isn't widely used. The result is that the officer's interpretation prevails for this legal purpose, whether it was right or wrong.
Case Citation: U.S. v. Swanagan, 2023 U.S. Dist. LEXIS 13419 (W.D. Ky. Jan. 2, 2023)