State Court Rejects Prager University's Lawsuit Against YouTube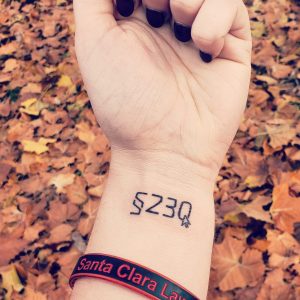 Prager University publishes videos on YouTube. YouTube demonetized some of its videos and placed some in "restricted mode," meaning that users of YouTube's restricted mode functionality won't see them. Prager claimed that YouTube took these steps due to anti-conservative bias, a claim that has zero credibility. Prager sued Google in federal court. In March 2018, Judge Koh dismissed the federal claims and declined to exercise supplemental jurisdiction over the state law claims. Prager appealed the federal claims to the Ninth Circuit, which heard the appeal in August. Separately, Prager refiled the state law claims in California state court. The superior court issued a tentative ruling that compellingly rejects every aspect of Prager University's case.
State Constitution Protection for Free Speech
Censorship enthusiasts love citing the California Supreme Court Pruneyard v. Robins ruling as an example of how courts can require private property owners to honor California's state constitution. That case involved a shopping center being treated the same as a government-operated public forum. However, to the disappointment of pro-censorship advocates, it's mostly evolved into a jurisprudential dead-end. It certainly doesn't work here. The judge emphatically rejects its applicability to this case:
Prager complained about YouTube's restricted mode and demonetization, not its access to its core YouTube publishing service. "Prager does not persuade the Court that these services are freely open to the public or are the functional equivalent of a traditional public forum like a town square or a central business district….it is clear that these services are nothing like a traditional public forum… these platforms necessarily reflect the exercise of editorial discretion rather than serving as an open 'town square.'"
Prager's Pruneyard-based argument probably would fail even if extended to YouTube's core publishing service. Quoting the 2017 hiQ v. LinkedIn decision, the judge notes that "[t]he analogy between a shopping mall and the Internet is imperfect, and there are a host of potential 'slippery slope' problems that are likely to surface were [Robins] to apply to the Internet….[n]o court has expressly extended [Robins] to the Internet generally."
California's anti-SLAPP law treats websites as "public forums," but that definition only applies within the anti-SLAPP context.
Section 230
In light of the recent jurisprudence, this is an easy Section 230(c)(1) case. The court summarizes that "California opinions have…reasoned that the "type of activity" at issue here—'to restrict or make available certain material'—'is expressly covered by section 230.'" Prager unsuccessfully tries to insert a "good faith" obligation into Section 230(c)(1), but the judge responds that Prager "cites no persuasive authority adopting this interpretation." The court distinguishes the 2016 e-ventures v. Google ruling, saying it's not persuasive because it "conflat[es] section 230(c)(1) and section 230(c)(2) with no analysis."
YouTube's restricted mode, which is essentially an optional user-configured filter, also qualifies for Section 230(c)(2)(B):
defendants' creation of a "Restricted Mode" to allow sensitive users to voluntarily choose a more limited experience of the YouTube service is exactly the type of self-regulation that Congress sought to encourage in enacting section 230, and fits within section 230(c)(2)(B)'s immunity for "any action taken to enable or make available to … others," namely, YouTube users, "the technical means to restrict access to" material "that the provider or user considers to be obscene, … excessively violent, … or otherwise objectionable." Rather than unilaterally restricting access to material on its core platform as contemplated by section 230(c)(2)(A)—which contains a "good faith" requirement— defendants allow users to voluntarily restrict access to material that defendants deem objectionable for the stated reason that, like the categories of material enumerated by the statute, it may be inappropriate for young or sensitive viewers
The judge expressly disagrees with the majority opinion in Enigma v. Malwarebytes, which interposed a good faith requirement into Section 230(c)(2)(B) even though the statute clearly doesn't contain that requirement.
In sum, the court concludes "that section 230(c)(2)(B) bars Prager's claims related to 'Restricted Mode' and section 230(c)(1) bars all of its claims" (other than the claims discussed below).
Implied Covenant of Good Faith and Fair Dealing and Fraud
The court says Section 230(c)(1) "does not apply to claims based on a defendant's own promises and representations to a plaintiff, rather than its role as a publisher" (in fact, a number of cases have done exactly that, but no matter).
The implied covenant fails because YouTube's Terms of Service expressly provide that "YouTube reserves the right to remove Content without prior notice" and allow YouTube to "discontinue any aspect of the Service at any time."
The fraud claim fails because YouTube's statements were puffery and did not cost Prager money or property (any losses suffered by Prager were due to subsequent decisions by YouTube, not fraud in the inducement).
Conclusion
As it did with the federal dismissal, Prager will surely appeal this ruling if the final version is anything like the tentative version. However, this opinion is more thorough and well-cited than a typical superior court decision, and I expect it will stand up on appeal.
Case citation: Prager University v. Google LLC, 19CV340667 (Cal. Superior Ct. Oct. 25, 2019). The court turned its tentative ruling into a final ruling on Nov. 19, 2019. I have not done a comprehensive redline, but I reviewed both opinions and did not notice any material differences between the tentative and final rulings.