More Teenagers Mistakenly Think "Private" Chat Conversations Will Remain Private–People v. JP
This is a story of four teenage girls and one teenage boy. The girls use the aliases "7Up" (a/k/a JP, the defendant in this case), "Lady Gaga," "Dream Ruiner," and "Me." The boy, called S, allegedly engaged in anti-social behavior towards some of the girls (pushing their books off their desks and calling one of them "fat" and "gay"). The trial judge thought S did this in a misguided play for affection. Unbeknownst to the other girls, "Me" considered S a friend.
The four girls maintained a Snapchat chat thread called "R.I.P. [S] and his goldfish." The opinion doesn't explain how the thread persisted longer than Snapchat's normal 24 hour expiration policy–perhaps the messages were screenshotted or "saved." In any case, all of the girls thought that the thread was a "private" conversation just between them, and S was definitely not welcome to participate. S testified that he never saw the actual chat messages, though his mom did and ultimately relayed the contents to him.
The chat messages are typical nonsense teenage banter. As a GenXer, I found the chats insipid and troubling. As the court cautions, "The texts are not pretty or clever," and the concurrence calls them "alarming and concerning." I read the chats to my 14 year old daughter and she giggled a bunch. Different generations, I guess.
The court provided a partial chat transcript:
__
7UP [respondent]: I WILL MARGARITA SQUARE UP LIKE [S]'S HEAD
LADY GAGA: HAHAHAHAHHAHAHAGA [sic]
7UP: LETS GOOOOO



LADY GAGA: WE SHOULD STAB HIM
DREAM RUINER: 


7UP: YES
* * *
7UP: MURDER HIM
LET'S DO IT
LADY GAGA: AND HIS FAMILY
AND HIS DOG
7UP: YEEEESSS
DREAM RUINER: MURDER HIM
LADY GAGA: AND HIS GOLD FISH
DREAM RUINER: XD [Note: the court explains: "'XD' in electronic communications represents an 'emoticon' for 'laughing out loud.' The letter 'X' represents 'the eyes all scrunched up' and the letter 'D' 'represents a really big mouth that is laughing.'" My daughter knew what XD meant. I did not. On the plus side, it's heart-warming to see Gen Z adopting old-school emoticons.]
ME: What if he doesn't have a dog!!
7UP: WE WILL DRUG HIM THEN STAB HIM TO DEATH
LADY GAGA: And rip his skin off
And fee[d] it to his dog
7UP: Yes
LADY GAGA: [cartoon bitmoji of a woman captioned "wow, such amaze, very story, :O, many interest, so care"]
7UP: YES TO ALL O IT
* * *
LADY GAGA: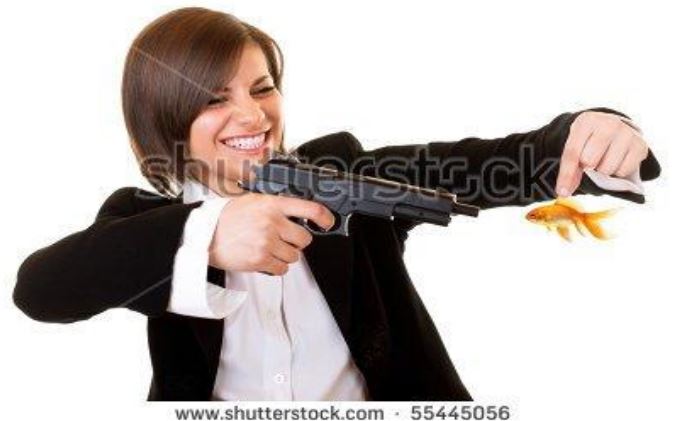 7UP: AWEEEEEE
LADY GAGA: @[S]'s gold fish
7UP: WHO ELSE HATES [S] IN HERE
LADY GAGA: ME
* * *
7UP: PATRICIA WILL KIL [sic] HIM ONE DAY
LADY GAGA: Yee
* * *
DREAM RUINER: His head will turn to a fucking rectangle
LADY GAGA: A CIRCLE
YES
* * *
ME: Or a triangle??!?!!?
LADY GAGA: Yes then I'll play volleyball with it
ILLUMANATI CONFIRMED
DREAM RUINER:


* * *
7UP: [triangle graphics]
@me shipping myself to china after killing [S]
ME: HAHAHHAHAHAHA
DREAM RUINER: I WILL PAY FOR SHIPPING
* * *
7UP: ILL BE THROWN AWAY IN THE TRASH ALONG WITH [S']S REMAINS
DREAM RUINER: You will be shipped on a luxury cruise ship
XD
XDD
__
As you can see, the chat participants–especially 7Up and Lady Gaga–seemingly discuss killing S, his goldfish, and his dog. But in the context of nonsense teen chatter, I don't think anyone could read this transcript and believe that any of participants actually planned to harm S or any animals.
An unidentified person tipped off S to the thread's existence. S asked "Me" about it. Me revealed the thread's name to S. This got back to S's mom, who told the principal, who brought the girls into his office, seized their phones, and turned them over to law enforcement. Prosecutors brought charges against 7Up/JP for misdemeanor online threats. A jury convicted 7Up. The appellate court reversed.
The crime required subjective intent to harm the victim. The evidence clearly demonstrated that the defendant lacked that scienter. It was a private chat where none of the participants expected the chat contents to reach the victim. The court tartly says, "No evidence was presented warranting even an inference that JP did, in fact, anticipate, expect, plan or desire that S would learn of the texts."
The prosecutor nevertheless argued that JP "should have anticipated that the chat would be leaked to S, and that her responsibility may be inferred by her failure to understand that the Internet is not a secure place." The court replies:
It is true that respondent's texts were unwise in light of the risk that they would be seen by people outside the chat, but that does not suffice to prove the intent required by the statute, or to transform digital stupidity into criminal activity. Respondent may not be punished because she negligently overlooked the possibility that someone else would show S the Snapchat contents.
Implications
Prosecuting Teens for Online Misbehavior. As the court notes, "Young teenagers sometimes make poor judgments born of impetuosity, immaturity, and an inability to foresee the painful consequences of their actions." Yet, sometimes these juvenile mistakes create adult-like consequences. How should we deal with these mistakes? Should we punish teens for lacking the wisdom of adults, or should we view those as teachable moments with the opportunity for growth and redemption? Prosecutors sometimes choose the former, with potentially devastating results for the defendants.
We just saw a recent example in Maryland, where a teen posted sexual selfies to a private group. The selfies were technically child porn, but they were intended for an audience of only two other students. It was a terrible choice to share the depictions, but the consequences were limited until one of the other two group members leaked the depictions out of the private group, leading the uploader to be convicted of distributing child pornography. As the dissent wrote,
I also find the failure to exercise prosecutorial discretion towards a 16-year-old minor who was visibly distressed by dissemination of – what she believed to be – a confidential file shared with two friends – highly problematic. The State had the discretion to file charges, and ultimately charged S.K. as a juvenile with three counts, one of which was dismissed for lack of evidence. The rigor with which the State sought to prosecute S.K. is at odds with the rehabilitative nature of juvenile proceedings.
Similarly, in California, a 12 year old recently was convicted of felony identity theft for making a fake Instagram profile of his teacher.
Prosecutors face extra challenges when deciding whether or not to charge teens for online misbehavior. Crimes need to be punished; victims and the community expect nothing less. But teens need to be teens; they need to make the mistakes that will help them grow into wiser adults with good judgment. Holding them to the standards of adults is unfair. It's not in the best interests of the child; it's not in the best interests of the community.
This case seems like an excellent example of where there were good alternatives to criminal prosecution. Turmoil could have been avoided had the prosecutor and other responsible adults, like the school administration, worked together to come up with a better remedial plan. For example, this seems like an excellent candidate for restorative justice.
This case also brought to mind the sad saga of DC v RR, a case that I still view as one of the most troubling cases I've blogged in my 15 years of blogging. In that case, a high school student wanted to be an actor. The student set up a personal website with a guestbook. His peers found the website and posted juvenile taunts in the guestbook, including comments from RR that "threatened" DC with death. I put "threats" in quotes because I don't think anyone would have reasonably interpreted the comments as actual threats, but they were unquestionably mean-spirited and violent. DC sued RR in civil court, and the case ran about a decade–even after the litigants had graduated college, they were still litigating. While RR's choices were terrible, the punitive consequences of a decade of civil litigation were likely massively disproportionate to his transgressions. In other words, they were adult-like consequences for teenage mistakes.
Keeping Private Groups Private. I've lost track of the number of cases I've seen involving messages that leaked out of "private" groups. One especially memorable case was Finkel v. Dauber from nearly a decade ago. That case also involved four friends mocking a classmate but via a private Facebook group instead of a Snapchat thread; and fortunately no "jokes" about murder. The messages leaked out of the group; the targeted student found out and sued for defamation. The court dismissed the defamation claim, saying "The entire context and tone of the posts constitute evidence of adolescent insecurities and indulgences, and a vulgar attempt at humor. What they do not contain are statements of fact."
In light of this case from a decade ago, the prosecutor wasn't wholly off-base claiming that everyone should know that private groups don't stay private. As Benjamin Franklin said, "Three can keep a secret, if two of them are dead." So many teens will have to learn this lesson through first-hand mistakes.
The Court's Struggles With Displaying the Images. To its credit, the court tried to depict an accurate chat transcript, including emoticons, emojis, memes, and bitmojis. However, the court's efforts raise some questions, including:
the emojis look suspicious. The grinning emojis look suspiciously like Gmail's emojis. Did Snapchat's app pull from Gmail's emoji set? Or did the court interpose Gmail's emojis instead of the emojis as actually depicted?
the court's handling of the meme is bizarre. The court says "Lady Gaga found a clean version of this photograph for the Snapchat thread. The image has since been licensed on the Internet and that version is included in this opinion." Huh? What does that passive voice ("been licensed") mean? Why does the court-displayed version include the ShutterStock watermark, when the "clean" version used in the original chat thread didn't? In theory, the court might have felt like it needed a copyright license to display the meme in its opinion (which I don't think would be correct), but the court apparently didn't obtain a license because the licensed image would NOT have included the ShutterStock watermark. So it appears the court clerk copied-and-pasted the watermarked version from the Internet, rather than scanning the original version or obtaining a license. Why?
why did the court omit the bitmoji and triangle graphics? Was it a copyright concern?
Case citation: People v. JP, 2019 Mich. App. LEXIS 5751 (Mich. Ct. App. Sept. 24, 2019)