Section 230 Protects Snapchat from Liability for Cyberbullying–Grossman v. Rockaway Township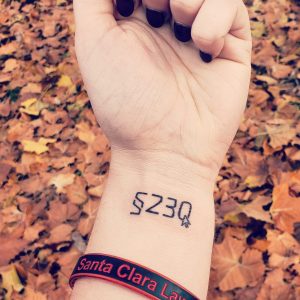 This case involves the heartbreaking suicide of 12 year old Mallory Grossman, driven by offline and online peer bullying that included mean Snapchat messages. (Note: the opinion refers to Mallory as "MG," but poor redactions reveal her name in the opinion; and her story has been extensively covered by name in New Jersey papers and a newly passed NJ anti-bullying law is named after her). The parents sued the school district and Snapchat. The procedural facts aren't clearly laid out, but it appears the school district piggybacked on the parents' claims against Snapchat, essentially pointing at Snapchat as the real wrongdoer instead of itself.
This devolves into a fairly straightforward Section 230 defense win, aided by defense-friendly NJ-area precedents such as Donato v. Moldow, DiMeo v. Max, Obado v. Magedson, and Parker v. Google, Reviewing the applicable complaints, the court says:
there are no facts that support the allegation that Snapchat qualifies as a "service and information content provider" other than this bare thread: "users of Snap's platform use content created in part by and provided by Snap". Here, as this Court recognized in its prior decision, "[t]he source of potential liability is messages posted by others, and § 230(c)(1) grants [Snap] immunity for the content of information provided by 'another.'" There are no facts specifically alleged on the face of the pleadings whereby Snap was allegedly involved in the creation of the content, which would, in turn, allow immunity to be pierced.
Without those factual allegations, Section 230 presumptively applies. The court distinguishes Maynard v. Snapchat because that case:
dealt with affirmative conduct by Snapchat in the interface of the application's design that allowed a "filter" to be utilized by a third-party. The filter, of which Snap was the author, had direct a [sic] correlation to the incident which resulted in serious personal injury suffered by the plaintiff in that case. Here, there are no facts alleged that would permit this Court to conclude that Snap was responsible for the content of the messages sent by a third-party on its platform to M.G.
While the judge easily reaches the obvious conclusion about Section 230, it appears the judge is a little uncomfortable. In dicta, the court says:
This Court, however, expressly declines to reach the question of whether Snap would or could ever qualify as an information content provider, determining only that there are insufficient facts alleged to allow the Court to conclude that Snap is an information content provider in this case.
Section 230 thus preempts the negligence claim, which asserted that Snapchat had a duty of care to its under 13 users (I have more to say about "duty of care" standards when I blog the UK Online Harms paper). The court notes a purported conflict between Doe v MySpace and McDonald v. LG (also cites to Roommates and Doe v. SexSearch) over Section 230's applicability to negligence claims. Nevertheless, the court concludes:
The Court is convinced that the legislatively-fashioned scheme of Section 230 immunity is not unlimited or unbounded. However, the critical issue remains that Plaintiff and Defendants/Third-Party Plaintiffs seek to hold Defendant Snap liable as a speaker of the offensive content. Creative arguments [narrator's voice: they weren't] raised by Counsel and the authority in McDonald aside, no case that has been cited to this Court serves as binding or persuasive authority to allow Snap to be held liable in the manner which Third-Party Plaintiffs/Defendants and Plaintiff seek.

Thus, the Court is compelled to recognize that the allegations of both Amended Complaints sounding in negligence remain grounded in claims that Snap was negligent in enforcing or monitoring the content of thirdparty users. It would be slicing the allegations too finely to state otherwise. Thus, instructive and persuasive authority on this issue mandates the conclusion that the allegations of negligence against Snap must also be dismissed.
The court then addresses the product liability claims against Snapchat. (This is where perhaps McDonald should have been addressed instead of negligence). The court isn't sure what to do with the prima facie claim:
The Court is not here able to reach a definitive conclusion about whether Snap qualifies as a product, implicating product liability, or service because there are insufficient facts alleged in either Complaint to allow the Court to reach that conclusion. There are no facts alleged that would support the theory that Snap's actions qualify or constitute a product under the Product Liability Act. No persuasive or other authority has been presented to this Court to support the conclusion that Snap's role of involvement in the events of this case constitute a "product" rather than a "service."
Citing Herrick v. Grindr and Oberdorf v. Amazon, the court has no problem saying that Section 230 applies regardless of the prima facie merits: "the underlying basis of the allegations is the conduct of third-parties, and the alleged failure of Snap to interfere with same or regulate. The Court is persuaded that this is enough to conclude that Snap is entitled to Section 230 immunity based upon this theory of liability as well."
This case adds to the precedent that plaintiffs can't plead around Section 230 by alleging duty of care, design defects, or other products liability-based claims that fundamentally seek to hold online services liability for third party wrongful conduct or content. Even this judge, who clearly showed discomfort with Section 230 in a case involving tragic and heartbreaking facts, had no problem seeing through the legal attempts to obfuscate the issue. This ruling also reinforces how the Maynard ruling is an outlier. It has become increasingly clear that the First Circuit's Doe v. Backpage and Second Circuit's Herrick v. Grindr rulings (along with the DC Circuit ruling in Marshall's Locksmith v. Google and the Wisconsin Supreme Court in Daniel v. Armslist) have functionally overridden the plaintiff-favorable word salad from the Ninth Circuit's dated and increasingly wobbly Roommates.com opinion.
Case citation: Grossman v. Rockaway Twp., 2019 N.J. Super. Unpub. LEXIS 1496  (N.J. Superior Ct. June 10, 2019). The initial complaint.