Announcing the Fourth Edition of Advertising & Marketing Law: Cases & Materials by Tushnet & Goldman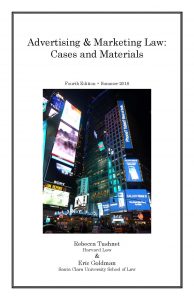 Rebecca Tushnet and I are pleased to announce the publication of the fourth edition of our casebook, Advertising & Marketing Law: Cases & Materials. It is available for purchase in the following formats:
* A DRM-free PDF file. Price: $12
* A DRM-free ePub file for mobile devices. Price: $12
* In Kindle. Price: $9.99
* A print-on-demand book from Amazon. Because of the book's length, we publish the hard copy in two volumes: Volume 1 (covering chapters 1-8) and Volume 2 (covering chapters 9-17). Price is $20 for each volume ($40 for the set) plus shipping and tax. The hard copy 4th edition is cheaper than the 3rd edition by 10%, plus the book should now qualify for free Amazon shipping, Also, we offer a free PDF or ePub file to buyers of the hard copy version; all they have to do is email me a copy of their receipt showing which edition they bought, and I'll promptly email the electronic file.
As usual, if you are a professor, or are hoping to teach the course, and would like a free evaluation copy, please email me (egoldman@gmail.com).
A sample chapter, Chapter 13 (on publicity rights and endorsements), is available as a free download.
We've discussed the book's background and our goals as authors in this essay.
What Does the Book Cover?
Preface
Chapter 1: Overview
Chapter 2: What is an Advertisement?
Chapter 3: False Advertising Overview
Chapter 4: Deception
Chapter 5: Omissions and Disclosures
Chapter 6: Special Topics in Competitor Lawsuits
Chapter 7: Consumer Class Actions
Chapter 8: False Advertising Practice and Remedies
Chapter 9: Other Business Torts
Chapter 10: Copyrights
Chapter 11: Brand Protection and Usage
Chapter 12: Competitive Restrictions
Chapter 13: Featuring People in Ads
Chapter 14: Privacy
Chapter 15: Promotions
Chapter 16: The Advertising Industry Ecosystem–Intermediaries and Their Regulation
Chapter 17: Case Studies
Chapter 18 (online only): Case Studies in Atypical Advertising Regulation
What Changed from the Third to the Fourth Edition?
Print-on-demand through KDP. In 2018, Amazon shut down CreateSpace and moved everything to KDP. On balance, this transition probably will be a good thing. Among other things, it creates the possibility of free shipping for the hard copies. However, for this edition, the switch to KDP created several new administrative and format hassles. This is one of the principal reasons why it took from summer (when Prof. Tushnet and I finished our substantive changes) until now to get the book completely online. Despite the time it's taken to get this far, there may be a few remaining formatting quirks that were just too time-consuming to fix. Apologies in advance.
New size. One of the biggest KDP formatting challenges we encountered was due to the book's 6×9 size, which created multiple unresolvable problems in KDP. As a result, we switched the book over to an 8.5×11 format, which resolved all of KDP's technical issues. However, this means that if you saw the Fourth Edition's PDF in its 6×9 size, all of the page numbers have since changed.
New chapter. We've added a Chapter 18, Case Studies in Atypical Advertising Regulation. It covers two main topics: ads involving housing discrimination, and political advertising. Because of the niche nature of those topics, we decided to publish it only online. It's freely downloadable from SSRN.
Substantive changes. Much of the book follows the same structure as the third edition, but we made many incremental changes. Examples include new coverage of GDPR, revamped coverage of constitutional limits on disclosures, more notes on international issues, and pervasive updating/freshening (e.g., some examples written in 2010-11, when we wrote the first edition, have been updated to more modern 2018 examples). We also refocused Chapter 17 on FDA regulation of food and drugs, where it previously had been intended to cover a wider range of topics.
If You Are Teaching (Or Want to Teach) Advertising Law
For more on why you should consider teaching an advertising law course, see this post. In addition to a complimentary book copy, we can get you (1) access to the Georgetown Intellectual Property Teaching Resources database, with digitized props galore; and (2) our PowerPoint slide decks and lecture notes plus other materials, such as the various exercises we've used. If you want to create a new course, we can help you prepare your draft syllabus and course proposal. Email me! You can see more stuff, including syllabi and old exams, on my Advertising Law course page.