Lawsuit Over Cancer-Curing Honey Ads Still Sucks–Abid v. Google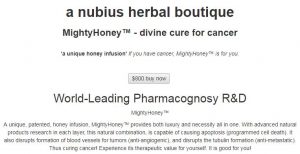 Abid markets cancer-curing honey. He bought AdWords to promote his MightyHoney website. Google rejected the ads. He sued Google pro se for a variety of claims. The court previously granted Google's motion to dismiss with leave to amend. My prior blog post. Abid tried again. His second round goes no better than his first.
Breach of Contract. "Because Plaintiff did not obtain FDA approval for the product, he did not comply with Google's Adwords policies and thus did not fulfill his obligations under the alleged contract."
Sherman Act Section 1. Google's arrangement with LegitScripts to block illegal drug ads doesn't, by itself, indicate a conspiracy to restrict trade.
Sherman Act Section 2. Plaintiff claimed that "the oncology market is predatory," Google violated EU antitrust law, and Google has a monopoly for e-pharmacy ads. The court says the first two claims are irrelevant, and the second one is undermined by the fact he tried to place his ads at other platforms.
North Carolina UDTPA. There was no legal violation when the plaintiff didn't have FDA approval to market his honey.
Fraud. The allegations weren't sufficient to show fraud.
Cartwright Act. "That LegitScript works with Google to flag advertisements that do not comply with FDA regulations does not, in and of itself, suggest a conspiracy."
Abid gets another chance because of his pro se status, so it's possible I'll blog this case a third time.
Case citation: Abid v. Google LLC, 2018 WL 2551943 (N.D. Cal. June 4, 2018)