Announcing the 2017 Edition of 'Internet Law: Cases & Materials'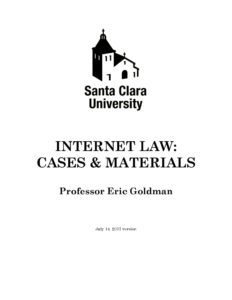 I'm pleased to announce this year's edition of my Internet Law casebook, Internet Law: Cases & Materials. It's available for sale as a PDF at Gumroad for $8, as a Kindle book for $9.99, and in hard copy at CreateSpace for $20 + shipping–once again, same price as last year. For my thoughts about self-publishing an ebook casebook, see this article.
If you're an academic and would like a free evaluation copy, please email me. I can also send you my presentation slides and lecture notes. You might also check out my Internet Law course page, which includes 20 years of syllabi and old exams with sample answers, and my old article "Teaching Cyberlaw."
This year, I did not add or delete any principal cases. I did delete some items, including a few of the older Forbes Tertium Quid articles that I summarized or integrated into the material other ways. Even so, the book grew about 2% because I added a lot of new notes and explanatory material, including:
* I streamlined some of the discussion about online contracts and added some new problems.
* I added notes about US v. Nosal and Facebook v. Power Ventures, but the CFAA/trespass to chattels area remains a disaster. As I've indicated before, we really ought to start from scratch with the CFAA and state law analogs.
* I updated the DMCA online safe harbor material (including the stupid new Copyright Office agent re-designation rule), but oh man, what a mess! I haven't blogged several of the major rulings in the past year because they take forever to blog and the cases are a mess. (I have a festering roundup blog post in draft mode that over a half-dozen DMCA safe harbor cases). In particular, I deliberately excluded the Mavrix v. LiveJournal case from the book because I think the 9th Circuit probably will modify the ruling or take the case en banc.
* I added notes about the German Network Enforcement (a/k/a social media censorship) law and the Canadian Supreme Court Equustek ruling.
* I added several references to the Packingham Supreme Court decision.
I've been on partial leave from the law school for the past two academic years, which means I haven't taught the course since Fall 2014. I'm again on partial leave in 2017-18, but I'll be teaching the course in Fall–and I'm very excited about that!
As always, I invite your comments and questions.
______
The complete table of contents:
I. What is the Internet? Who Regulates It?
ACLU v. Reno (CDA I District Ct. Facts Only) Page 1
Noah v. AOL (E.D. Va.) 21
Determining the Geography of Internet-Connected Devices 30
II. Jurisdiction
Protocol for Evaluating Personal Jurisdiction 37
Toys 'R' Us v. Step Two (3d Cir.) 38
Illinois v. Hemi Group (7th Cir.) 49
III. Contracts
Specht v. Netscape Communications (2d Cir.) 54
Register.com v. Verio (2d Cir.) 73
Harris v. Blockbuster 86
IV. Trespass/Computer Fraud & Abuse Act
Review: the Computer Fraud & Abuse Act, 18 U.S.C. §1030 [http://www.law.cornell.edu/uscode/text/18/1030], and California Penal Code §502 [https://leginfo.legislature.ca.gov/faces/codes_displaySection.xhtml?sectionNum=502.&lawCode=PEN]
Comparison of Trespass to Chattels Doctrines 97
Intel v. Hamidi (Cal. Sup. Ct.) 98
Register.com v. Verio (Trespass to Chattels section) 119
Online Trespass to Chattels: a Failed Experiment 123
V. Copyright
Copyright Office Circular 1 127
Note About Fair Use 133
Cartoon Network v. CSC (2d Cir.) 137
MGM Studios v. Grokster (Sup. Ct.) 149
Secondary Liability
Review: 17 U.S.C. §512 [http://www.copyright.gov/title17/92chap5.html#512]
Goldman's 512(c) Cheat Sheet 162
UMG v. Shelter Capital (9th Cir. revised opinion) 163
How the DMCA's Online Copyright Safe Harbor Failed 183
Recap
Ticketmaster v. RMG 186
VI. Trademarks and Domain Names
Review: 15 U.S.C. §1114 [http://www.law.cornell.edu/uscode/text/15/1114], 15 U.S.C. §1125 [http://www.law.cornell.edu/uscode/text/15/1125], and 15 U.S.C. §8131 [http://www.law.cornell.edu/uscode/text/15/8131]
Trademark FAQs 198
Trademark Glossary 200
A. Domain Names and Metatags
Review: ICANN Uniform Domain Name Dispute Resolution Policy [https://www.icann.org/resources/pages/policy-2012-02-25-en] and Rules for Uniform Domain Name Dispute Resolution Policy [https://www.icann.org/resources/pages/udrp-rules-2015-03-11-en]
Lamparello v. Falwell (4th Cir.) 203
Promatek v. Equitrac (7th Cir.) Original Order and Revision 217
B. Search Engines
Review: Google's Trademark Policy [https://support.google.com/adwordspolicy/answer/6118]
Network Automation v. Advanced Systems Concepts (9th Cir.) 224
With Its Australian Court Victory, Google Moves Closer to Legitimizing Keyword
Advertising Globally 241
Tiffany v. eBay (2d Cir.) 243
VII. Pornography
Pornography Glossary 258
Reno v. ACLU (Sup. Ct. 1997) 259
Ashcroft v. ACLU (Sup. Ct. 2004) 275
VIII. Defamation and Information Torts
47 U.S.C. §230 289
Zeran v. America Online (4th Cir.) 292
Fair Housing Council v. Roommates.com (9th Cir. en banc) 301
The Value of Consumer Review Websites and 47 U.S.C. § 230 328
International Approaches to Liability for Information Torts 330
IX. Privacy
Review: 16 C.F.R. Part 312 [http://www.gpo.gov/fdsys/pkg/FR-2013-01-17/pdf/2012-31341.pdf (starting at page 38)]
Excerpts from 16 C.F.R. Part 312, the Children's Online Privacy Protection Act's Regulations 342
In re. Pharmatrak (1st Cir.) 344
X. Spam
Review: CAN-SPAM Act of 2003 [http://www.gpo.gov/fdsys/pkg/PLAW-108publ187/pdf/PLAW-108publ187.pdf] and 16 C.F.R. Part 316 [http://www.ecfr.gov/cgi-bin/text-idx?c=ecfr&rgn=div5&view=text&node=16:1.0.1.3.40&idno=16]
Where's the Beef? Dissecting Spam's Purported Harms 358
XI. Blogs and Social Networking Sites
The Third Wave of Internet Exceptionalism 365
People v. Lopez (Cal. App. Ct.) 367
Doe v. MySpace (5th Cir.) 371
Zimmerman v. Weis Markets 379
Farley v. Callais & Sons 382
In re Rolando S. (Cal. App. Ct.) 388
Moreno v. Hanford Sentinel (Cal. App. Ct.) 393
REVIEW QUESTION ANSWERS 400