Announcing the Third Edition of Advertising & Marketing Law: Cases & Materials by Tushnet & Goldman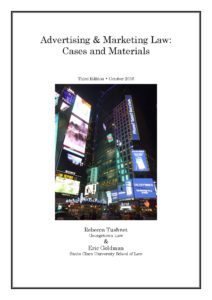 Rebecca and I are pleased to announce the publication of the third edition of our casebook, Advertising & Marketing Law: Cases & Materials. It is available for purchase in the following formats:
* As a DRM-free PDF file. Price: $11.50
* As a DRM-free ePub file for mobile devices. Price: $11.50
* In Kindle . Price: $9.99
* As a print-on-demand book from CreateSpace. Because of the book's size, we have to publish it in two volumes: Volume 1 (covering chapters 1-9) and Volume 2 (covering chapters 10-17). Price is $22.50 for each volume (i.e., $45 for the set) plus shipping and tax. We offer a free PDF or ePub file to buyers of the hard copy version; all they have to do is email me a copy of their receipt and I'll promptly email the electronic file.
As usual, if you are a professor, or are hoping to teach the course, and would like a free evaluation copy, please email me (egoldman@gmail.com).
A sample chapter, Chapter 13 (on publicity rights and endorsements), is available as a free download.
We've discussed the book's background and our goals as authors in this essay.
What's New?
We've kept the prices the same as the last edition. For more about our thoughts on pricing, see this post.
The chapters also remain the same:
Preface
Chapter 1: Overview
Chapter 2: What is an Advertisement?
Chapter 3: False Advertising Overview
Chapter 4: Deception
Chapter 5: Omissions and Disclosures
Chapter 6: Special Topics in Competitor Lawsuits
Chapter 7: Consumer Class Actions
Chapter 8: False Advertising Practice and Remedies
Chapter 9: Other Business Torts
Chapter 10: Copyrights
Chapter 11: Brand Protection and Usage
Chapter 12: Competitive Restrictions
Chapter 13: Featuring People in Ads
Chapter 14: Privacy
Chapter 15: Promotions
Chapter 16: The Advertising Industry Ecosystem–Intermediaries and Their Regulation
Chapter 17: Case Studies
We didn't make major substantive changes. For example, unlike the last edition, there were no new Supreme Court cases to incorporate. However, you'll find dozens of updates in each chapter. We also shifted some material between chapters, which I think improves the book's flow and should streamline teaching. As a result, we strongly encourage all professors using the book to migrate to this version instead of the 2014 edition.
While we still have many improvements we hope to make eventually, this version gets closer to my dream vision for the book. As always, we gratefully welcome any comments and feedback about the book.
If You Are Teaching (Or Want to Teach) Advertising Law
For more on why you should consider teaching an advertising law course, see this post. In addition to a complimentary book copy, we can get you (1) access to the Georgetown Intellectual Property Teaching Resources database, with digitized props galore; and (2) our PowerPoint slide decks and lecture notes plus other materials, such as the various exercises we've used. If you want to create a new course, we can help you prepare your draft syllabus and course proposal. Email me! You can see more stuff, including syllabi and old exams, on my Advertising Law course page.