2015 Internet Law Casebook Now Available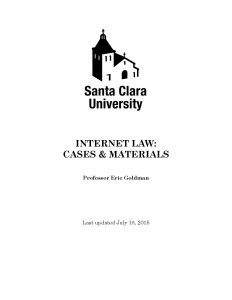 I have posted the 2015 edition of my casebook, Internet Law: Cases and Materials. It's available in three formats: PDF ($8), Kindle ($9.99) and hard copy ($20 + shipping/tax, and it includes a free PDF on request). The $8 PDF price is the same price as the last few years, and I bumped down the hard copy price from $24 last year. As usual, if you're an academic or going to be teaching the course, email me for a free review copy plus my slides/notes if you want them.
Because I'm on leave this year, I'm not teaching the course for the first time in 20 years. As a result, I'm not posting a 2015 syllabus, but you can find 20 years of past syllabi and exams here. For more on changes I made last year, see my analogous 2014 post. A reminder you might also enjoy my old article on "Teaching Cyberlaw."
What's New In the 2015 Edition
This year, I didn't make any big changes from the 2014 edition. All of the principal reading materials remain, and I didn't add any new principal reading materials. There are a couple of reasons why I made so few changes. First, I'm happy with the casebook's coverage generally. It works for my course, and some other professors have found it useful for their courses too. Second, my time has been stretched thin due to my mom's death. I spend most of my day wrestling with banks and resolving crises from the 15 real estate properties I'm now managing and trying to sell. With that docket of obligations, I am not in a good position to do major surgery on the casebook, even if I wanted to. Third, for various good reasons, I've deliberately chosen to omit some of the hottest Internet Law issues dominating our headlines, such as:
* Europe's anti-Internet freakouts. I added a note on the right to be forgotten last year, but I'm not trying to keep up with Europe's antitrust, privacy and intermediary liability madness. We probably need a comparative or International Internet Law course at some point. Until then, I think there's so much US law to cover that I can't imagine displacing enough room to make covering Europe's bottomless insanity worth it.
* Net neutrality. Important topic but too telecom-y.
* Sharing economy labor battles. Pretty interesting, but the employment law issues are fairly narrow and already covered in employment law. I could see adding a module on the employment law angles if the law gets a little more teachable, although I'll have to think about what I'd cut to make room for it.
* Fourth amendment/ECPA. The book touches on the topic a couple of times, but I find the cases so fact-specific that it's hard to know how to teach the material in a useful way.
* Revenge/involuntary porn. It's a synthetic topic, so most of the book's topics are necessary foundational material to understanding the legal issues.
* Cybersecurity. Some of the book's topics cross over to this topic, but cybersecurity law is so technical and specialized that I think it needs its own standalone course at this point.
* Internet patents, NPEs/PAEs, etc. I've never covered patents in the course, and now would not be a good time to start!
Even with respect to the book's core topics, I've deliberately skipped some of the major developments from the last year. For example, I didn't cover the abominable Garcia v. Google case in last year's edition, and this year's ruling–even though it's so much better–isn't an easily teachable opinion. I would consider adding the Doe v. Internet Brands ruling, but given that the bad opinion was vacated by the en banc grant, there's nothing to teach right now. And the terrible MTM v. Amazon case is pretty fact-specific, and I'm still hoping it will be erased by an en banc grant.
Because I'm not teaching the course this year and I only made minor changes to the book, I gave serious thought to skipping a 2015 edition entirely. There are at least two main reasons why I chose to do one anyway. First, although I didn't add any new principal materials, I did add a lot of notes and updates from the past year. Second, I put significant energy this summer into incorporating additional student-friendly features, such as a few "review problems" (I'll post those in a separate post soon) and technical exercises. I also added an introductory note to every principal case, something that students routinely request. So while the basic structure didn't change, I did make a bunch of substantive improvements that I think students will like.
The book's table of contents
I. What is Cyberspace? Who Regulates It?
ACLU v. Reno (CDA I District Ct. Facts Only)
Noah v. AOL (E.D. Va.)
Geolocation: Core To The Local Space And Key To Click-Fraud Detection
II. Jurisdiction
Evaluating if Personal Jurisdiction is Proper
Toys 'R' Us v. Step Two (3d Cir.)
Illinois v. Hemi Group (7th Cir.)
III. Contracts
Specht v. Netscape Communications (2d Cir.)
Register.com v. Verio (2d Cir.)
Courts Won't Bail You Out If You Can't Remember What Contract Terms You've Agreed To
Harris v. Blockbuster
How Zappos' User Agreement Failed In Court and Left Zappos Legally Naked
IV. Trespass/Computer Fraud & Abuse Act
Review: the Computer Fraud & Abuse Act, 18 U.S.C. §1030 [http://www.law.cornell.edu/uscode/text/18/1030], and California Penal Code §502 [http://www.leginfo.ca.gov/cgi-bin/displaycode?section=pen&group=00001-01000&file=484-502.9]
Comparison of Trespass to Chattels Doctrines
Intel v. Hamidi (Cal. Sup. Ct.)
Register.com v. Verio (Trespass to Chattels section)
Online Trespass to Chattels: a Failed Experiment
V. Copyright
Copyright Office Circular 1
Goldman's Fair Use Cheat Sheet
Cartoon Network v. CSC (2d Cir.)
MGM Studios v. Grokster (Sup. Ct.)
Secondary Liability
Review: 17 U.S.C. §512 [http://www.copyright.gov/title17/92chap5.html#512]
Goldman's 512(c) Cheat Sheet
UMG v. Shelter Capital (9th Cir. revised opinion)
How the DMCA's Online Copyright Safe Harbor Failed
Celebrating (?) the Six-Month Anniversary of SOPA's Demise
Recap
Ticketmaster v. RMG
VI. Trademarks and Domain Names
Review: 15 U.S.C. §1114 [http://www.law.cornell.edu/uscode/text/15/1114], 15 U.S.C. §1125 [http://www.law.cornell.edu/uscode/text/15/1125] and 15 U.S.C. §8131 [http://www.law.cornell.edu/uscode/text/15/8131]
Trademark FAQs
Trademark Glossary
A. Domain Names and Metatags
Review: ICANN Uniform Domain Name Dispute Resolution Policy [http://www.icann.org/en/help/dndr/udrp/policy] and Rules for Uniform Domain Name Dispute Resolution Policy [http://www.icann.org/en/help/dndr/udrp/rules]
Lamparello v. Falwell (4th Cir.)
Promatek v. Equitrac (7th Cir.) Original Order and Revision
B. Search Engines
Review: Google's Trademark Policy [https://support.google.com/adwordspolicy/answer/6118]
Network Automation v. Advanced Systems Concepts (9th Cir.)
Suing Over Keyword Advertising Is A Bad Business Decision For Trademark Owners
With Its Australian Court Victory, Google Moves Closer to Legitimizing Keyword Advertising Globally
Tiffany v. eBay (2d Cir.)
VII. Pornography
Pornography Glossary
Reno v. ACLU (Sup. Ct. 1997)
Ashcroft v. ACLU (Sup. Ct. 2004)
VIII. Defamation and Information Torts
47 U.S.C. §230 284
Zeran v. America Online (4th Cir.)
Fair Housing Council v. Roommates.com (9th Cir. en banc)
The Value of Consumer Review Websites and 47 U.S.C. § 230
'Silk Road' Ruling Will Hurt Online Commerce
International Approaches to Liability for Information Torts
IX. Privacy
Review: 16 C.F.R. Part 312 [http://www.gpo.gov/fdsys/pkg/FR-2013-01-17/pdf/2012-31341.pdf (starting at page 38)]
Excerpts from 16 C.F.R. Part 312, the Children's Online Privacy Protection Act's Regulations
In re. Pharmatrak (1st Cir.)
X. Spam
Review: CAN-SPAM Act of 2003 [http://www.gpo.gov/fdsys/pkg/PLAW-108publ187/pdf/PLAW-108publ187.pdf] and 16 C.F.R. Part 316 [http://www.ecfr.gov/cgi-bin/text-idx?c=ecfr&rgn=div5&view=text&node=16:1.0.1.3.40&idno=16]
Where's the Beef? Dissecting Spam's Purported Harms
MySpace v. theglobe.com
XI. Blogs and Social Networking Sites
The Third Wave of Internet Exceptionalism
Doe v. MySpace (5th Cir.)
Zimmerman v. Weis Markets
Big Problems in California's New Law Restricting Employers' Access to Employees' Online Accounts
In re Rolando S. (Cal. App. Ct.)
Moreno v. Hanford Sentinel (Cal. App. Ct.)