Another Federal Court Rejects Service of Process via Facebook – Joe Hand Promotions v. Shepard
[Post by Venkat Balasubramani]
Joe Hand Promotions v. Shepard, 4:12cv1728 SNLJ (E.D. Miss. Aug. 12, 2013)
Earlier this month, I blogged about a federal court's rejection of service of process via Facebook. (See "Federal Court Doesn't 'Like" Service of Process via Facebook — Joe Hand Proms. v. Carrette".) In that post, I noted that Rule 4 only allows service via alternate means on foreign defendants and is more restrictive with respect to service on domestic defendants.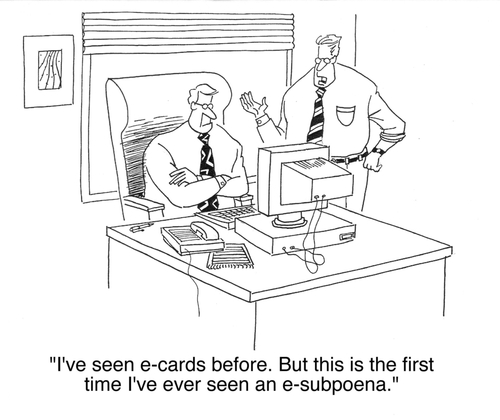 Another federal court recently rejected a plaintiff's attempt (coincidentally the same plaintiff as in the previous case) to effect service via Facebook.
Here is what the court said about the steps plaintiff took to effect service:
First, the process server attempted to serve Zach's at its principal place of business, but the building was vacant and had been for about a year. Next, plaintiff determined that Zach's was being run as a sole proprietorship with Shepard as its proprietor, thus it decided that Shepard would be appropriate to serve in both his individual capacity and on behalf of Zach's. Plaintiff's counsel used a Westlaw program to locate an alternate address for Shepard, apparently in Mineral Point, Missouri, but the process server reported that the house was vacant. Next, plaintiff's counsel attempted to serve defendants' former attorneys, but the attorneys declined to accept service until the attorneys could contact their client. Plaintiff then found a Facebook.com page for Zach's, which indicated Zach's was out of business, but which also states that Shepard (apparently) has opened a new eating establishment called TOP's (The Only Place) and another new business called Shep's Canoes in Steelville, Missouri. Plaintiff located TOP's business address on Facebook and discovered that its address and telephone number are the same as those that had been listed for Zach's. Plaintiff's process server attempted to serve defendants at TOP's, but the process server could not "because the bar was not open when our process server went to make the service attempts." (#10 at 4.)

Plaintiff states that it has "exhausted all of standard means by which [it] can serve the defendants…and [has] incurred great expense in doing so." (Id.) Plaintiff further states that its counsel's online research shows that Shepard has active Facebook accounts in the name of Zach's and TOP's. Plaintiff thus wishes to serve defendants by attaching a copy of the summons and complaint to a message/e-mail to be sent to the Zach's and TOP's Facebook accounts.
The court looks at Rule 4 and the case law and decides that:
Rule 4(f) may allow for electronic service on foreign defendants in some circumstances, but Rule 4(e), which applies to domestic defendants, allows service only on the individual, their agent, or delivery to their abode . . . [Rule 4(e)] does not permit electronic mail as a means of substituted service unless the state where the action is brought permits it.
Not too surprising. For what it's worth, a bill in Texas that is winding its way through the legislature would allow for service through social media websites if (1) the defendant maintains a social media page; (2) "the profile . . . is the profile of the defendant"; (3) the defendant regularly access the account; and (4) the defendant could reasonably expect to receive notice. (See "Texas Bill Would Make Service via Facebook the Law"; click here [pdf] for a copy of the bill.) This case illustrates some of the issues that may arise with serving a person or entity through a social media account (and the proposed legislation is fairly clunky), but as I mentioned before, this type of service should be treated somewhat similarly to service via mail, which is allowed in some states.
On a loosely related note, in a much cited decision, an Australian court allowed service of process via Facebook on Flo Rida (the rapper). An appellate court recently found that this method of service was ineffective–i.e., that the judgment against Flo Rida should be set aside. See "Flo Rida rides past lawsuit served via Facebook" (ABA Journal). It is a risky move to ignore a lawsuit altogether on the basis of jurisdiction or ineffective service, but on the plaintiff's side, substituted service also leaves some uncertainty as to the efficacy of the resulting judgment.
Related posts:
Bank Can't Use Facebook for Service of Process — Fortunato v. Chase Bank
Federal Court Doesn't 'Like" Service of Process via Facebook — Joe Hand Proms. v. Carrette
[image credit: shutterstock/cartoonresource: "I've seen e-cards before but this is the first time I've seen an e-subpoena"]