Overly Cautious Judge Allows Discovery Before Resolving Section 230 Dismissal–Nasser v. WhitePages
By Eric Goldman
Nasser v. WhitePages, Inc., 2013 WL 2295678 (W.D. Va. May 24, 2013). Prior blog post.
Rulings like this drive me batty. This is an easy and unambigous Section 230 case, but the judge decided to drag it out and spend more of the defendant's money before delivering the inevitable coup de grace.
Nasser alleges he got a deluge of phone calls because the WhitePages website published his phone number under the name of Comcast Virginia. WhitePages sourced its phone numbers from Verizon. The magistrate judge recommended granting WhitePages' Section 230 defense. However, in a surprise, the supervising judge declined the magistrate's recommendation, saying discovery is needed and that a summary judgment resolution is more appropriate for Section 230 cases than a motion to dismiss.
(I've blogged countless times on whether Section 230 supports a motion to dismiss or must be deferred until later in the proceedings. Here's one example. Suffice it to say I disagree with this judge's assessment).
So what facts need to be researched via discovery? The court summarizes:
factual development is necessary as to the operation of the WhitePages website so that the court may ascertain whether it functions as an interactive computer service. In addition, this case raises factual issues as to whether WhitePages was responsible for changing the telephone listing from "Comcast Phone of Virginia" to "Comcast Phont of Virginia" or engaging in any other development of the Nasser information disqualifying WhitePages from enjoying Section 230 immunity.
But, but…really? Courts have uniformly held that a website qualifies as a "provider or user of an interactive computer service" of the data they publish online, so what discovery would change this outcome? And let's assume discovery confirms that WhitePages introduced the alleged typo in Comcast's name–how would that constitute "developing" any incorrect association between Nasser's phone number and Comcast?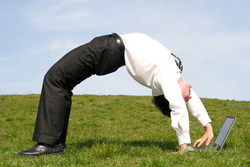 To its credit, the court allows discovery only on Section 230 issues and sets an aggressive schedule for summary judgment motions. Still, all of this is wasted effort to help the judge be triple-convinced that this is really the Section 230 case it appears to be. To me, this seems like a situation where a court unnecessarily bent over backwards to accommodate a pro se litigant, even though the magistrate had already reached the right answer.
[Note: Venkat is representing WhitePages, but he played no role in preparing this blog post.]
[Photo credit: Businessman bending over backwards and using laptop // ShutterStock]