Search Engine Developer Sues Facebook for Disallowing Access to User Data — Profile Technology v. Facebook (Catch-Up Post)
By Jake McGowan
Profile Technology, Ltd. v. Facebook, Inc. (Complaint)
Web developers sometimes try to enhance the functionality of an already-popular social network. But this typically requires permission to access the social network's information, which is not always easy to get or maintain. (See, e.g., Eric's discussion about Craigslist's cutoff of Padmapper).
In October, a developer sued Facebook for allegedly breaching an agreement that previously allowed the company to harvest and incorporate user information through the use of automated web crawling.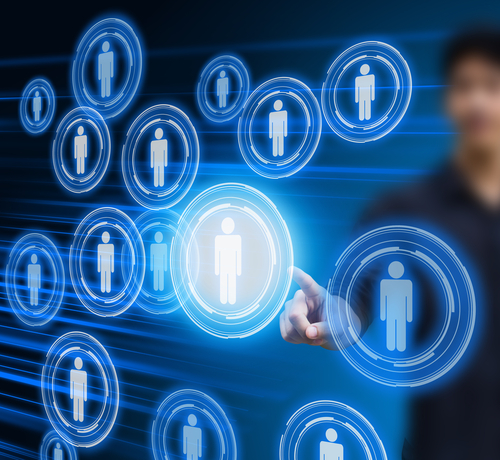 "Hand Pressing Social Network Icon" from Shutterstock
Background
Profile Technology is a New Zealand business that develops Facebook apps, including "IQ Test," "Survey," "Petition," and "Polling." When Facebook started allowing certain search engines to index public personal information, PT wanted in on the action. In 2007, it began developing an independent search engine that aggregated data from over 400 million Facebook profiles.
PT alleges that they entered into an agreement with Facebook in 2008 to scrape the public user data and incorporate the data into a social network search engine called "Advanced Search" (later rebranded as "The Profile Engine"). According to the complaint, Facebook had a dramatic change of heart about the agreement and ultimately tried to shut down Advanced Search altogether. As a result, PT filed a complaint alleging (1) breach of contract, (2) interference with business relationships, (3) defamation, and (4) unlawful, unfair, and fraudulent business practices.
Breach of Contract
By PT's account, it had a contract with Facebook that was partially written and partially implied. The written part consisted of an email exchange between the company and a Facebook representative, Philip Fung. PT claims that Fung said they could acquire the data as long as they made the data searchable by the public:
Facebook benefited from having a social networking search engine available to its users and offering far more powerful search tools than those provided by Facebook itself. Plaintiffs and Facebook participated in a mutually-advantageous course of conduct that was consistent with and grounded in industry custom and practice.
In 2010, Facebook began blocking PT's automated crawlers from scraping the profile data. Facebook's attorneys also sent a letter to PT denying that they had authorization to take and incorporate data from Facebook's site:
your company, Profile Technology, has taken Facebook user data from the Facebook.com site and services without authorization, and is now leveraging that information to sell background services about Facebook users without Facebook's or its users' permission.
PT states that it would have been able to restructure its business model and avoid considerable expense had Facebook abided by the implied covenant of good faith and fair dealing. Along with these avoidable expenses, PT claims that it will be able to prove lost profits at trial.
Interference with Business Relationships & Defamation
In addition to the breach of contract claim, PT also included causes of action for Interference with Business Relationships and Defamation.
Without access to the Facebook user data, Profile Engine users couldn't log into their accounts. According to Profile Technology, this contributed to a loss in users and, therefore, advertising revenue. But more importantly, PT claims that Facebook interfered while the company was in talks of selling the company to independent investors:
In the 2010-2011 time frame, Plaintiffs engaged brokers to sell their business, which had been actually profitable in an industry where profits are mostly speculation. Plaintiffs are informed, believe and thereon allege that, when contacted by prospective purchasers of Plaintiffs' business, Defendants made false statements such as the false statement in the letter of October 31, 2011 quoted above . . . The value of a potential sale was in excess of millions of dollars (US).
The Defamation claim revolves around alleged statements by Facebook that links to PT's site were "blocked for being spammy or unsafe." PT claims that at trial, they will be able to prove that Facebook made these statements with malicious intent.
_________
It's difficult to gauge the merit of these claims without analyzing the email correspondence between Profile Technology and Facebook's representative–especially what provisions, if any, came into effect.
Without commenting on the "unsafe or spammy" claim, the site's aesthetic does look a bit behind the times. It's not hard to imagine a Facebook executive auditing the company's various partnerships and deciding that the Profile Engine didn't fit well with its brand. Considering Facebook's numerous legal issues with user privacy, it also makes sense that Facebook might want to keep its users' data closer to its chest.
Fortunately for Facebook, recent decisions have set the tone that antitrust law should not get in the way of these objectives. In the recent Sambreel Holdings LLC v. Facebook decision, the court noted Facebook's need "to maintain the quality of of its product" as a legitimate business reason for restricting certain ads that its users see.
But does this same reason justify Facebook's actions toward the Profile Engine (a separate website)? The Sambreel court's strong language hints that it might: "Facebook has a right to control its own product[.]" (for more on the recent Sambreel (PageRage) antitrust lawsuit, check out Eric's coverage at Forbes)
One lesson from all this is that it can be dangerous to build a business that relies inherently on the cooperation of another for-profit business (especially a corporate giant). The broader Facebook's legal rights are to control its product, the easier it is for them to shut down companies like Profile Technology. And it's not hard to imagine such a circumstance, either: Maybe they don't want to associate their brand with the service. Maybe they're negotiating an exclusive deal with another service. Maybe they want to offer the service themselves.
Still, companies like Profile Technology might have their place; big social networks often welcome and sometimes rely on outside companies and developers to enhance the functionality of their site. As one example, Reddit Enhancement Suite has become an extremely popular browser extension shoring up some of the user-generated content site's shortcomings and keeping users happy.
Relying on the social network does not make these companies unwise for pursuing such a business model. It makes them vulnerable, which makes an enforceable contract crucial. In this case, it seems like both parties would have benefitted from a more thorough written agreement.