AmeriGas Gives Up Its Lawsuit Against PissedConsumer
By Eric Goldman
AmeriGas and Opinion Corp. (PissedConsumer) have settled their case. Law360 report. My prior blog post on a preliminary ruling in this case.
I blog about settlements only occasionally, but I thought this settlement was interesting for two reasons. First, this is one of the bad 47 USC 230 rulings where judges hyper-conservatively reject motions to dismiss. As it turns out, the overly cautious ruling was inconsequential.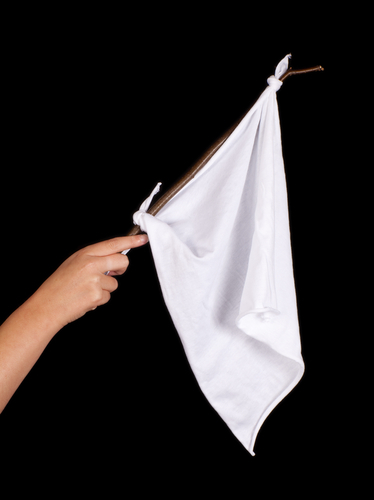 Second, I have some additional information about the settlement that hasn't been reported elsewhere. I think sometimes potential future plaintiffs interpret settlements as a win for the prior plaintiff, but the plaintiff in this case simply gave up. Ron Coleman, PissedConsumer's counsel, emailed me the following statement:
"There is no confidential settlement or agreement (or even a confidentiality agreement) other than the "stipulation" of dismissal. No money changed hands. No changes were made to content on PissedConsumer.com in any way, manner or form. The "terms" are as stated in the stipulation: The parties bear their own fees and costs and agree to cease litigating."
This might be helpful information for future plaintiffs trying to decide whether or not to sue consumer review websites.
[Photo Credit: Hand waving with a white flag to surrender // Shutterstock]