Section 230 Immunizes Facebook's "Design and Architecture" Choices–M.P. v. Meta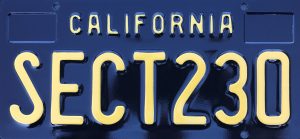 This case involves the murderous attack by Dylann Roof against the Emanuel AME Church in Charleston, S.C., killing nine African-Americans. A victim's daughter sued Facebook, alleging that Facebook's "design and architecture" radicalized Roof, and that should disqualify Facebook for Section 230.
The court doesn't do the standard 3-part prima facie review of the Section 230 defense elements. Instead, it cites precedent cases where defendants won on Section 230 grounds, including Force v. Facebook and Dyroff v. Ultimate Experience. The court summarizes:
Plaintiff here, just as the plaintiffs in other cases where they or their loved ones suffered injury or death following a wrongdoer accessing and using a social media website, argue that enormous harm has been inflicted on them and others by Congress' policy decision to provide Section 230 immunity to interactive computer services. Courts, having made a textual reading of the broad language of Section 230, have consistently interpreted the statute to bar claims seeking to hold internet service providers liable for the content produced by third parties. The balancing of the broad societal benefits of a robust internet against the social harm associated with bad actors utilizing these services is quintessentially the function of Congress, not the courts.
A separate claim that Facebook conspired with Russian enemies failed for insufficient factual allegations. The court also notes the Supreme Court's Taamneh opinion, saying it "rejected the argument that a social media company's algorithms could constitute substantial assistance to terrorists."
Overall, this opinion supplements the jurisprudence rejecting plaintiffs' attempts to create a "but the algorithms" exception to Section 230.
Case Citation: M.P. v. Meta Platforms, Inc., 2023 WL 4853650 (D.S.C. July 24, 2023). The complaint. As usual, the filing of the complaint got significant news coverage, but those same media outlets are apparently uninterested in the denouement.