Reddit Defeats Lawsuit Over Removal of r/WallStreetBets Moderator's Privileges–Rogozinski v. Reddit

Jaime Rogozinski, a/k/a "jartek," created the r/WallStreetBets subreddit, which became notorious for (among other lowlights) its role as a venue for hyping meme stocks like Gamestop. Rogozinski sought a trademark registration for the term "WallStreetBets" and published a book with the term in the title. In response, Reddit temporarily suspended his account and terminated his moderator privileges for attempting to monetize a community. Reddit also sought its own trademark registration for WallStreetBets. Rogozinski sued Reddit over the trademark and for removing his moderator privileges. The court rules for Reddit on all counts.
Trademark. The court says Rogozinski doesn't have priority over Reddit. The court does not credit Rogozinski's role in creating the subreddit as a use in commerce, and Rogozinski's other uses (such as the book title) don't count either. Instead, Rogozinski alleged (as part of enumerating the prima facie elements of trademark infringement) that Reddit made a use in commerce of the mark, which the court does credit–essentially as an admission that Reddit is the rightful owner of the trademark. Oops.
State Law Claims.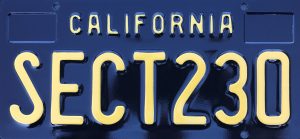 With respect to the non-trademark claims, the court reviews Reddit's eligibility for Section 230:
ICS Provider. Undisputed.
Publisher/Speaker Claim. The court says the following activities are publisher activities: "suspending Rogozinski from the r/WallStreetBets subreddit, banning him, and/or allowing the subreddit to continue to operate without him." The unfair competition claim, however, isn't a publisher/speaker claim because it's based on Reddit's assertion of trademark rights in the WallStreetBets mark.
Third-Party Content. Undisputed that the claims are based on "Rogozinski's or other individuals' posts on the r/WallStreetBets subreddit."
The unfair competition survived Section 230 preemption but fails for lack of standing because he didn't sufficiently show lost money or property from Reddit's alleged practices of asserting trademark rights in subreddit names.
The court gives Rogozinski a chance to amend his complaint. For now, this case adds to the canon of account termination/content removal cases by treating changes in moderator privileges as a subcategory of the phenomenon.
Case citation: Rogozinski v. Reddit, Inc., 2023 WL 4475581 (N.D. Cal. July 11, 2023)